Customize your photos with My Filters on your Galaxy S20 5G
Last Update date :
Oct 01. 2020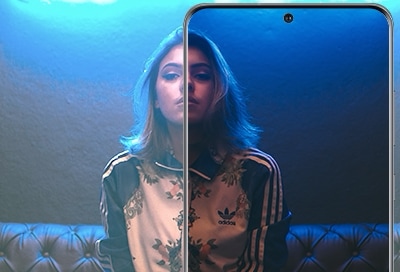 You love using filters in photos and videos, so why not create your own with My Filters on your Galaxy S20 5G? You can imitate the colours and styles of your favourite photos and apply them to new photos as you take them. Each filter you create will be saved in the Camera app for future use, so you can always use it again later. You cannot use My Filters when the camera is set to a 3:4 64MP aspect ratio.

Information provided applies to devices sold in Canada. Available screens and settings may vary for smartphones sold in other countries.
Use My Filters
Sometimes you just can't find the right filter for the new selfie you took. If you've seen another photo with an effect that you admire, just add it to your Gallery and use it to make your own filter. Up to 99 custom filters can be created and saved to your phone.

To start, open the Camera, and then select Photo. Tap the Filter icon at the top of the screen, and then tap My Filters. Tap Create filter or Add filter to open your Gallery, and then tap Pictures or Albums to find the photo with the filter you want. You can also select from Favourites or Recent. After tapping the photo, it will appear as a thumbnail. Tap the filter's name to rename it, and then tap Save to add it.
Get the shot you want, and then tap the new filter to see how it looks. If you'd like to see how your photo will look without the filter, tap Original to compare. Tap the Capture icon to take your photo. You can view it by tapping Back, and then opening Gallery.

You can adjust the intensity of the filter with the slider or remove the filter by holding down and then tapping Delete. To add more filters, tap Add filter, and then tap Save. Your filters can be organized by tapping and holding, then dragging them into a different order.

Please answer all questions.
The coding for Contact US > Call > View more function. And this text is only displayed on the editor page, please do not delet this component from Support Home. Thank you