The new cameras on Galaxy S20 5G models
Last Update date :
Oct 04. 2020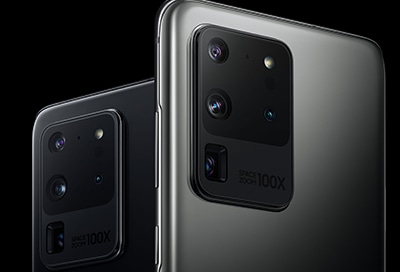 The Galaxy S20 5G series come with cameras that are packed with new features that are simple to use and will take your video and photo skills to the next level. It's easier than ever to post exciting and personalized content to your favourite social media app with Single Take capture (the format and amount of Single Take results may differ based on original capture). Enable Night mode when shooting outside in the evening, and use advanced zoom from hundreds of feet away without sacrificing quality.

Information provided applies to devices sold in Canada. Available screens and settings may vary for smartphones sold in other countries.
Compare camera features
All Galaxy S20 5G series' front and rear cameras include Single Take for quick, 10-second clips and Space Zoom for magnifying objects near or far. Although you can capture incredible shots with each model, there are a few differences.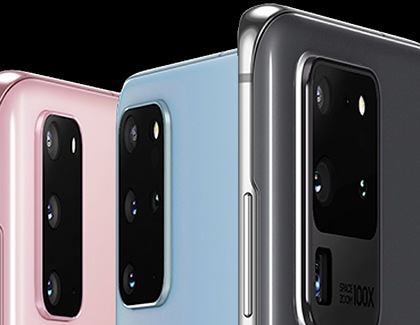 Galaxy S20 5G: A slim design with a 6.2-inch Infinity-O display, three rear cameras, Bright Night mode, and 30x Space Zoom that allows you to create photos and videos anywhere.
Galaxy S20+ 5G: Features pro-grade quad lenses, 30x Space Zoom, Bright Night mode, and a 6.7-inch Infinity-O display for a larger view.
Galaxy S20 Ultra 5G: A professional studio is in your hands with quad lenses, 100x Space Zoom, a 6.9-inch Infinity-O display, Ultra Bright Night mode, and photography AI.
Single Take
Use Single Take to create photo clips of scenes, objects, and people. The camera's AI will decide which images to capture to make a 10-second video. Single Take is burst mode turned beast mode. With revolutionary AI, shoot for up to 10 seconds and get back a variety of formats like Live Focus, Timelapse and Ultra-Wide — allowing you to choose the best style for the moment without having to reshoot.

To begin, navigate to and open the Camera app, and then tap SINGLE TAKE. Tap the Capture icon. When Single Take is activated, the camera will utilize multiple functions at once, including Best Shot, Ultra-wide Shots, Live Focus, Filter, and Smart Crop. The videos will use motion photo, bounce and reverse, and Hyperlapse.

After you've taken your shots you can select a thumbnail, and then tap the Favorite icon (the heart icon) to set it as your favorite of the bunch.

To access additional editing options with Single Take, touch and hold the thumbnail you'd like to edit. Tap the Best shot icon (the crown icon) to set a clip as the best-looking photo. Tap Save to add the thumbnail to your Gallery and delete the rest. Tap Share to send your video or clips to friends or a social media app.

You can also create a movie by tapping Story Video Editor, and then choose from Highlight reel to show off the best moments from your clips, or Self-edited if you'd like to trim the video yourself. In Story Video Editor, you can customize your video by adding text or music.

When using Single Take, the camera will capture up to five photos and four videos, depending on how long you choose to record.  The format and amount of Single Take results may differ based on original capture.

Night shots, zooming, and cropping
The new Galaxy S20 5G series also offer improved lowlight photography, stability, and zooming functions. If you need to take a selfie or video while out with your friends after dark, use Night mode for a vivid shot without any distortion. Pull off those large group selfies with steady capture that offers smooth images every time. When filming a video, you can turn on the improved Super Steady feature to help keep images as clear as possible. The frame will remain steady no matter how you're holding your phone.

You can zoom in from at least 100 feet away using the Galaxy S20 5G and Galaxy S20+ 5G models and still capture the details on your subject (the Space Zoom includes digital zoom, which may cause some image deterioration). Use the Galaxy S20 Ultra 5G's advanced zoom while standing 300 feet away and still get that perfect, clear shot. Once you've taken your photo, tap the Edit icon to crop it. Touch and drag the corners of the photo until you are finished cropping, and then tap Save.

My filters
Use the My Filters feature to create your own filters for your photos or videos. Take an existing photo that you like, and apply the colours and styles to another photo as you capture it.