Zoom option and features available on Galaxy S20 5G models
Last Update date :
Oct 01. 2020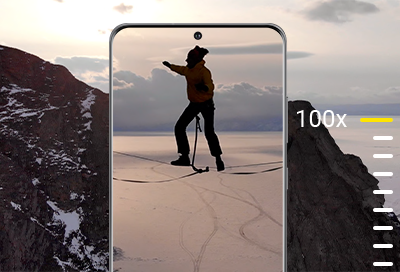 For a powerful zoom that will deliver high resolution photos, use Space Zoom on your Galaxy S20 5G. The cameras on both the Galaxy S20 5G and Galaxy S20+ 5G feature a Super Resolution Zoom for precise, sharp pictures that allow you to get detailed close-ups. On the other hand, the Galaxy S20 Ultra 5G's Space Zoom can focus on objects or people from even farther away. You can also crop your photos without losing quality.

Information provided applies to devices sold in Canada. Available screens and settings may vary for smartphones sold in other countries.
30x Space Zoom on the Galaxy S20 5G and Galaxy S20+ 5G
The Galaxy S20 5G and Galaxy S20+ 5G cameras include a Space Zoom function that will take clear, crisp photos from 100 feet away. You'll feel like you're only 3 feet away with the 30x zoom capacity that allows for advanced zooming.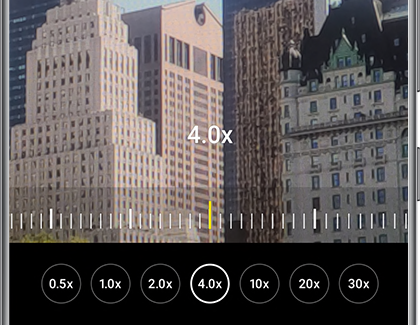 Start using 30x Space Zoom by opening the Camera app and tapping Photo. Pinch your fingers on the screen to zoom in. You can also slide your finger along the bottom to increase and decrease the zoom. You may need to steady the phone for a few seconds to allow the frame to come into focus. Once you've zoomed in, tap Capture.

100x Space Zoom on the Galaxy S20 Ultra 5G
The Galaxy S20 Ultra 5G camera features a Space Zoom that is capable of capturing images from an incredible 330 feet away. You can magnify the details of an object up close as well.

To check out the Space Zoom on your Galaxy S20 Ultra 5G, navigate to and open the Camera app, and then tap Photo. You can tap the three zoom icons at the bottom of the screen, or pinch your fingers to zoom in. Tap the additional options to test out the different zoom capacities. The strongest zoom available is 100x, a true Space Zoom, which will take detailed photos from far away.

When zooming in past 10x, a picture of the target will appear in the corner of the screen. You can use this as a guide when zooming in on the person or object you wish to capture. This is especially helpful when zooming in from an extreme distance to help you get that flawless shot.

Space Zoom includes digital zoom, which may cause some image deterioration.
Crop your photos
After taking a super zoomed-in photo, you can crop it however you like and still retain the photo's quality. This is due to the camera's high resolution, which will preserve your original photo.

Navigate to and open the Gallery app, and then select the photo you want to crop. Tap the Edit icon, and touch and drag the corners of the photo to resize it to your liking. Once you've found the correct size, tap Save. You can also tap Reset if you need to start over. Your newly cropped photo will be added to your Gallery next to the original photo.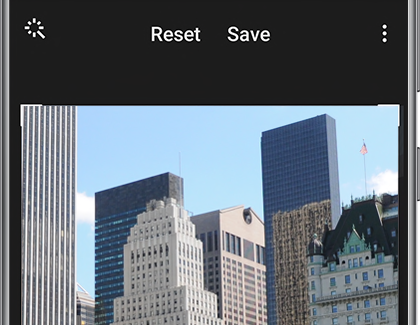 Switch between the photos to see the cropped and uncropped versions. You can continue cropping by selecting the photo, and then tapping Edit again.