Use the Universal Guide on your Samsung Smart TV
Last Update date :
Apr 12. 2022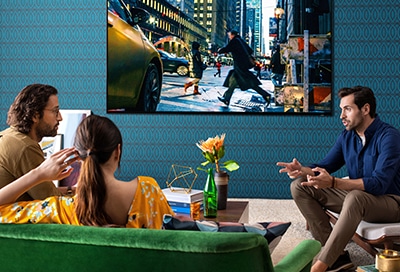 You get home from a long day, and sure enough, someone utters those dreaded four words: what should we watch? Universal Guide on your Samsung Smart TV has TV shows, movies, and sports all in one place. You can search for content you want to see, and the guide even makes recommendations based on your preferences. No more prolonged, aimless browsing.
Note: The provided information refers to Samsung Smart TVs sold in Canada. The available settings and options may differ for devices sold in other countries.
Use the Universal Guide
Whether you want to watch a romantic comedy or the championship game, you can find all kinds of programs in Universal Guide.
On most models, navigate to and select Universal Guide from the Home screen (by pressing the Home button on the TV remote). For 2020 and 2021 TV models, open the Home screen, and then press Down (on the TV remote) to locate the Universal Guide.
From here, you can select from these options:
TV Shows: Browse through the available shows by category or by using the Search icon at the top left. You can even get reminders on your phone about shows by connecting your TV with the SmartThings app.
Movies: Browse through movies by genre or use the Search icon at the top left.
Note: Some recommended movies and TV shows may require payment or an account with the provider.
Sports: Set your favorite sports and teams so you can get notifications when games are broadcasted live.
Settings: Here you can set your Favorite Genres, Favorite Sports, Favorite Teams, and Set Game Notifications and Manage Show Notifications, so you never miss a program.
Please answer all questions.
The coding for Contact US > Call > View more function. And this text is only displayed on the editor page, please do not delet this component from Support Home. Thank you