Supercharge Your
Productivity with
Galaxy Power and
Microsoft Tools
How to stay organized and get it all done

We all have our own shortcuts for staying organized: color-coded email filters, an always-handy notepad and pen or even a simple kitchen timer that dings to mark breaks in the day.

But why stop there? There's always a way to kick your productivity up a notch. Read on for a few ways that Microsoft tools, paired with Galaxy innovation, can bring a little digital organization to your day-to-day life.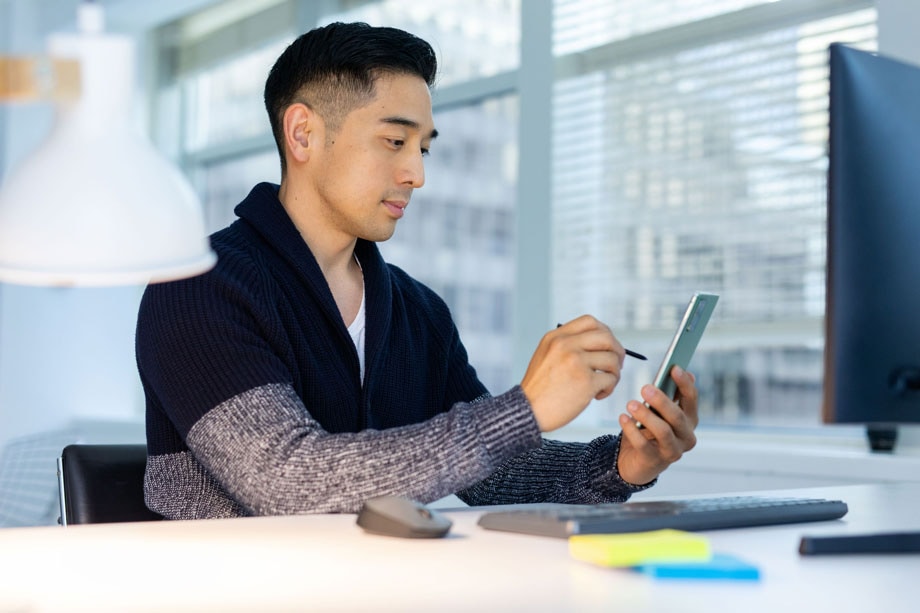 Samsung Notes
Capture your ideas the way you envision them. Create content-rich notes with images, hand-written messages, voice memos and more, and sync them easily with Microsoft OneNote.*
Keeping Track
When sitting at a desk or counter all day, it's easy enough to keep a pad and pen nearby to jot down every task that needs to get done, but it gets a little more complicated when you're on the move. With a smart strategy, note-taking throughout the day can be simple.

Use the S Pen on your Galaxy Note20 or Tab S7 to dash out a quick note to yourself, then translate it to editable text in Samsung Notes for later access. You can even connect Samsung Notes with Microsoft OneNote, enabling a virtually seamless phone-to-PC experience that automatically sends your memos to OneNote so you can pull them up on your computer at another time.*
Keeping Up
You might have a coworker whose job is to manage your team's workflow. When something needs to be brainstormed, reviewed, edited or presented, there's a team member who makes sure the calendars are updated and schedules align. But when you've got to get to a doctor's appointment, drop the pet off at the vet, pick up the groceries and stop by to check in on your mom—or the team member in charge of schedules is just out sick—you need to manage it all yourself.

Trying to track everything in your head is one of the best ways to guarantee you will miss an appointment or meeting. On hectic days, syncing the Reminder app on your Galaxy with your Microsoft account makes To Do items appear in Microsoft Teams, To Do and Outlook (and makes updates from those apps sync back to the Reminder app, too) so you've got access to the same list whether you're on desktop or mobile.**
Keeping It Together
At times, you may want to quickly access the information from your phone when you're on your desktop. To keep your flow going and stay in the zone, use Link to Windows on your Galaxy. It connects to the Your Phone App on your Windows computer so you can easily pull up multiple phone apps right on your desktop the way they would appear on your phone.*** It may seem like a small change, but it can make a major impact on your productivity.
*Service available in OneNote, OneNote for the web, OneNote for Windows 10 and Outlook for the web. Network or Wi-Fi connection required. All devices must be logged in to the same Samsung account and Microsoft account.

**Service available in Microsoft To Do, Teams and Outlook for Windows 10 and for the web. Network or Wi-Fi connection required. All devices must be logged in to the same Microsoft account.

***Users must link their Galaxy device to their Windows PC through 'Link to Windows' on phone and Your Phone app on PC, follow the set-up prompts, including being signed into same Microsoft account. Link to Windows is preloaded on select Galaxy devices. Your Phone requires latest Windows 10 Update on the PC. Apps feature requires Galaxy device to be on and connected to the same Wi-Fi network. Some mobile apps may restrict content to be shared on other screens or may require a touch screen to be able to interact with them. Multiple Android applications can be launched simultaneously up to 5 at a time in Windows 10 PC.
Get the tools and stay on top of it all
A more productive life is on the horizon. Grab these powerful Galaxy devices and harness the power of Microsoft productivity now.
*S Pen Fold Edition sold separately and is only compatible with Galaxy Z Fold3 5G.