Galaxy S8: How do I Register my Iris for Iris Recognition on Lock Screen?
Last Update date :
Sep 25. 2020
1
The device can save one person's iris data only. You cannot register more than one set of irises.
On the Apps screen, tap Settings
2
Tap Lock screen and security
4
To use iris recognition securely, you need to set a pattern, PIN, or password. Please remember them, as you will need them to unlock your phone after it restarts or has idled for more than 24 hours.
5
Before using the iris recognition camera and LED, please read disclaimers and keep the precautions in mind. Then, tap OK
6
Read on-screen instructions and tap CONTINUE. To register only one iris of your eyes, please tap You can choose to register only 1 iris.
7
Now, please hold your device 25~35cm away from your face with the screen facing towards you and position your eyes into the circles shown on the screen.
Keep your eyes open fully and look at the top of the screen.
For best results, avoid direct sunlight and perform this process indoors.
Keep the camera clean as dirt and debris on the iris camera, LED sensor, or proximity sensor may cause difficulty in recognizing your irises.
Position your eyes inside the circles on the screen and open your eyes wide. The iris recognition camera will scan your irises.
8
When an iris lock pop-up window appears, please tap ENABLE in order to use your irises to unlock the screen and tap DONE.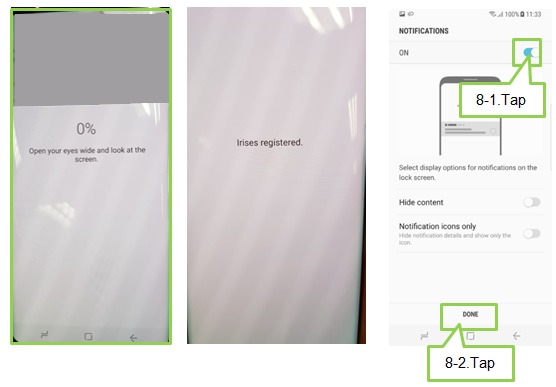 9
When you swipe in any direction on the locked screen, the iris recognition screen will appear.
Look at the screen to scan your irises. If your iris is not recognized within 10 seconds or you are too close to the phone, the device will automatically stop iris recognition to protect your eyes.
If your irises are not recognized, please unlock the device using the pattern, PIN, or password you set when registering the irises, and register your irises again.
If you have forgotten your pattern, PIN, or password, then you will not be able to use the device unless you reset it.
Samsung is not responsible for any data loss or inconvenience caused by forgotten unlock codes.
Please answer all questions.