Galaxy S8: Iris scanner
Last Update date :
Sep 25. 2020
The most secure biometric authentication


    •      Different iris patterns for each eye, even those of identical twins
    •      Faster registration (One time trial) compared to fingerprint registration (10 times trial)
    •      No physical contact required for authentication
The most secure biometrics – Iris


    •      More secure solution than fingerprint
    •      Simplified, but enhanced security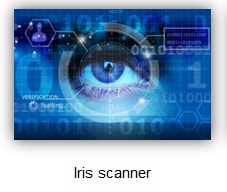 Enhanced usability

    •      Color preview screen
    •      Preview screen mask : 17 masks(preloaded) +  more masks are downloadable from "Samsung Themes"
    •      Easy iris unlock
            - Use iris unlock without swiping. You can unlock your phone with your irises as soon as the screen turns on, without swiping first

Please click the submit button below to share your feedback with us. Thank you for your participation.
Please answer all questions.