I can't connect to the internet or data network via my handset. What should I do?
Last Update Date :
Apr 19. 2018

First of all, check the APN of your handset , and then re-boot the device.

The access point should be set to the correct operator for the SIM card, the device, and also the correct type, which will either be 'pre pay' or 'post pay'. (Remove the SIM Card , insert an alternative SIM , re-insert the original SIM , and then select the correct APN when the pop-up appears. To set the new APN, follow the below steps)
1. Select Settings.
2. Select More networks.
3. Select Mobile networks.
4. Select Access Point Names.
If you don't know correct APN type , Please contact the Shop that you buy the SIM card or operator.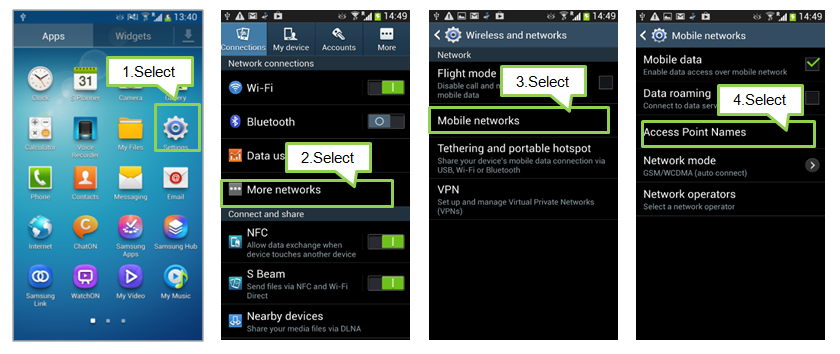 5. Select your APN, and if it isn't APN to want, and select Menu key to add a new APN.
6. Select New APN.
7. Enter your details in to each field.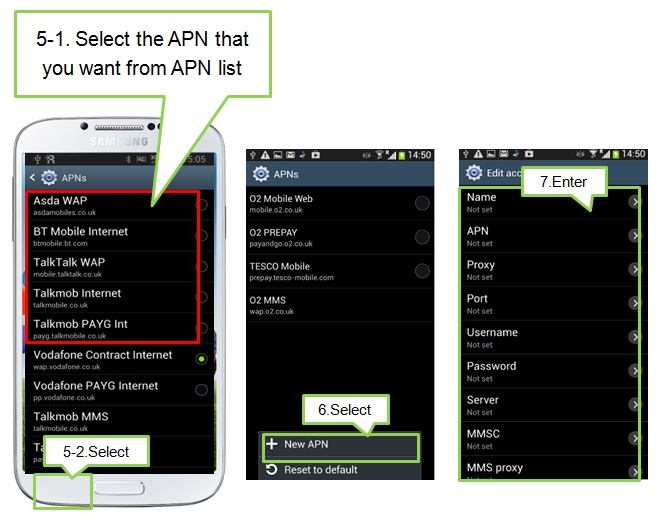 Troubleshooting : Can't your device connect to the data network?
• 1. When you are in areas with weak signals or poor reception, you may lose reception.
Move to another area and try again.

Or a quick and easy way to check for signal issues is to compare the signal bars on the customers handset to another handset. Ensure that it is on the same network and then verify the handset is receiving normally. Also, be sure to make a test call to see if there are any problems.

• 2. You cannot access some options without a subscription. Contact your service provider for more details.

• 3. Check the Mobile data option.
Apps > Settings > (Connections)More networks > Mobile networks > Mobile data
If the option is disabled , change the checked state.

• 4. Re-insert SIM Card again, and then repeat the step3.

• 5. Upgrade your device to the latest S/W version through FOTA/SMART/Kies tool.

In the case of an Android OS , upgrading cycle is shorter than the other OS.
Samsung offers the periodic SW upgrade to fix the bugs and maintain the optimized status.

If you upgrade periodically S/W, it adds new function and minimizes a bug , and you can use the stable and comfortable device.
Not finding what you're looking for? We're here to help.
Call
36984698Hong kong
Operation Hour:
Monday-Friday: 9am-8pm
Saturday, Sunday & Public Holiday : 9am-6pm
0800 333Macau
Operation Hour:
Monday-Friday: 9am-8pm
Saturday, Sunday & Public Holiday : 9am-6pm
21219088Samsung Pay
Operation Hour:
Monday-Sunday: 9am-10pm

* For Printer inquiry, please visit HP official web page .
Customer
Service Support
Smart Service
Samsung SMART SERVICE allows you to experience a whole range of services, right here at our Samsung Experience Store!
Contact Us