Blu-ray Player H6500
BD-H6500/XD
UHD Picture Engine
Multi Codec Support
Full HD 3D
7,1 ch
Dolby Decoding Channel
360 x 40 x 196 mm
Product Dimension(WxHxD)
UHD upscaling enhances the quality of all of your viewing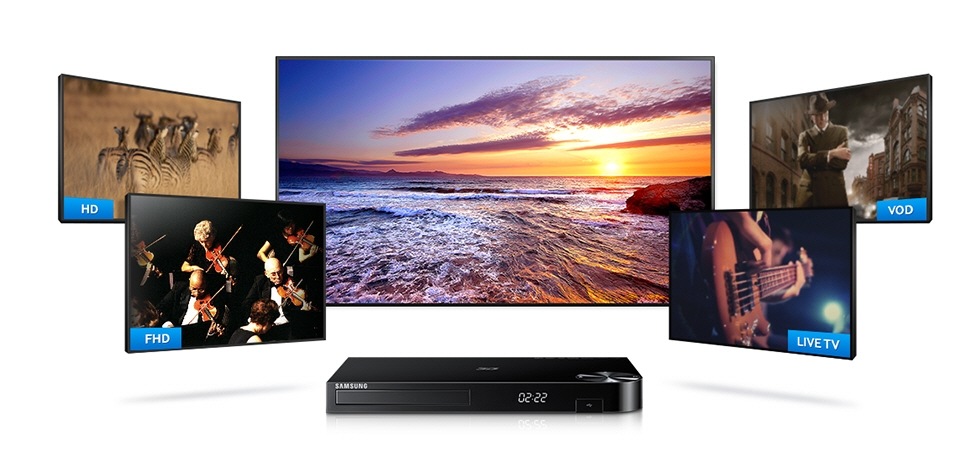 Dengan dukungan Samsung UHD Picture Engine, nikmati berbagai macam konten dengan kualitas gambar yang mendekati tingkatan UHD, meskipun sumbernya bukan UHD. Pengolahan inovatif Samsung meningkatkan siaran acara TV, film , video on demand dan hal lainnya. Tidak hanya sekedar memproses sumber UHD pada resolusi 4K dengan jernihnya, bahkan mengubah konten dengan resolusi lebih rendah ke tingkatan dengan kejelasan yang hampir seperti Ultra High Definition.
Access your content with a much wider range of codecs
Blu-ray player Samsung hadir dengan dukungan format codec yang lebih bervariasi, memungkinkan Anda dapat mengakses dan menikmati berbagai macam video, gambar dan konten audio. Mendukung format video populer seperti Flash dan QuickTime, serta file VOB dari DVD. Selain audio MP3, Anda dapat mendengarkan file FLAC lossless, WMA, OGG, WAV dan banyak lagi. Begitu juga format gambar populer JPEG, PNG, GIF, dan banyak lagi.
Experience the next level of Full HD 3D entertainment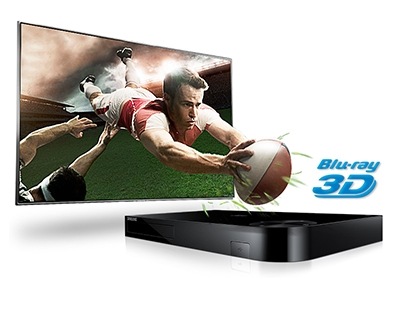 Hidupkan rumah Anda dengan pengalaman 3D yang menakjubkan. Full HD 3D menjadikan hiburan rumah semakin seru dari yang Anda bayangkan. Dilengkapi 3D Auto Contrast yang membuat tiap gambar lebih tajam dan dramatis. Teknologi canggih 3D dari Samsung meminimalkan lapisan gambar yang berbayang dan memaksimalkan respon gambar untuk terlihat lebih jelas. Pastikan Anda tenggelam dalam tayangan dari 3D HD.
Enjoy content from USB memory drive or external HDD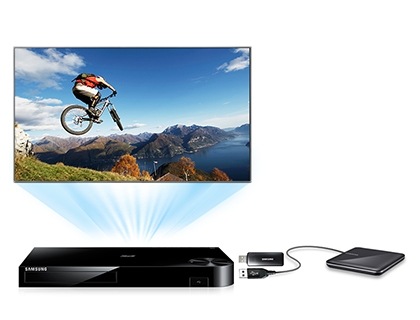 Dengan External HDD Connectivity memberikan koneksi konten dari USB/ HDD mu langsung ke Blu-ray player, akses cepat video, suara, dan gambar. Fitur ini telah didesain untuk bisa akses konten lebih luas. Sekarang, Anda dapat menikmati konten favorit semudah mencolokkan USB.
7,1 ch

Dolby Decoding Channel

1

HDMI Out

360 x 40 x 196 mm

Product Dimension(WxHxD)

1,2 kg

Product Weight
Panduan Pengguna & Unduhan
Live Chat
* Fitur utama mungkin berbeda dari Spek Utama
Buat Wishlist Anda
Jangan lewatkan produk yang Anda sukai.
Masuk / Daftar sekarang untuk mengakses Wishlist Anda di semua perangkat Anda dan dapatkan pembaruan mengenai promosi terbaik kami.
TAMBAH KE WISHLIST
Apakah Anda ingin menambahkan produk ini ke dalam Wishlist?
WishList
Item ini sudah ada di wishlist Anda
Dapatkan Pemberitahuan Stok
Dapatkan notifikasi ketika item ini tersedia untuk dibeli, dengan menambahkan email Anda.
Dengan memberikan email Anda, Anda setuju untuk mendapatkan promosi & notifikasi stok item dari Samsung.
Kami akan mengirim email kepada Anda ketika stok tersedia.
Terima kasih.
EMIs (Pay in Easy Monthly installments)
Hapus pilihan
Anda yakin ingin menghapus pilihan ini?
Pilihan akan diatur kembali jika Anda memilih Samsung care+.
Apakah Anda yakin untuk melanjutkan?
Protect your smartphone with insurance
An insurance that protects your smartphone anywhere and at any time to bring you greater peace of mind.
Coverage against breakage

Physical damage such as cracks or breakage of the screen or the rear window, which is detrimental to the functioning of the mobile phone.*

Cover against other damage

Damage caused by liquid or any physical damage, other than damage to the screen, affecting the use of the software or the charging of the mobile.*

Repair by official teams

Your smartphone will only be repaired by Samsung authorized service providers and Samsung genuine parts.
Option will be reset if you select Extended Warranty.
Apakah Anda yakin untuk melanjutkan?
If you select both exchange and bundle option, an additional exchange discount of the exchange option will not be applied. Apakah Anda yakin untuk melanjutkan?
If you select both exchange and bundle option, an additional exchange discount of the exchange option will not be applied. Apakah Anda yakin untuk melanjutkan?
Installment Calculate
Installments are provided by Santander Consumer Bank S.A.
How does it work?
Pay for your new Galaxy phone in monthly instalments and be invited to upgrade to the new Galaxy as soon as it launches.
01 Choose your device

Choose from the new Galaxy series.

02 Spread the cost

Pay a 10% deposit and then monthly instalments over 24 months. (0% finance available)

03 Yearly upgrades

Be invited to upgrade to the latest Galaxy phone after 12 months.
Upgrade Program
Upgrade your handset every 12 months.
How trade–in works
01

Choose your new Samsung device and tell us about your old one. If eligible, you will see an estimated trade-in value.

02

Get an upfront discount on the price of your new Samsung device.

03

Send your old device back in the supplied recycling pack to complete the trade-in.
Customize your watch
All from one hand
Now you get innovative smartphone with right tariff plan.
Check the Terms and Conditions
Hidupkan ponsel dan tahan catu daya

Layar berfungsi & tidak ada layar yang retak

Memiliki ID FCC & tidak di blacklist

Factory reset & non-aktifkan penguncian aplikasi
La liberté ne s'achète pas, elle se loue
Liberté

Possibilité de changer votre smartphone tous les 4 mois.

Sérénité

La garantie incluse et des assurances optionnelles.

Exclusivité

Le meilleur de la technologie à prix très attractifs.