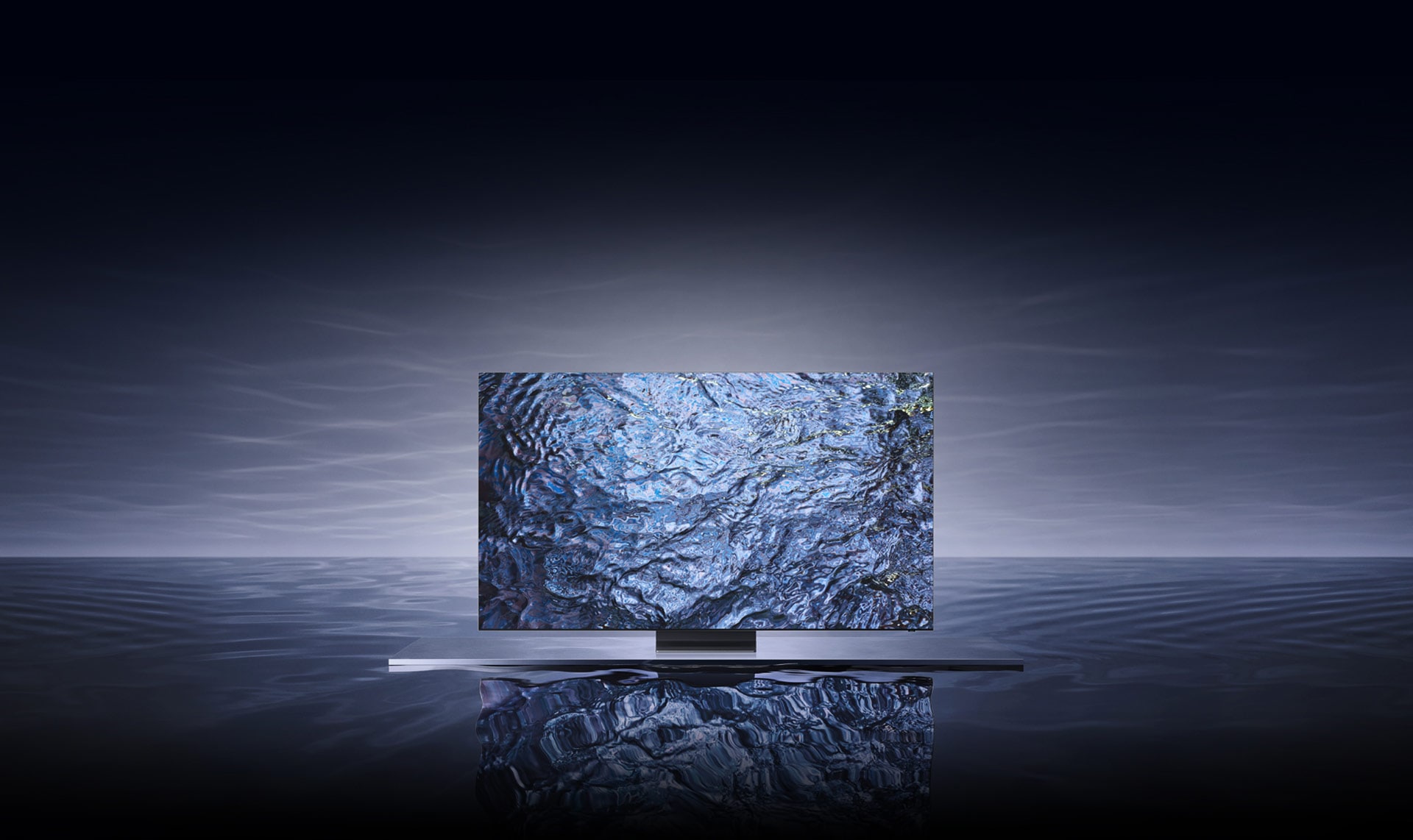 Samsung Neo QLED drives excellence to new heights with unrivaled picture and sound quality that's in a different class of its own
Neo QLED Picture Quality
True-to-life picture
that draws you in
Quantum Matrix Technology
Enjoy great details in both the darkest and brightest scenes. Quantum Matrix Technology is at the root of Neo QLED's brilliant picture that uses innovative Quantum Mini LEDs (1/40th the size of normal LEDs) to deliver more precise light control.1
Quantum Mini LEDs create an image of a horse. There is a comparison of 2 horses. One is created with conventional lights and the other on a Neo QLED TV. A lifelike horse slowly moves.
Neural Quantum Processor
Improve and optimize your content with brilliant AI Upscaling that automatically learns scene-by-scene. Samsung's unique multi-intelligent processor drives the Neo QLED to deliver the best viewing experience, no matter what you're watching.2
Neural Quantum Processor is processing images of a baseball game. A baseball player is swinging his bat to hit the ball.
Neo QLED Sound
Cinematic surround sound
at home
Dolby Atmos®
& Object Tracking Sound
Immerse yourself deeper into next-level Dolby Atmos® experience with Samsung's OTS (Object Tracking Sound) technology. OTS captures every scene with audio that tracks every motion, so it feels like you're watching from a movie theater.
A man in living room is enjoying Neo QLED's immersive sound of a race car competition like he would in the cinema.
Q-Symphony
Experience powerful audio quality from a complete synergy between TV and soundbar. While speakers from most TVs are muted when soundbar is on, Samsung's Q-Symphony allows its compatible TVs and soundbars to play sound at the same time in sync to create a more immersive surround sound.3
Sound initially only comes out from Soundbar when Q-Symphony is off, but sound synergizes with TV once Q-Symphony is on.
Neo QLED Design
Classy look from any angle
to enhance your space
The latest Samsung Neo QLED does a 360 degrees turn to show all sides.
Infinity One Design

Infinity Screen

Round-shaped Speakers

A Neo QLED TV is displayed with the Attachable Slim One Connect being attached to it on the back.

Attachable Slim
One Connect
Neo QLED Smart TV
Brand new ways
to make your
everyday life smarter
Lineup
Category

Screen Size

Resolution Resolution is a measurement of the number of pixels that can be contained on a display screen. The higher the pixel count, the better the resolution.


Contrast Quantum Matrix Technology is Samsung's proprietary technology that utilizes Quantum Mini LEDs to create great details in both the darkest and brightest scenes. The Quantum Matrix Technology Pro has 1.5x more lighting zones than normal Quantum Matrix Technology.


Processor Samsung's unique AI Upscaling technology completed by multiple different neural networks automatically learns scene-by-scene to optimize and improve your content.


HDR HDR stands for High Dynamic Range and refers to a technology that more accurately expresses visual detail in both very bright and very dark scenes.


Gaming motion Gaming Motion is a technology that provides smooth motion and clean image quality without blur even in fast-paced game content.


Dolby Atmos® Dolby Atmos goes beyond the ordinary listening experience and puts you inside the sound in a new spatial way. Combining with up-firing speakers, you can fully enjoy the immersive, cinematic sound of Dolby Atmos.


Object Tracking Sound OTS stands for 'Object Tracking Sound', Samsung's proprietary high-performance audio technology that enables users to hear sound directly from its object's relative location on the screen, even if the object is moving.


Design

Smart TV Smart Hub, Gaming Hub, SmartThings, Samsung TV Plus etc.

* Global No.1 TV : Source-Omdia, Jan 2022. Results are not an endorsement of Samsung. Any reliance on these results is at the third party's own risk.
* Images are simulated and for illustration purposes only. Appearance and design specifications which are not affecting to product performance are subject to change without notice.
The normal LEDs indicated above is based on Samsung's own LED products.
Viewing experience may vary according to types of content and format. Upscaling may not apply to PC connection and Game Mode.
Q-Symphony: Check for Q-Symphony compatibility on soundbar product specifications. Soundbar sold separately.
Smart Hub: Content services and recommendation may vary by regions. Agreement of the Smart Hub Terms and Conditions and Privacy Policy is required before use. Some services are available to watch after registration and subscription. Requires Samsung account. UI is subject to change without prior notice.

a. You will need a Samsung Account to access the full range of smart features available through your device, including network-based smart services, applications such as games and streaming services, smart home functionality, and many more.
b. If you choose not to log-in to your device with your Samsung Account, you will only be able to connect to terrestrial TV(applicable to devices with tuners only) and external devices, e.g. via HDMI. If you do not already have a Samsung Account, you can easily create one here: https://account.samsung.com/membership/intro - it is free to sign up! Terms and Conditions apply.

Cloud Gaming: Supported features and games can vary by countries and models. A controller maybe required depending on the specific game you are playing on the Gaming Hub. Controller sold separately. You may need to download apps depending on the game or service. Internet connection, additional gaming service subscription maybe required. Content services are subject to change without notifications. Requires Samsung account. UI is subject to change without prior notice.
SmartThings: Available technology, functions and features may vary by country, service provider, network environment or product, and are subject to change without notice. Requires a Wi-Fi, Bluetooth or other wireless network connection and login to Samsung account. Connected devices are sold separately. Use of calm technology requires agreement from both SmartThings privacy notice and auto registered device. UI is subject to change without prior notice.
Multi Voice Assistants: Samsung may change/suspend/cease providing part or all voice assistant services at any time in its sole discretion without prior warning or notice. Content, TV services and capabilities pictured may not be available in all regions and territories. Requires Samsung account.
Bixby voice commands recognize English (US/UK), French, Spanish, German, Italian, Chinese and Korean. Not all accents, dialects and expressions are recognized.
Amazon, Alexa and all related logos are trademarks of Amazon.com, Inc. or its affiliates.
To charge the remote with solar energy, set the TV remote down with the solar panel facing up.
Accessories sold separately.
Auto Rotating Wall Mount can be installed on specified compatible models only. Check for the compatibility on Auto Rotating Wall Mount specifications.