Top grade energy efficiency, personalized experience
Wash clothes effectively with less energy, time and effort. EcoBubble™ ensures powerful, but gentle cleaning at low temperatures¹. AI Control optimizes how you wash to provide a simpler user experience.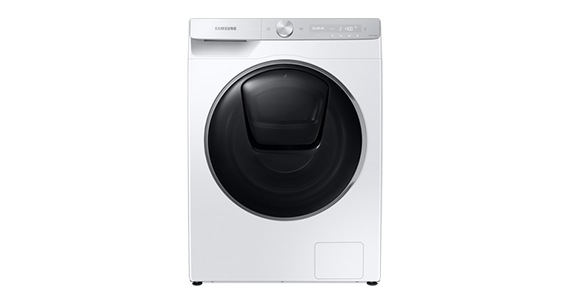 Always automatically personalized for you
AI Control
Do your laundry easily and effectively with AI Control. It personalizes your experience by remembering habits, suggesting cycles⁷ and displaying timely information. A SmartThings App⁸ offers advice on cycles, planning and troubleshooting. And it selects the perfect drying course for a wash cycle⁹.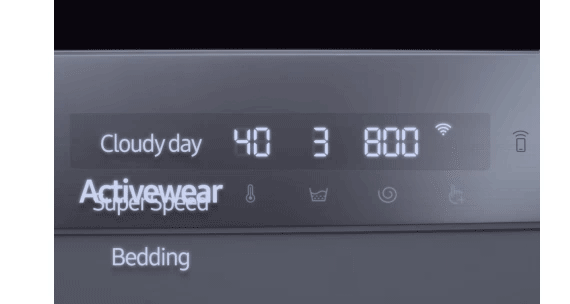 Intuitive display
Helps you find your favorite cycle simply and quickly.
Personalized cycles
Remembers your laundry habits and suggests the perfect cycle⁷.
Auto Cycle Links⁹
Automatically selects the drying course based on the wash cycle⁹.
¹ Tested in accordance with IEC 60456-2010 / 4kg Wash Load / Super Eco Wash cold (WF80F5E5U4W) vs. Cotton 40°C without EcoBubble™ (WF0702WKU). Individual results may vary.
² Based on the Performance Lab Test report by Springboard Engineering on EMPA strips, comparing a normal detergent solution and bubble technology without mechanical action.
³ Tested on WW8000T compared with Samsung WW6500K. Saves 50% time and saves 20% energy on Cotton (40℃, half load) cycle with washing performance within ±5%. Based on Intertek data.
⁴ Tested in accordance with IEC 61121:2013/8kg Wash load/Cotton Cupboard with Heatpump (DV80F5E4HGW) vs. without Heatpump (DV80H4100CW). Individual results may vary.
⁵ Tested on the Samsung DV8000T with an IEC standard load of 3kg.
⁶ Tested on the Samsung QuickDrive™ WW8000T with an IEC standard load of 3kg.
⁷ Based on machine learning of an evolving user database of 28 million cycles. The data on the number of accumulated cycles, which is used to make cycle suggestions, will continuously evolve over time based on the usage pattern of the user and other similar users.
⁸ Available on Android and iOS devices. A Wi-Fi connection and a Samsung account are required.
⁹ Auto Cycle Link is only available when both the washer and dryer have AI Control and Wi-Fi connected.