How do I set up my new smartphone?
To use your new smartphone, simply insert your SIM card, then turn the phone on by pressing and holding the power button on the right side of the phone until you feel it vibrate and the Samsung logo appears.
The phone will then prompt you through a number of set up steps such as setting a lock, adding Google or Samsung accounts, and transferring data from your old device to your new one.
You can skip some of these steps and do them later if you want to, but doing them at set up makes it easier to start using your phone straight away and gives you greater functionality. For example, adding your Google account details lets you access the Play Store, and adding a lock gives you greater security from the beginning.
You can start and set up your smartphone without a SIM card, but you will not be able to use mobile network-related functions.
Inserting your SIM and SD card
Please note: the location of the SIM and SD card differs by device. The most recent models have a combined SIM and SD slot at the top of the device.  You should be able to find the location of the slot by viewing the sides of your smartphone and looking for the slot.  
You will find an ejector tool in the box with your new smartphone. To open the SIM tray, gently insert the tool into the small hole and the tray will click open. Place your SIM and SD cards with the gold-coloured contacts face down in the tray.
Types of SIM and SD cards 
Recently manufacturered Samsung smartphones take nano SIM cards. If you have a model from 2016 or older, it may take a micro SIM card. The maximum capacity of the SD card that your phone will be able to accept will depend on the model. Check the specifications of your model to determine which SIM and SD cards it can take.  
If you have a dual (or hybrid) SIM phone, the second slot can be used for either a microSD card or a SIM card.
If the tray takes a second SIM, it can be identified by way of 'SIM2/microSD' written on the tray, and the additional holders for the second SIM in the dual slot, as illustrated below.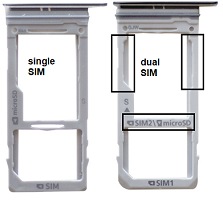 If you get a message similar to 'network not registered', this will be because the SIM card is not inserted correctly or has not been activated with your network. If the card is correctly inserted and you are still seeing this message, contact your network to activate the SIM. 
Not finding what you're looking for? We're here to help.
Online


There are a number of different ways of contacting us via Live Chat, Email, Twitter, Facebook Messenger and more.

Need a repair?



Whether your product is in warranty or out of warranty, we're here to help.

Contact Us