What cameras does the S10 Lite have?
The S10 Lite has a triple rear camera set up, alongside a 32 MP front selfie camera. The Super Steady OIS (optical image stabilisation) module makes the S10 Lite the first smartphone in the world to have a module applied to the main lens of the camera, helping to make your videos smoother than ever before. There are also loads of the great camera features from the S10, such as Live Focus Video and photos, Zoom-in Mic and Scene Optimiser. 
Find out more about the cameras and camera features on the S10 Lite.
32 MP Selfie Camera, FF (F2.2) - take bright, clear selfies with the high resolution selfie camera
5 MP Macro Camera, FF (F2.4) - capture your subject in even more detail, even if it is only 4cm away from the lens
48 MP Wide Camera with Super Steady OIS AF (F2.0) - take clear and bright photos both at night and during the day and film extraordinary steady videos
12 MP Ultra Wide Camera, FF (F2.2) - take shots with a 123° view, similar to the 120° of the human eye
Live Focus Photo
Live Focus gives you the power to adjust the Bokeh effect on the fly. This means that you can change the level of background blur to really make the subject of your photo pop. Even after taking a photo using Live Focus, you can go back to re-adjust the blur until you have the ideal shot. On the S10 Lite there are different type of Live Focus effect including: blur, spin bokeh, zoom bokeh and colour point. 
Live Focus Video
Live Focus Video allows you to apply the Bokeh effect to videos in real time. This helps you create incredible videos that keep your subject in focus while changing how the rest of the frame appears. There are four types of Live Focus Video effect available: blur, big circle, colour point and glitch.
Scene Optimiser
The Scene Optimiser feature makes the most of an intelligent camera system, automatically detecting what is in the shot and adjusting the camera settings so that you can take the best possible photo. Scene Optimiser automatically adjusts exposure, contrast, white balance and more, choosing from 32 different types of mode. 

The modes are: Face, Baby, Person, Dog, Cat, Food, People, Beaches, Sky, Mountain, Sunset, Sunrise, City, Snow, Waterfall, Watersides, Scenery, Stage, Vehicles, Drinks, Flowers, Trees, Greenery, Animal, Shoes, Backlit, Indoor, Text, Clothes and Night View. 
Zoom - in mic
Sometimes it's the audio that stands out in a scene—a funny laugh, a crashing wave or an important presentation. Utilising the 3 microphones on the S10 Lite you can enhance the sounds of your video in real-time, zooming in to capture the most important audio.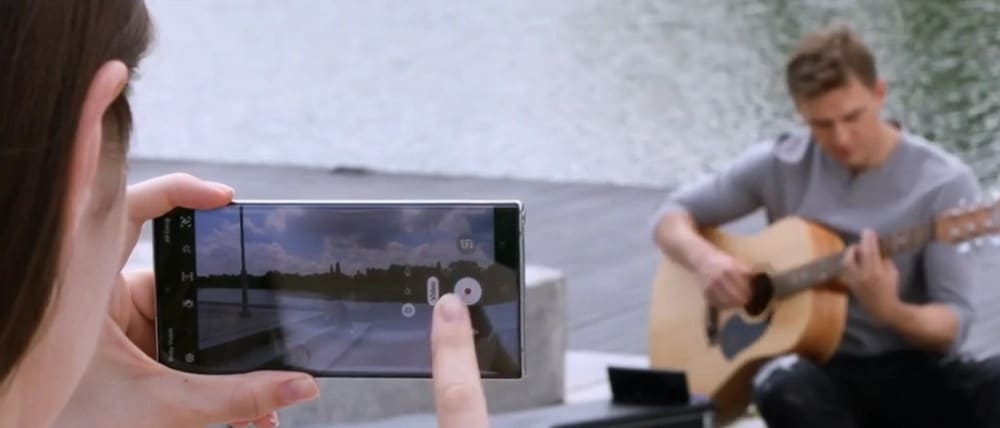 Want to find out more about the S10 Lite?
Please answer all questions.