Samsung mobile: Battery Drain Issue
Last Update Date :
Jun 22. 2020
If you are noticing battery draining issues with your Galaxy device, there are some steps to try before heading into your nearest service centre. Click one of the drop down menus below to learn how to solve battery drain issue on your Galaxy phone.
Android OS 7.0 (Nougat) & 8.0 (Oreo)
1
Launch your Settings and select Device Maintenance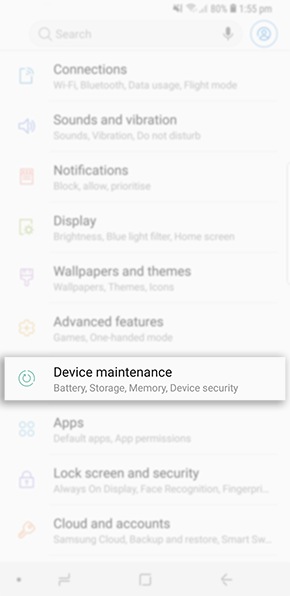 2
Select Battery
3
Tap on the SAVE POWER button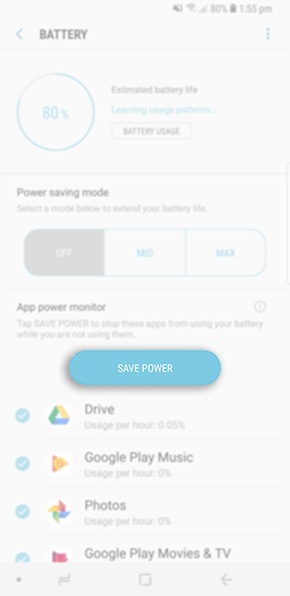 Optimise Battery Usage
You can enable Optimise battery usage for individual applications. Once you have enabled this setting on a particular app, some functions like mobile networks or data syncs will be restricted to save battery power.
1
In Device Maintenance select Battery Usage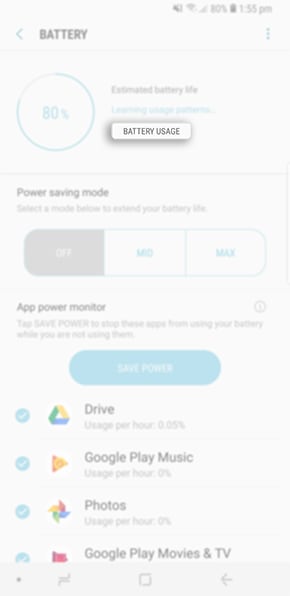 2
Tap on the 3 dots and select Optimise battery usage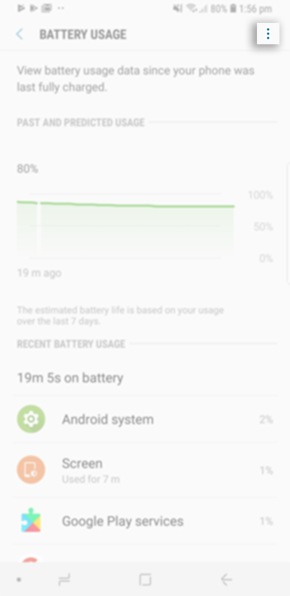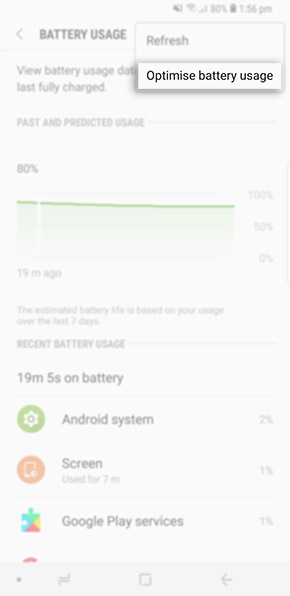 3
Tap on Apps not Optimised and select All Apps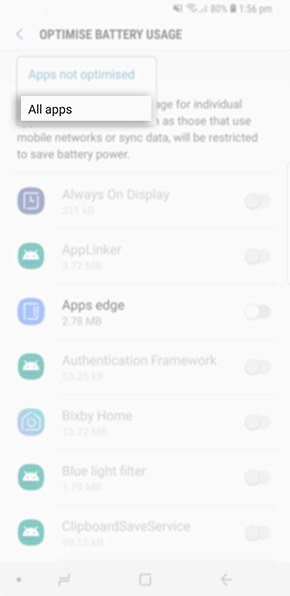 4
Toggle on the apps you would like to include in the optimise battery usage settings, then tap on the back button to apply changes.
This function detects apps that are using your battery in the background. You can extend your battery life by putting these apps to sleep either manually or automatically.

Sleeping apps may not receive updates or send you notifications, but they'll wake up as soon as you use them.
App Power Monitor
By enabling your App Power notifications, you will be notified whenever applications are using an abnormally high amount of battery power, unstable apps and unused apps. These notifications will be able to help you determine which apps are chewing up on your battery power and which should be put to sleep.
1
Within your Battery settings tap the 3 dots and select Advanced settings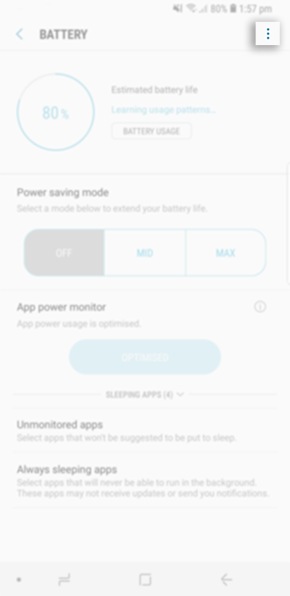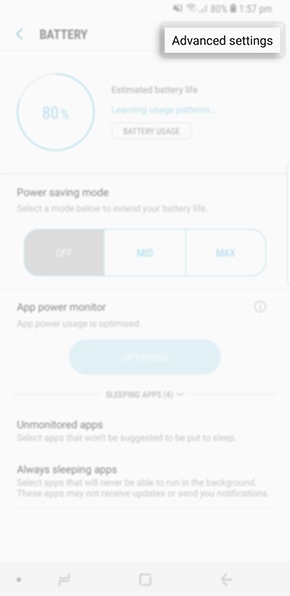 2
Select Notification settings
3
Toggle on your preferred settings.
Android OS Version 9.0 (Pie)
1
Launch your Settings and select Device Care
2
Optimise your device and then select Battery
3
Tap on the Power mode button
4
Under Power Mode select Optimised and toggle on Adaptive Power Saving
App Power Management
Within App Power Management, you will be able to further customise your battery settings. You will be able to set notifications to advise you when applications are using power in the background, put unused apps to sleep and enable Adaptive Power. When you turn this function on you will limit battery usage for applications you do not use often.
1
Within your Battery settings tap the 3 dots and select Settings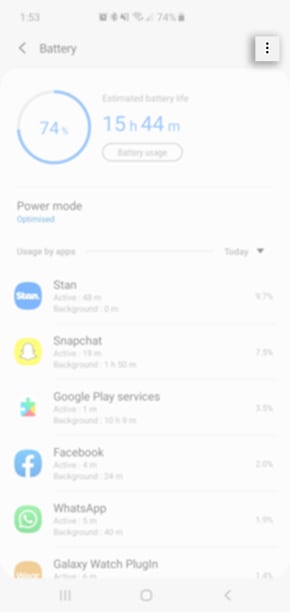 2
Toggle on or off your preferred App Power Management settings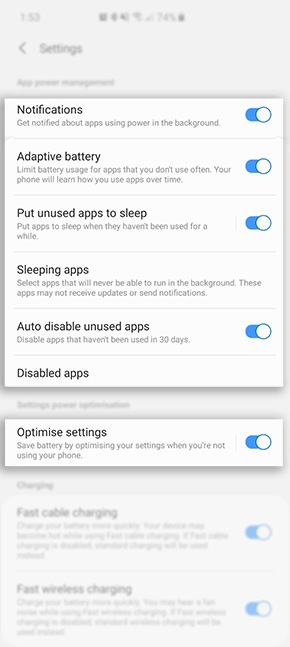 If you select Sleeping Apps, you will be able to view all sleeping apps and add or remove from Sleeping apps. If applications are put to sleep, this means that you may not receive updates or send notifications.
Please Note: If you enable Optimise Settings and you have customised your screen brightness, screen timeout the settings will be reduced to default settings. If you select Optimise Settings, you will be able to further customise your Screen brightness, screen timeout and media volume limits when you enable this setting.
Enabling Auto Optimisation & App issue history
1
Head back to Device Care and tap on the 3 dots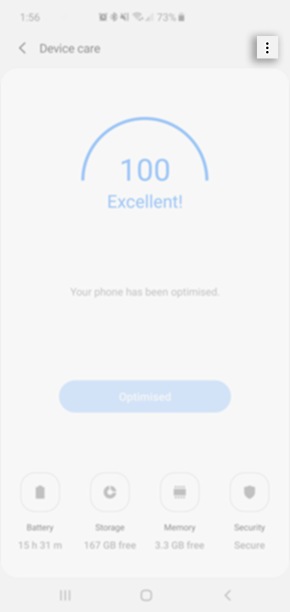 2
Select Auto Optimisation and App issue history
3
Toggle on Auto Optimisation and select your preferred scheduled time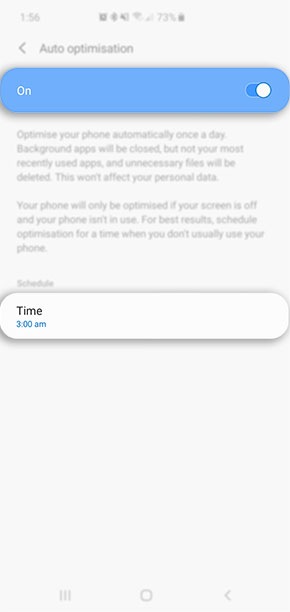 When you enable this setting, background applications will be closed, but not your most recently used app and unnecessary files will be deleted. This will not affect your personal data.

For best results, schedule optimisation for a time when you don't usually use your phone.
4
Within App issue history, you will be able to view applications that may be causing issues, including malware, app crashes or high battery.
Once the affected apps have been located, you can either put the apps to sleep, clear cache and data or uninstall the app.
General Steps to make mobile phone battery last longer
Not finding what you're looking for? We're here to help.
Call

* For any printer related enquiries, please visit the HP website .
Contact Us