Wireless Audio 360: How to use the Wireless audio multiroom app?
Last Update Date :
Apr 09. 2018
Are you the proud new owner of the stunning Wireless Audio 360? The omnidirectional speaker may already be adding beauty to your living room with its elegant and aerodynamic design. Now, it's time to let the sound of music resonate to every corner.
Do you want to access and control your music with ease? And is your smartphone always in the palm of your hands? Instead of reaching for a separate remote to operate the speaker, you can control it with your smartphone. Simply download Samsung's latest Multiroom App 2.0 and enjoy a seamless music experience. With the app's easy interface, playing songs, changing tracks, switching music sources and adjusting volume can be done instantly and conveniently from your mobile device.
Follow the steps to get started:
Step 1. Plug in the Wireless Audio 360.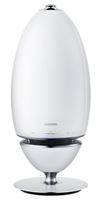 Step 2. Download the Multiroom App on your smartphone.
Depending on your mobile device's operating system, you can install the app from Galaxy Apps, Google Play store or App Store.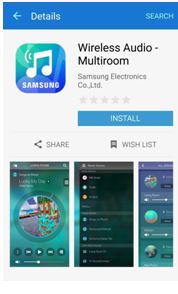 Step 3. Pair the app with your speaker.
After you download and access the app, it will automatically prompt you to connect to a speaker. Select Connect Now. Once the speaker has been located, you will be prompted to enter your Wi-Fi password to connect the speaker to the network. When the connection is complete, you will be notified.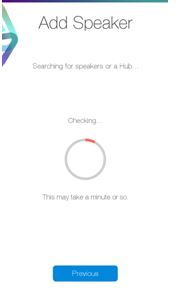 Explore music sources
Why get limited to your smartphone's playlist? Tune into the V Tuner internet radio to listen to the latest hits, put on old tracks from your computer, or access your portable mp3 player to explore a different set of songs. With access to different music sources, you can listen to a wide variety of tracks on your speaker by using the app.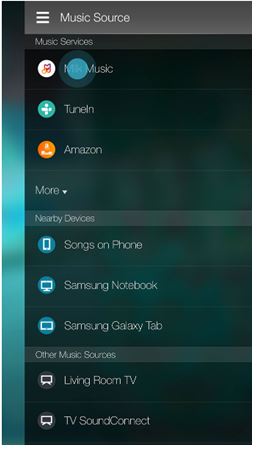 Navigate with ease
With the help of the app's wheel dial navigation, you can smoothly browse through your songs and select tracks that you want to listen to. You can even shuffle or repeat a song, add it to a playlist and mark it as a favourite. Moreover, by using a widget, you can quickly play or control your music from your smartphone's home screen.
Add more speakers
You can connect to more than one speaker with the app. Tap on the speaker icon to open the All Speakers page. On this page, tap on the settings icon on the top right. Under Settings, select Add Speaker and the device will start searching for new speakers. Once the speaker has been located, the app will prompt you to enter your Wi-Fi password. You will then be notified when the speaker has been fully connected.
Group speakers
If you have multiple speakers located in different parts of your house, you can still play the same music across all of them. Simply group the speakers through the app:
1. In the app, tap on the speaker icon.
2. Under All Speakers, select the Group option for one of your multiroom speakers.
3. Then select the audio devices you want to group and tap on Done.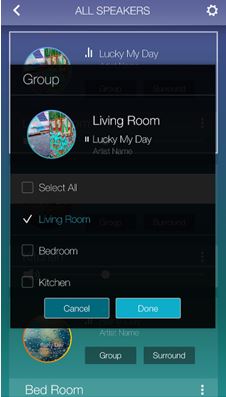 Alternatively, you can play different songs on each of the speakers.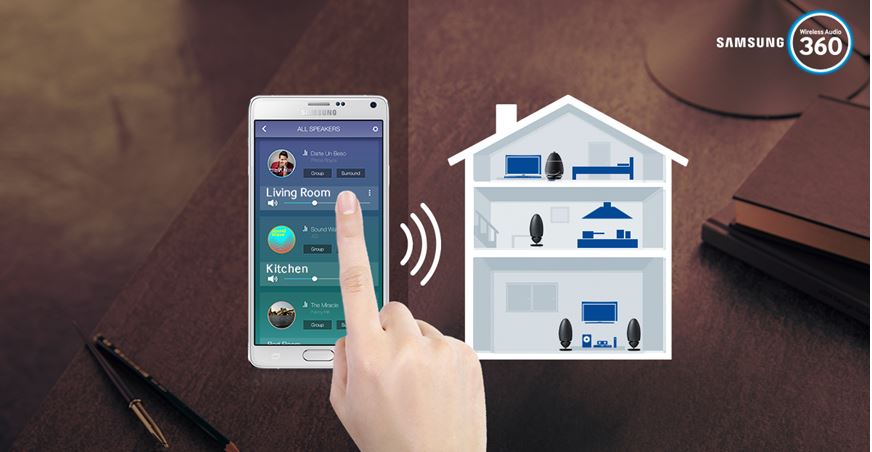 Not finding what you're looking for? We're here to help.
Call
For your Inquiries on Samsung Products
(Inside Saudi Arabia)
8002474357
24 hours all days a week

(Outside Saudi Arabia)
+966112974690
24 hours all days a week

* May Call Charges will be applied
* For any printer related enquiries please visit the HP website .
Face-to-face support
Samsung Support Center

The latest Coronavirus (COVID-19) updates (Service Centers)
With the global spread of COVID-19 impacting most communities, Samsung is adapting its practices to protect the health and wellbeing of our people and customers.

As such, our customer service centers are operating with extremely limited resources and we are unable to serve you as usual.

We apologize for any inconvenience this may cause.
Contact Us