Feel the sound
What's the first thing you do when a horror movie gets too scary? Most people turn the sound off. Sound is a vital part of experiencing film. When it comes to horror, it's crucial for building tension. For 70 million people in the world, who are deaf, the sound is already absent, and so is the chance to fully experience horror movies. That's why Samsung teamed up with the lead sound designer behind the award winning Swedish horror movie "Let the right one in", to create an inclusive sound mix, adapted for people who can't hear.

The adapted sound is made by sound designer Per Sundström who's team was awarded a Guldbagge for the original sound design. By working with the low bass frequencies in the movie, he has created a sound experience that is more perceivable for the body.
Quotes about the experience, from a group consisting of people who are deaf or hard of hearing.
Amina Ouahid
Actress, Tyst Teater

"I love to consume film, but I've always missed out on the sound experience since I'm deaf. The new sound mix for "Let the right one in" allows me to experience a new dimension of the film, where the tension and the events in the movie can be felt physically, which really amplifies the experience in a new way for me."
Per Sundström
Guldbagge awarded sound designer, Let the right one in

"In the new sound mix, we have focused our work on low bass frequencies that create vibrations. A reference group consisting of deaf people have evaluated and helped us rethink the sound design. Partly, the work has consisted of adjusting and redesigning already existing bass sounds, in some scenes we also added new ones. This to enhance effects which are usually only presented as high frequency sounds, and to add a feeling of discomfort corresponding to what the hearing can experience through music."
Carl Molinder
Producer, Let the right one in

"I find it very positive that "Let the right one in" is made available for the hearing impaired. Film should be available for everyone."
How does it work?
When a sound reaches a low enough frequency (Hz) and is strong enough in volume (dB), you can feel it in your body. Sound waves with a low frequency create a slow air pressure that is tangible for the entire body, in opposite to high-frequency sounds which are perceptible only for ears. At low frequencies, the ability to "feel" sound requires a high Sound Pressure Level (SPL) around 100 dB. Samsung's subwoofers can deliver 100 dB in an average living room.
Products that can deliver
the adapted sound design
What you need:
Minimum 3.1 surround system
Subwoofer with low frequency capacity
Volume capacity 100 dB
Support for 5.1 audio output (playback via computer)
Samsung can't guarantee that the sound mix works for everyone. The functionality depends upon factors such as technical equipment (e.g. speakers, TV and internet connection), general acoustics and the configuration of the room. The vibrations from the sound mix may be perceived as disturbing by neighbours.
Our award-winning soundbars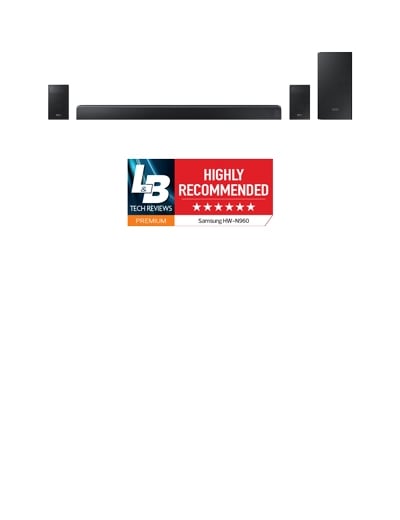 7.1.4ch Cinematic Soundbar N9-series
"The best has become better" - Ljud&Bild September 2018
Make Life Cinematic
With Samsung QLED TV and All-in-One Soundbar
Sound, Completed by Audio Masters
By combining Samsung's innovative mastery in home entertainment solutions with 65 years of Harmon Kardon's audio technical expertise, the two brands continue to push boundaries to bring state-of-the-art sound to the home entertainment experience.
* Se mer detaljer om testet nedan.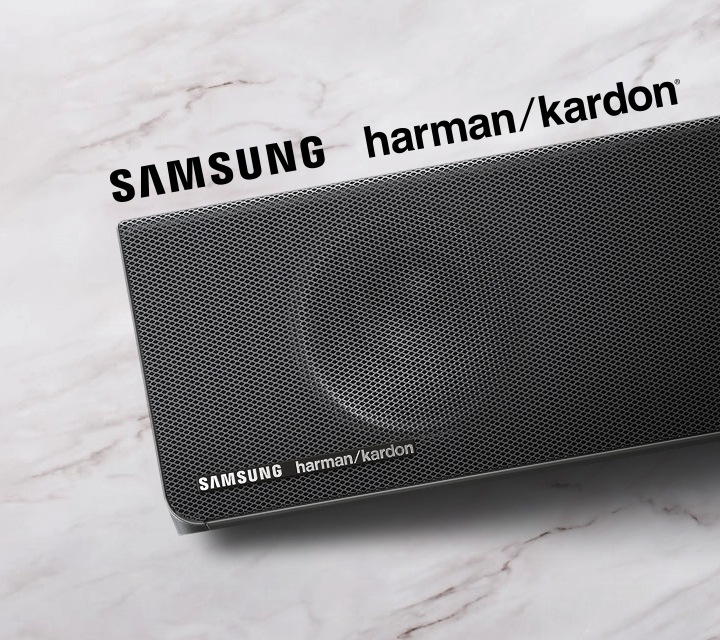 * Se mer detaljer om testet nedan.
Get into the action with panoramic sound
Make your entertainment come alive. The Soundbar fills every corner of your room with a dynamic and rich sound that truly transforms your home.
Award Disclaimers
* Samsung Cinematic Soundbar HW-N960 was voted Highly Recommended in Ljud & Bild's Test in September 2018.
* Samsung Cinematic Soundbar HW-N660 was voted Highly Recommended in Ljud & Bild's Test in May 2018.
* The Samsung All-in-One Soundbar HW-MS760 was rated 8/10 in a review by TEK.NO in December 2017.