Navigating the touchscreen and smart apps on Samsung Family Hub Refrigerator
Last Update date :
Nov 20. 2020
Everything comes together with the Samsung Family Hub™. It's intuitive 21.5" touchscreen and smart apps let you easily manage your groceries, connect with your family, entertain your guests and control your smart devices* with a tap of the screen.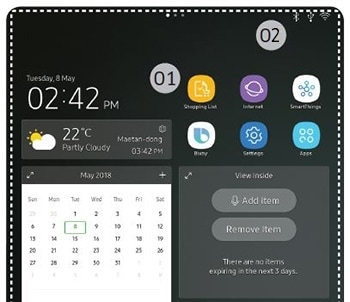 1
Apps & Widgets

• Tap a desired app or widget to launch it

• Tap and hold an app or widget to enter the Edit mode. A grid will appear and you can drag and drop an app or widget to a new position. When you move the app or widget to a new grid location, the location turns blue if it is available. If it is not available, it turns red

• You can add an app or widget that has been removed from the Apps list
2
Status bar

• Displays the status of various functions
Voice commands table

Icon

Description

Bluetooth

Indicates Bluetooth connection status

USB

Indicates USB connection status

Please note: The Refrigerator supports USB memory that is formatted in the FAT32 or exFAT file systems. NTFS is not supported.

Be sure to convert NTFS to FAT32 or exFAT before use

Remote Management

Turns on when Remote Management is enabled and running

Network

Indicates network connection status in 5 levels (Off, 1-4)

Software Update

Indicates the newest version of software has been downloaded from the server and is ready to update

Notification

Indicates there is a notification message

Cloud sync

Indicates Family Hub is receiving data from the cloud server

Voice commands table

Icon

Description

Microphone

• Tap to turn on or turn off the microphone function

• The microphone icon turns red when it is turned off

Task Manager

Tap to open the Task Manager

Home

Tap to open the Home screen

Return

Tap to return to the previous screen

Notification

Tap to display the Quick Panel

Hide/Show

• Tap to hide or show Soft buttons

• The Hide/Show button only appears when an app is active
How to access Fridge Manager
To access Fridge Manager, swipe the Home screen to the left, and then tap the Fridge Manager widget.

• Tap < or > on the bottom of the widget to move between pages
• On the first page, you can check the current temperatures or modes of each compartment as well as active special functions
• Tap the first page to open the Fridge Manager for detailed settings
• On the second page, you can check the filter status
• Tap the second page to open the Fridge Settings
The Fridge Manager is a graphical representation of your Refrigerator. The top half represents the Refrigerator Compartment, the bottom left the Freezer Compartment, and the bottom right the Cool Select+. The temperature or mode settings for each are displayed over each section.

1
Temperature

Set or change the temperatures for the fridge, freezer, and Cool Select+ with Power mode (Power Cool or Power Freeze)

• Power Cool and Power Freeze speeds up the cooling and freezing process at maximum fan speed. The fridge and the freezer keeps running at full speed for several hours, and then returns to the previous temperature

• To freeze large amounts of food, activate Power Freeze for at least 20 hours before putting food in the freezer
Please note: Using Power Cool or Power Freeze increases power consumption. Make sure you turn it off to return to the previous temperature if you do not intend to use it
2
Special Features

Special functions available on this refrigerator are listed with a brief description
3
Fridge Settings

• Ice Maker - Turns the icemaker on and off. Tap and drag the button to turn on or off
Please note: If the ice bucket is full of ice, the Refrigerator does not start making ice when you turn on the icemaker, but displays the Ice Full indicator on the main screen. If you hold down the dispenser lever for 5 seconds, the Ice Maker Off status changes to Making ice

• Dispenser Lock - Turn the Dispenser Lock on or off

• Door Alarm - With the Door Alarm enabled, the door being open displays an alert with a beep. With the Door Alarm disabled, the door being open displays just an alert

• Temp. Unit - Switch the scale unit between Celsius and Fahrenheit

• Water Filter - Provides a Water Filter replacement tutorial and lets you reset the Water Filter replacement indicator. Tap to open

Please note: After installing the Water Filter, tap Water Filter > Reset. Tapping Reset re-initializes the function that measures the time remaining until the Water Filter needs to be replaced again

• Self Check - Self Check is a self diagnoses function. Tap to open. Tap Start to run

• Display - To set the screen brightness, wallpapers, auto wake-up, motion detector, theme, screen timeout, and duration of the screen saver

• Sound - Set the volume and equalizer and turn on or turn off the touch sound

• Wi-Fi - Turn on or turn off a Wi-Fi connection. The current Wi-Fi network islisted first in the access point (AP) list

• Bluetooth - When the Speaker mode is on, you can listen to music and media onyour mobile phone or tablet through Family Hub's speaker

Please note: Only one connected mobile phone or tablet is listed

When the Speaker mode is off, you can search and connect to nearby Bluetooth-enabled devices
Please note: Up to 4 recently paired Bluetooth devices are listed. To add a new device when 4 paired devices are listed, first unpair a paired device from the device list. Available devices are Bluetooth-enabled headsets, headphones,and speakers

• Voice - You can check the Voice function language, turn on or turn offVoice wake-up, select Wake Word, register and manage Voice ID,and check information about Bixby

• Profile - You can add, edit, or delete a profile

• Security - Enable or disable restrictions on Family Hub features and apps

• Language - Select a preferred language. Available languages depend on thesales region

• Date and Time - Make sure the Automatic date and time function is on with a proper Wi-Fi network connection. Open the fridge door and locate the display reset button on the inner side of the door. Press the button and press again to reset the display. Then, the date and time will be synced by the time serverYou can change the time zone through the Time zone menu

• About Device - Make sure the Software Update function is on with a proper Wi-Finetwork connection. When updates are available, the Update button becomes active. When updates are completed, the Refrigerator restarts automatically

• Easy Connection - Easy Connection can be used with Samsung Smartphone apps, andallows you to connect your device to the same home Wi-Fi networkthat your smartphone is connected to

• Clean Screen Mode - Turn on so you can clean the screen without activating any apps

• Online Manual - The online manual will walk you through various menus and appsthat the Refrigerator provides directly on the display

• Factory Data Reset - Tap Reset to restart the refrigerator in Factory Data Reset mode. All user data will be removed permanently. Data that will be removed includes account information, memos, photos, and user settings

Please note: Once factory reset is completed, no user data can be recovered

• Remote Management - Use this feature t to allow a service representative toremotely diagnose problems and provide solutions

Please note: Remote Management requires a Wi-Fi connection. The Remote Management menu does not appear on models that do not support this feature

4
External Conditions

Displays the external (ambient) temperature and humidity
It is recommended to check that you are connect to 2.4Hz network for better connectivity for use of the family hub