Introducing the new features for Samsung Galaxy A8/A8+
Last Update date :
Nov 20. 2020
A sleek and sophisticated addition to the Galaxy A Series, the Galaxy A8/A8+ makes a bold statement with Samsung's first-ever dual front camera designed to capture and showcase all that makes you quirky and unique.

Find out below about the new features for Samsung Galaxy A8/A8+:
Design & Display
Premium Design

The Galaxy A8/A8+  2018 is an elegant look with a comfortable grip. Symmetrical curves and rounded edges add up to an ergonomic design with the perfect grip, enabling comfortable one-handed operation.

• 5.6", 6.0" Full HD + sAMOLED  with Infinity Display

• Rounded corners with symmetrical curves, for a comfortable grip

Infinity Display

A bigger screen on a slimmer Galaxy A8/A8+ 2018. The top and bottom of the Galaxy A8/A8+ 2018 have been trimmed away, so the screen is bigger while the device remains sleek and compact.

• The narrow Galaxy A8/A8+ 2018 fits comfortably in one hand, yet the screen is bigger.
More Immersive Viewing

Galaxy A8/A8+ 2018 supports an ideal aspect ratio for a true cinematic experience. The Infinity Display has an aspect ratio of 18.5:9, so it's optimal for both 21:9 and 16:9 content. This minimize distractions, so you can enjoy easier multitasking and truly immersive viewing.

• 18.5:9 aspect ratio, optimized for both 21:9 and 16:9 content

• Enjoy immersive viewing thanks to the embedded soft Home button

• With the Infinity Display, you'll benefit from the Galaxy flagship heritage

Stylish Colour Options

• A phone to suit your style. Available in Black, Orchid Gray, Gold and Blue
Superior Camera
Dual Front Camera

The Galaxy A8/A8+ 2018 is Samsung's first dual front camera. With it, you can take selfies just like a pro photographer.

• Samsung's first dual front camera

• 16MP + 8MP dual front camera, for perfect selfies

• F1.9 lens, for brighter pictures in low light
Live Focus

Live Focus allows the camera to capture the background and the subject separately, so you can adjust the focus as you need. You can change the focus of a selfie or blur the background by adjusting depth of field. Plus, you can adjust blurring and change the focus even after you've saved your selfie in Gallery.

• Live Focus, for stunning portraits

• Live Preview, so you can adjust the focus

• You can adjust depth of field both before and after taking pictures

Switching Between Front Cameras

Switch between the two front cameras to suit your shooting conditions and get the kind of selfie you want.

• Default: main camera (16 MP). Suitable for perfect close-ups. Tetra-cell technology that provides bright, clear photos even in low light 

• Secondary camera (8 MP). Suitable for selfies where the background is clear and sharp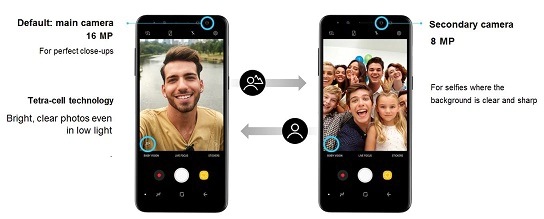 Brighter Rear Camera

Make the night shine with the Galaxy A8/A8+ 2018. The bright F1.7 lens ensures bright, clear photos even in low-light environments.

• 16MP rear camera

• An F1.7 lens, for brighter pictures in low light

Clear Video Recording

With vDIS technology, you can produce clear, vivid video and say goodbye to shaky video footage.

With hyperlapse, you're able to create time-lapse videos that let you tell longer stories in a fun, compact manner.

Please note: These features are available with the rear camera, and when recording at FHD 30 fps only.
VDIS Technology and Hyperlapse
Fun Camera Features

• Stickers - Enhanced with face recognition

• Stamps - Many logos to choose from
 
• Beauty Mode - Record a video selfie and still look your best on video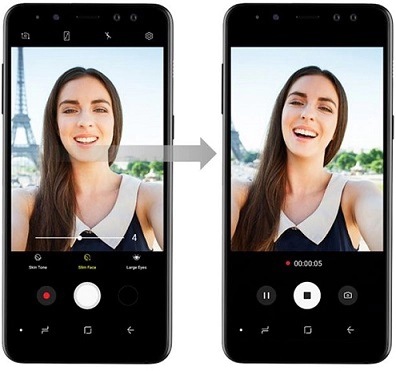 Shortcuts

Show your palm, activate the floating camera button, or say Smile, Cheese, or Shoot. Pick a shooting mode shortcut and launch it right from the Home screen. Getting a nice, natural photo is never easy.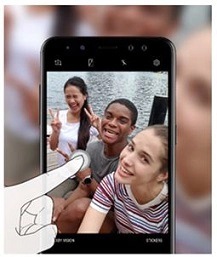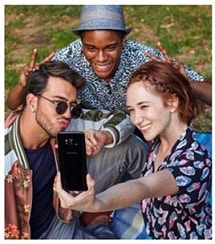 Enhanced Gallery

With Story, you can organize your photos and videos by theme and edit them with various effects. After capturing a screenshot from a website, you can tap screenshot in Gallery to return to the source website. It's easy to search your content by using the search bar or tapping the appropriate category.

Story

• Automatically create a story based on face recognition, time, or location.

• When you take five or more images or videos, various themes and background music options will automatically be suggested.

• To access Story, tap Gallery > Tap STORIES > More option (3 vertical dots) > Create story

Please note:

• Go to URL is supported on the preinstalled browser, Samsung Internet, and Google Chrome only

• A Samsung account and verified phone number are required to use Story Sharing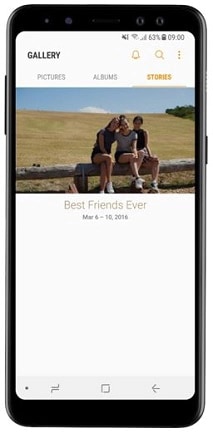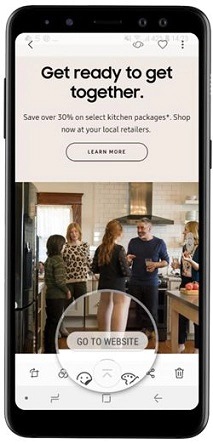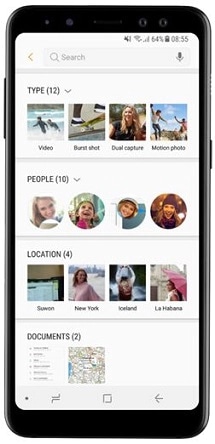 Convenience
Water and dust resistance (IP68)

The Galaxy A8/A8+ 2018 is rated IP68 for water and dust resistance, so you can use it worry-free in the rain or by the pool. For safety reasons, charging automatically stops when the device is wet.
Please note: IP68-rated devices can withstand immersion in 1.5 meters of freshwater for 30 minutes.

Expandable Memory

The Galaxy A8/A8+ 2018 has 4GB of RAM, for an excellent performance. Capture and store media with expandable storage as much as 256GB.

With the dual-SIM model, you can use a microSD card and enjoy LTE and 3G connections.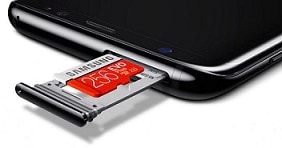 A smarter way to use your phone

Bixby is like a personal assistant that helps you to access apps and content, remember your appointments, and find the products and information you need. Bixby learns your routine and makes your life easier.

Bixby Vision - Shop online, translate text, and find the information you need
Bixby Home - Access your favorite apps and content at a glance.
Reminder - Get intelligent alerts based on time, location, and situation.
Please note:

• The Galaxy A8/A8+ 2018 supports Bixby Vision, Home, and Reminder. Bixby Voice is currently not available.

• The availability of Bixby services may vary by country and region.
Advanced Security

Face Recognition - Instantly unlock your Galaxy A8/A8+ 2018 with a look.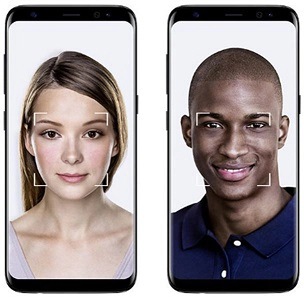 Fingerprint Recognition - Hold the Galaxy A8/A8+ 2018 and place your finger on the fingerprint sensor to unlock your phone. 
Secure Folder

Based on the Knox security platform, Secure Folder is a safe place for all your personal files and apps. Unlock your phone and access Secure Folder with your fingerprint.
Samsung Pay

Samsung Pay supports both MST and NFC, so it can be used virtually anywhere by swiping your card. Every transaction is secure, yet very simple. All it takes is one swipe and one fingerprint scan.

Samsung Health

Samsung Health helps you monitor the progress of your activity, nutrition, and sleep.

The app allows you to set health goals and track your activity easily. You can also sync apps and devices to make tracking easier. Motivate yourself by challenging with your friends and other users.

Samsung Cloud

With 15GB of free storage per Samsung account, Samsung Cloud makes it easy to backup, restore, and sync data across all your Galaxy devices.
Dual Messenger

With Dual Messenger, it's easy to use two messenger accounts.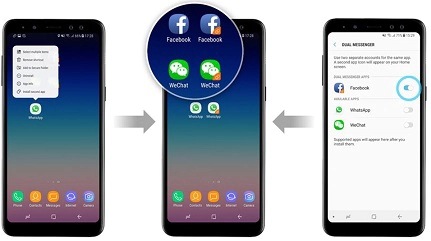 Install and set Dual Messenger
From the Home screen:

• Tap and hold a messenger app icon
• Tap Install second app

From the Settings menu, toggle an app's switch to enable/disable it.

Please note: Availability of service may vary by country

Adaptive Wi-Fi

Galaxy A8/A8+ 2018 remember locations where you've previously connected to Wi-Fi networks. When you enter and leave, it automatically turns its Wi-Fi capabilities on and off.