Customize App Notification Sounds on Galaxy S9 and S9+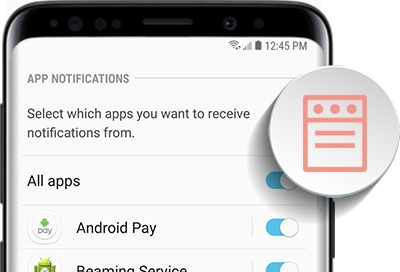 You can't go a minute without checking your email, but you are so sick of getting alerts from that game you barely play anymore. When you like hearing from some apps but not others, select the apps you want to receive alerts from and which you do not. You can even choose how you receive notifications on your favorite apps.
Available screens and settings may vary by wireless service provider and software version.

Apps that have their own notification sounds can be customized inside the app's settings.

These settings differ by apps and customizing the notification sounds may be unavailable.
Customize App Notifications
Make sure you never miss an alert by using a catchy notification sound. Most apps will allow you to change the sound through your phone settings. But some may require you to launch the app and then change the settings within the app itself. Follow the steps below to change your notification sounds.


Navigate to Settings, and then select Apps. Select the desired app to adjust. For this example, select Messages. Select Notifications, and then select New messages. Select Sound, and then select the desired notification sound. 
If you do not see Sound settings for your App, this means the notification settings must be changed through the App. Launch your App, and then look for Settings to change Notification & Sounds.

Note: Settings may vary by the app selected.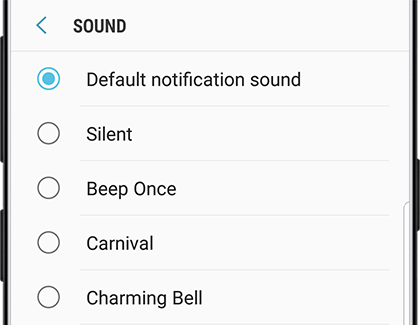 Block App Notifications
Kiss those annoying pop-up notifications goodbye by blocking them. Here's how you do it:

Navigate to Settings, and then touch Notifications. Touch the slider next to an app or All apps to enable or disable notifications.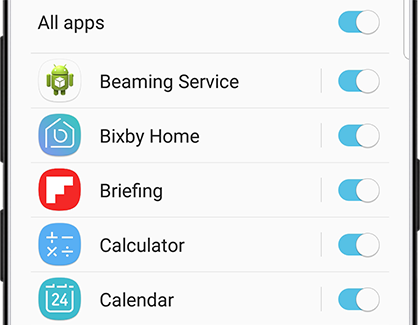 Notification Reminder
If you gotta have your notifications 24/7, you can set your phone to alert you at regular intervals. If you turn on this function, your phone will keep alerting you until you read the notification or take action.
Navigate to Settings, and then touch Accessibility. Touch the slider at the top of the screen to turn on Notification reminder. By default, notification reminders for all apps are turned on. By touching a specific slider, you can turn off or on notification reminders for a specific app. Finally, touch Reminder interval and then select a duration from 1 minute to 15 minutes.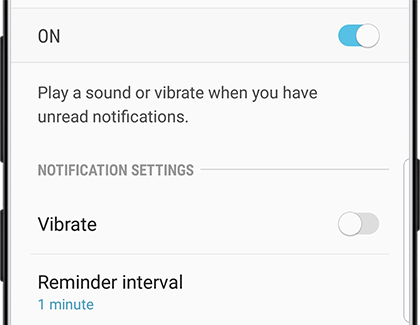 Other answers that might help
How would you like to contact us?
1-800-SAMSUNG Mon – Sun: 8AM – 12AM (EST)
mobile|phones|galaxy-s|s9-plus