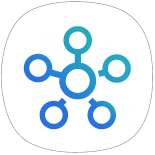 SmartThings
Samsung connect is now SmartThings. Update to start managing your Samsung and 3rd party devices compatible with SmartThings with one easy-to-use app - Smart Home monitor User can use security service easily by setting up his cameras and sensors thru Smart Home Monitoring. - Recommend Automation User can easily make a Automation rule by choosing Recommended Automation. - Location mode Location mode can be available when user generate automation as its condition or action.
Description
With SmartThings, you can connect and control multiple devices quicker and easier. No matter where you are, you can monitor and control smart devices, home appliances, TVs, and speakers registered on the server. [Key features] - Remotely control and check the status of devices registered through a Wi-Fi AP. - Group multiple devices into a Mode and control them simultaneously. - Configure your device settings, including the time and operating conditions, and operate them automatically. - Invite others to a location where devices are registered to enable shared control. - The notification feature allows you to receive status information about your device. Some features may not be available in all countries.
Permissions
The following permissions are required for the app service. For optional permissions, the default functionality of the service is turned on, but not allowed. [Required access permissions] • Contacts: Verify user information that will be delivered while transferring files. • Location: Find nearby devices using Bluetooth or BLE. • Storage: Save and use plugins and app data, and transfer content and files via the app. • Phone: Check for app updates, identify the user's country, and transfer content and files via the app. [Optional access permissions] • Camera: Scan QR codes. • Microphone: Used to provide voice control function using microphone. If your system software version is lower than Android 6.0, please update the software to configure App permissions. Previously allowed permissions can be reset on Apps menu in device settings after software update.
Mobile Devices
Some mobile devices may not be supported. - Available on Android 6.0 or later - iOS 10.0 or later / iPhone 6 or later - Supported resolutions: 1334x750, 1920x1080, 2048x1536, 2048x1536, 2224x1668, 2732x2048 - RAM size : 2GB & over
PC
- Support Specifications: Windows 10 (64bit) 20H1 or higher - Devices that support SmartThings Find: The Galaxy Book series released from May 2021 onwards (Galaxy Book Pro 360, Galaxy Book Pro, Galaxy Book Go, Galaxy Book) ※ The Galaxy Book series released before May will be supported sequentially after June. However, Galaxy Book S will not be supported.
How would you like to contact us?
Give us a call
1-866-813-2404
Mon - Sat: 12PM - 9AM (EST)
Sun: CLOSED
Text SMSCARE to 62913 to receive live support 24/7*
Contact us
We're here for you.
1-866-813-2404

Mon - Sat: 12PM - 9AM (EST)

Sun: CLOSED
Call or Text Us
Give us a call
How can we help you?

Fast, easy checkout with Shop Samsung App
Easy sign-in, Samsung Pay, notifications, and more!
Or continue shopping on Samsung.com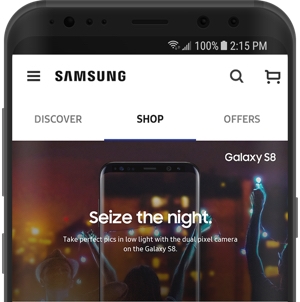 ×
You Are About To Be Redirected To Investor Relations Information for U.S.
Thank you for visiting Samsung U.S. Investor Relations. You will be redirected via a new browser window to the Samsung Global website for U.S. investor relations information.
×
Redirect Notification
As of Nov. 1, 2017, the Samsung Electronics Co., Ltd. printer business and its related affiliates were transferred to HP Inc.
For more information, please visit HP's website:
http://www.hp.com/go/samsung
Select CONTINUE to visit HP's website.