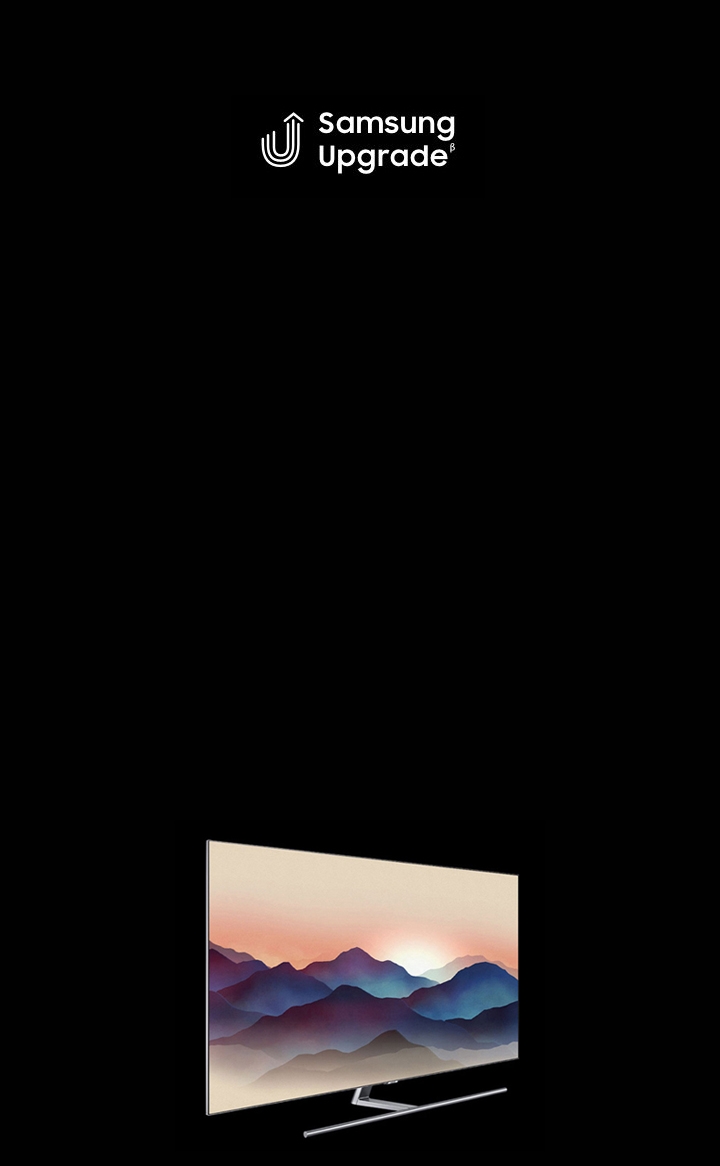 Get the latest TV every two years.

Introducing a new way to upgrade your TV when you purchase a qualifying TV with Samsung Financing⊕ and add Samsung Upgrade.ᵝ

Terms and Conditions applyᵝ





Buy
Choose your new eligible TV and select Samsung Upgrade when you checkout with Samsung Financing.
Upgrade
You will be eligible to upgrade to the latest Samsung TV after 24 months from date Samsung ships your TV.
Receive
Purchase a new qualifying TV under the Upgrade Program and receive a credit of up to 33% of the cost of your current TV.
Enjoy
You can enjoy the latest Samsung TV and keep your current one.
0% APR for 36 Months ⊕
When you purchase eligible Samsung TVs during a promotional period, you may qualify for 0% APR with 36 equal monthly payments.
Upgrade your TV after 24 Monthsᵝ
Samsung Upgrade requires use of the currently available financing plan. After 24 months, you'll be eligible to upgrade your TV and we'll apply a credit to your account for up to 33% of the initial financed amount of your existing TV. Your new TV will also be eligible for upgrade in 24 months from date Samsung ships your TV. Other conditions apply, see TV Upgrade Terms for details. If you do not meet requirements of the TV Upgrade Terms, you will still be obligated for the remaining payments on your TV.
*Q6F Special Edition features vary from other QLED models.
⊕0% APR for 24 or 36 Months with Equal Payments: Available on purchases of select products charged to a Samsung Financing account. Minimum purchase: $350 for 24 month, $1,299 for 36 month. 0% APR from date of eligible purchase until paid in full. Monthly payment equals the eligible purchase amount multiplied by a repayment factor and rounded to the nearest penny (repayment factors: .04167 for 24 month, .02778 for 36 month). Last payment may be less. Total amount of payments will not exceed eligible purchase amount. Other transactions and fees affect overall minimum payment amount. Advertised payment amount excludes taxes, delivery or other charges. Limited time offer. Regular account terms apply to non-promo purchases. Minimum interest charge: $1. Standard Purchase APR: 29.99%. Prior purchases excluded. Account must be in good standing. Subject to credit approval. Samsung Financing account issued by TD Bank, N.A.
ᵝLimited time only, while supplies last, exclusively on Samsung.com and the Shop Samsung App (excluding in-person Samsung Studios transactions made using the App). You must opt-in to the Samsung Upgrade Program, apply and be approved for a financing account ("Financing Account") under the Samsung Financing Program and make an initial purchase of an eligible Samsung television ("Initial Device") on a 36 month payment plan using your Financing Account. After 24 months from the date Samsung ships your Initial Device to you, if your Financing Account is in good standing and you purchase a new eligible Samsung television that is of equal value to or greater value than your Initial Device ("Upgrade Device") under the Upgrade Program on a new 36 month payment plan using the Financing Account, then you will receive an upgrade credit ("Upgrade Credit") equal to the balance of the purchase price of your Initial Device plus applicable taxes and shipping charges ("Initial Amount") that remains outstanding on your Financing Account, up to a maximum of 33% of the Initial Amount ("Maximum Credit"). Neither the Initial Device nor the Upgrade Device may be resold. The Upgrade Program may be modified or cancelled at any time in Samsung's sole discretion. Additional terms apply. Void where prohibited. See the Upgrade Terms at http://www.samsung.com/us/tv-upgrade/terms-and-conditions/.