Gear S3 Classic: How do I set up and use the altitude and barometric pressure widget
Last Update date :
Oct 05. 2020
Altimeter & barometer
The altitude and barometric pressure sensors in your Gear S3 can quickly tell you how far you are above sea level and the current atmospheric pressure. In addition to the Alti-Barometer app on your Gear S3, you can set up the Alti-Barometer widget on your Home screens.
Note:
The screens and steps shown below may vary by wireless service provider and your mobile device.
Set up altitude and barometric pressure
1.
From the Watch screen, rotate the bezel to the right until you reach the
Altitude and Barometric pressure
widget.
2.
Touch the bottom-left icon to open the altitude sensor.
3.
Touch
GO
to calibrate the altitude sensor for the first time.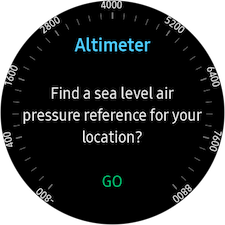 Note:
Review the disclosure and touch the check mark to continue, if required.
4.
Once the Altimeter is set, rotate the bezel clockwise to view the Barometer.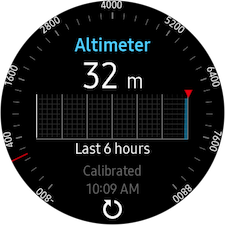 Note:
You can recalibrate the sensor at any time by touching the
Recalibrate
icon at the bottom of the screen.
5.
Rotate the bezel clockwise again to access the settings menu.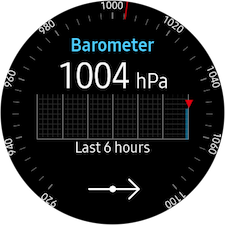 6.
Touch
CHANGE
to adjust the settings.
Note:
Touch the
question mark
for more information on how the altitude and barometric pressure are calculated.
7.
In the settings menu, you can manually calibrate the altitude and sea level pressure, and change the distance and pressure units. You can also turn on pressure alerts, which will notify you when the atmospheric pressure drops more than 4 hPa in a 3-hour period.
Please click the submit button below to share your feedback with us. Thank you for your participation.
Please answer all questions.