How Do I Upgrade the Firmware for my device using Kies 2.6?
Last Update date :
Nov 23. 2020
Upgrade Firmware
IMPORTANT:
Visit
Samsung Support
and locate your specific device for detailed upgrade instructions. An update may not be available for your device due to wireless-service-provider limitations, lack of update, or unsupported models.
NOTE:
A software update will not be available unless you are on an approved Samsung OS and model that is recognized by Kies. In addition, each device model model maintains a separate FAQ with device update instructions.
Getting Started
Prior to connecting your device to your PC, review the following information to ensure your connection runs smoothly.
• Ensure that there is only one version of Kies downloaded onto your PC.
• Close all running programs prior to opening Kies 2.6.
• Connect your USB cable directly to your PC and not through a hub.
• For additional assistance, please contact your PC manufacturer or Samsung device seller.
Upgrading Your Firmware
1. Connect your device to your computer using the USB cable. Firmware upgrades are available only when you connect your device via USB.
2. Open Kies. When a new version of firmware is available, you will see a notice on the
Basic information tab
.
3. Click
Firmware upgrade
to start the upgrade process.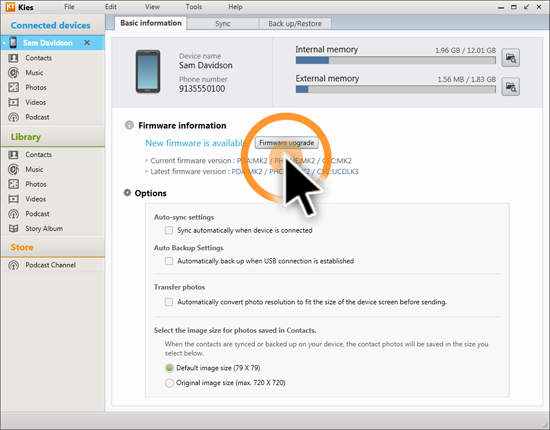 4. A pop-up message may also display when you connect your device to Kies. If so, click
Update
.
5. You will be taken through the backup process to preserve all of your data.
NOTE:
Kies 2.6 is only available for use on a Windows® platform.
Please click the submit button below to share your feedback with us. Thank you for your participation.
Please answer all questions.