Important Tips and Tricks
for Your Home Office
How to set up your home office and work like a boss.

A cleverly designed workspace helps with your home office.
Working from home might be challenging and unusual for some but working smarter with the right tools will get you ahead. Here are a few tips to ace your WFH environment.

Design your Workplace
Setting up a good workspace requires a lot of thought. It should have plenty of daylight without being too restrictive. It's best to position your screen at a 90° angle to the window, to avoid light reflection while protecting your eyes.

If you are used to working with two documents on two monitors, a Curved Monitor would be great for you.

An ergonomic work chair is important to maintain posture and avoid neck and back pain.

Design your workspace with things that motivate you. These could be photos of your family, friends, pets or even travel memories.

It's important to tidy your workspace at the end of the day so you can start fresh the next morning.
Get out of your pyjamas
Structure your day. Create routines for yourself and try to follow the same rituals you would if you were going to work. Of course, having breakfast is important. But you should also get ready as if you were going to work. So get out of your pyjamas and show up for yourself.

If you're working with post-it notes or to-do lists, there is a variety of digital assistants to give you a clear view of your tasks to start the day. Bixby is a great option.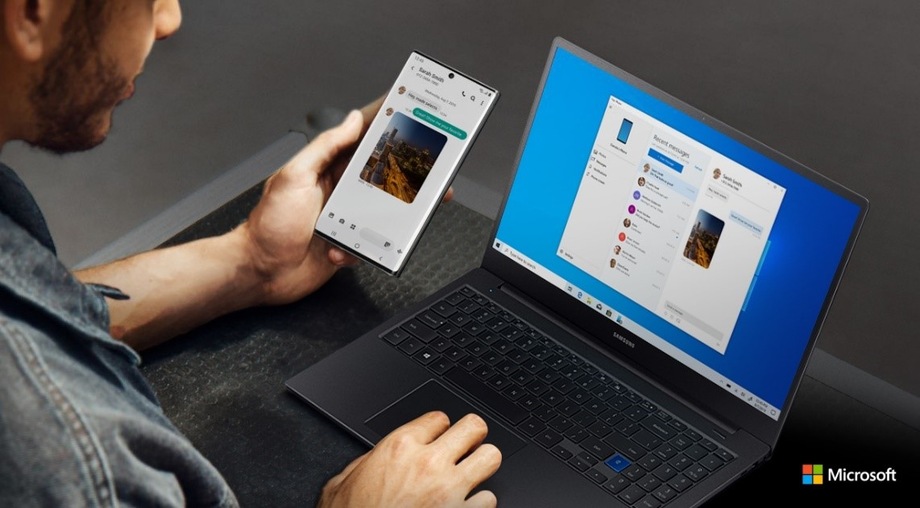 Work smarter, not harder
Having all the right tools will help you get things done in no time and keep you multitasking like a boss. Link to Windows makes it easy for you to look at one screen rather than two, so you can connect your Galaxy phone to any Windows 10 PC and avoid distractions. With this feature, you can even respond to messages and even make calls from your desktop easily.

Stay on your hustle with the Galaxy Note10 and Galaxy S20, which also come with the pre-installed Office Mobile, including all your go-to productivity apps – Microsoft Word, PowerPoint and Excel. Your documents can now be edited in one powerful and intuitive application.

There's more. With Samsung DeX, you can turn any room in your apartment into a work zone, just by connecting your Galaxy to your monitor or TV. Not only can you view your work in comfort with a larger screen, you can also use your device as both a touchpad and keyboard.

When all your productivity needs are at your fingertips, working from home becomes a snap.
Maintain social contact. Video conferences are ideal for keeping up interactions.
4
Minimize the distractions
It's all too easy to get sucked into distractions when you work from home. It's important to minimize them, so everything that doesn't belong on the desk has to go.

Whether it's techno or jazz music, there's nothing better than your favourite playlists to help you stay focused. The Galaxy Buds+ is the perfect work companion that gives you powerful and surround sound to stay immersed. Thanks to the integrated microphone in these small in-ear headphones, you can also make hands-free calls while taking notes.
Galaxy Watch Active2
A fitness and lifestyle partner who is there to help you achieve your goals.
Keep fixed working hours
While working from home, you either have a million things to do at once, or you get into a good rhythm and time flies away. It's all too easy to forget the important things. Time with your family and pets, for yourself and for moving around are vital for your mental health. So make sure you plan plenty of breaks.

Smartwatches such as the Galaxy Watch Active2 can help you to move regularly by reminding you when it's time to stretch or exercise after long periods of inactivity.
Home working made simple
Maintain your work-life balance and stay on top of your health.
Galaxy S20 | S20+ | S20 Ultra 5G