Tablet-Powered
Schedule Hacks
Bullet journal queen Amanda Rach Lee shows you how to organize your life and level up your studies.
Bullet journaling has taken the internet by storm over the past few years and is still riding the wave of feed envy. But it doesn't have to be time-consuming. #TeamGalaxy member and BuJo guru Amanda Rach Lee shows you how to streamline a bullet journal by taking it digital—so you can finally make room in your schedule to learn something new.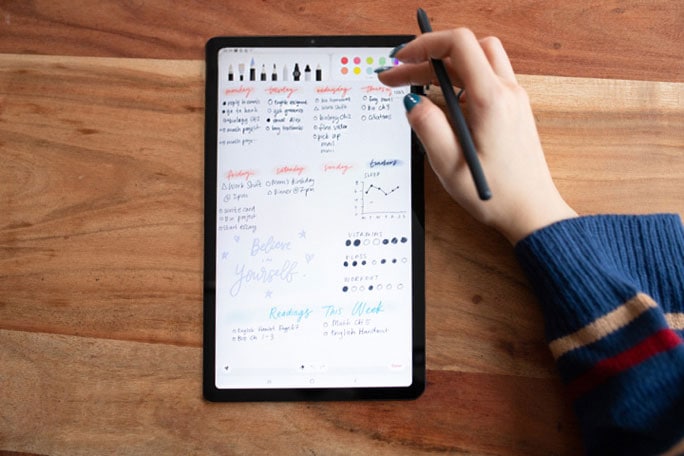 Multitasking Mode
Use split screen view to take notes while watching a video lecture or listening to a podcast on Spotify.*
Create a spread that reflects your priorities
But first, what is a bullet journal? Think of it as a planner-meets-journal designed to help you create more productive habits. Make a list of your upcoming plans for the week or month and figure out a layout that will set them in motion. Amanda suggests asking yourself, "What do I need to do this week, and how can this spread help?" and then designing accordingly on a tablet like the Galaxy Tab S6 Lite. "A monthly spread is a great way to see an overview of your month, with any events, tests or special dates marked off," Amanda says, whereas, "the weekly spread is perfect for your daily to-do list." Better yet, use them together to boost your efficiency.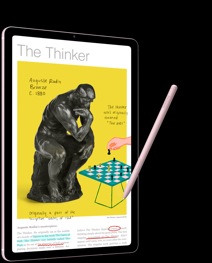 Look and Learn
Highlight text with your S Pen to look up new words in your built-in dictionary.
Cut design time in half with tech features
Found a spread that works? Save it as your own template and duplicate it from week to week with Amanda's favourite app, Samsung Notes. Plus, the app offers a range of brushes to choose from to instantly customize your bullet journal spreads with the S Pen, even while on the move. Amanda's go-to S Pen settings? "Definitely the watercolour brush for adding cute decorations," she says. "I like to set it to a pastel colour and make it relatively large. For regular writing or note taking, I like using the thin fountain pen in black."
Stay on top of your study goals with customized trackers
How often do you aim to read one more book or take an online course only to let your schedule get in the way? We can relate. Add habit trackers in your bullet journal to monitor the personal development activities you want to stick to in between work and play. Bonus points if you use your trackers in tandem with pop-up alerts on Samsung Calendar to remind yourself to follow through.
*Spotify subscription required.
More time for "me time"
Upgrade your bullet journal with time-saving tools like the Galaxy Tab S6 Lite.