What is a Smart Inverter?
Last Update date :
2020-10-02

Samsung's Smart Inverter air conditioners are a combination of cutting-edge technology with exceptional performance characteristics. Prompt and powerful cooling and heating are achieved with minimum power consumption. As a result, your electric bills are nearly cut in half compared to other conventional models while the extraordinary comfort that you've come to expect from Samsung is maintained. Smart Inverter air conditioners from Samsung are the perfect choice for those who appreciate high performance and energy conservation.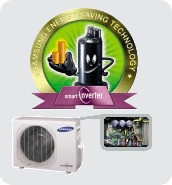 The Inverter Air Conditioner uses an inverter circuit to convert AC from the power supply into DC and then to turn it back into AC.
During the second conversion, the voltage and operating frequency are changed, making it possible to set the rotational speed ofthe compressor freely and thereby regulate the air conditioner's output. Thanks to this, the Inverter Air Conditioners are more economical to operate and produce less noise than conventional units. 


Smart Inverter Air Conditioner can reach out the temperature you want more quickly, resulting in saving energy. While the conventional room air conditioner is switched on, the compressor operates at full power to reach the set temperature. When the set temperature is reached, the compressor switches off. When room's conditions go beyond the accepted range of the set temperature, the compressor starts up again at full power to cool or heat the room to the set temperature once again. The time required for the compressor to switch on and off to maintain the set temperature means the room temperature fluctuates by as much as 1.5oC (plus/minus) from the set temperature. 


There is a simple idea at the basis of the success of the Smart Inverter concept: PERFECT CONTROL OF POWER.
Logical speed of operation, which keeps the air conditioner operation in a truly economical mode, avoiding the inefficient frequent START/STOP operation of non-inverter models, Smart Inverter control ensures that the air conditioning system operates at low capacity for most of the time - especially important during night time operation when the entire family is at home. Most companies use the more standard AC inverter control, which will lower overall energy costs by only 20% of the running costs available from a conventional heat pump. The new Smart Inverter system developed by microcomputer control adjusts the Samsung lowers the operating costs a step further - by 40%, when in its high-efficiency mode, offering remarkable performance for extremely low energy cost while conserving the environment.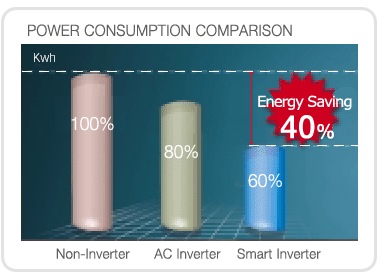 Smart Inverter control harnesses full motor power at start up in order to reach the set temperature as quickly as possible. In both cooling and heating mode, the maximum capacity of Smart Inverter air conditioners is considerably higher than non-inverter types, which results in reaching the set temperature in only half the time.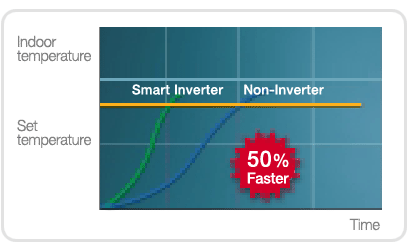 Smart Inverter air conditioners work at maximum capacity at start up. But as soon as the temperature reaches the set temperature, it finely adjusts capacity to match any changes. This means less temperature fluctuation assures you greater comfort, which can be achieved in a matter of several minutes.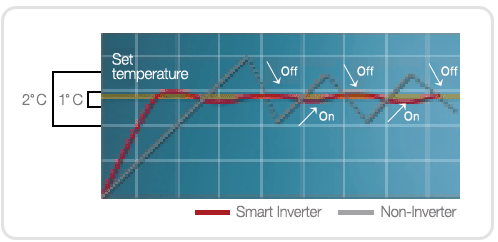 Unlike conventional models with their fixed capacity levels, Smart Inverter air conditioners can precisely control the speed of its compressors and adjust capacity. Samsung's Smart Inverter air conditioners have nearly 100% wider capacity than their AC Inverter counterparts. Essentially, Smart Inverter air conditioners are highly energy efficient and exceptionally economic to operate.


Samsung Smart Inverter control teams up well with the new Samsung DC rotary compressor, allowing greater energy efficiency compared to traditional AC compressors. It offers one of the widest ranges of operating capacities in its class. The DC rotary compressor ensures even and vibration-free operation at the highest and lowest speeds. 

What is a Smart Inverter?

| | Conventional (G4A091JU1EP) | BLDC Rotary (G4C090LU2ER) |
| --- | --- | --- |
| Capacity (btu / h) | 9,300 | 9,300 |
| Frequency Range (Hz) | 50 | 15-110 |
| EER (btu / Wh) | 10.0 | 11.2 |
| Noise (dB) | 65 | 65 |
| Vibration (m) | 120 | 100 |
| Size D x H (mm) | 117.6 x 281.0 | 117.6 x 277.3 |
| Net Weight (kg) | 10.7 | 9.8 |
Samsung's DC rotary compressor is comprised of superior technology providing:
Powerful and economical operation (up to 65% energy saving annually relative to the conventional air conditioners)   
Even room temperature and constant comfort   
Enhanced system reliability and reduced maintenance costs   
Low noise and vibration

Samsung Smart Inverter air conditioners are renowned not only for their high quality and efficiency, but installation ease and low-maintenance operation as well. The integration of system wiring has allowed a tremendous reduction in installation time and related costs. An advantage of inverter models is the charge-less refrigerant system that eliminates the need for on-site charging to make installation easier. Thanks to Smart Inverter Algorithm, Samsung's charge-less refrigerant system allows you flexible piping length up to 15 meters without charging additional refrigerant and free extension of piping length up to 30 meters with charging. As a result, installation fees are reduced significantly. 
Please click the submit button below to share your feedback with us. Thank you for your participation.
Please answer all questions.