Galaxy S20 Series: Check the Connection error appears when being charged by USB cable
Last Update date :
2020-11-20
This symptom can appear when the data link cable is not connected properly or pushed tightly into multipurpose jack.
Galaxy S20/S20+/S20 Ultra guides that you need to check the connection status of those if the charger and the cable are connected incorrectly. Especially, depending on shape of the connector part of back cover, the charging cable may not connect properly, so please try to charge after removing the cover.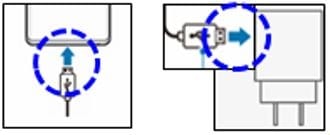 We recommend to use Samsung-approved battery, charger, and cable specifically designed for your device. Incompatible battery, charger, and cable can cause serious safety issues or damage to your device.
Also connecting the charger improperly may cause serious damage to the device. Any damage caused by misuse is not covered by the warranty.
If the pop-up message occurs continuously or device is not charging properly, please visit to Authorized Samsung Service Center with device, charger and check whether your device has any problem.