Gear IconX 2017/2018: How can I clean the Gear?
Last Update date :
2020-11-20
You can feel that audio quality is poor or sound volume was lower than before.
Please check below items firstly.
• Wireless network services may be disabled due to issues with the service provider's network. Ensure to keep the ear buds away from electromagnetic waves.
• Ensure that your ear buds and the other Bluetooth device are within the maximum Bluetooth range (5 m). The distance may vary depending on the environment the devices are used in.
• You may experience drops in volume or noise depending on the connected device's volume.
To avoid this, appropriately adjust the connected device's sound.
Otherwise, If your ear buds are dirty with dust or earwax, or anything else, please follow below steps to clean them for clear sound.
● Basic maintenance:
1
Before wearing the ear buds, make sure to clean your inside ear.
2
Wear and use ear buds with dry condition.
3
After using the ear buds, wipe an inside ear buds tip with soft and dried towel to remove dust, earwax, or oil from your skin
● How to clean ear buds:
Please cleaning your ear buds periodically to use for extended period without problem.
1
Take off ear buds tips from ear buds smoothly.
■ Note: Do not detach the ear buds tip from ear buds excessively. The ear buds tip may tear.
2
Use a cotton swab and dried brush to remove any debris and foreign materials.

■ Note: Do not use liquid like alcohol or soapy water for cleaning ear buds as Gear IconX is not water resistant.
3
Once that's done, if you still see a foreign substance, try brushing ear buds again to dislodge the remained that.
4
After complete cleaning, please assemble the ear buds tip to ear buds properly.
Cover the latch at the bottom of the ear buds with the ear buds tip like below.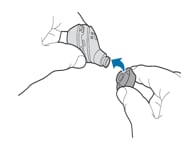 Please click the submit button below to share your feedback with us. Thank you for your participation.
Please answer all questions.