How to use Voice Over WI-FI on my Samsung phone?
Last Update date :
2021-03-21
VoWI-FI
It stands for 'Voice over Wi-Fi', and it is supported by Etisalat Service Provider which will allow the users to make calls and send messages using the Wi-Fi network (Home or Public networks).
How VoWi-Fi works?
VoWiFi is a complementary technology to VoLTE and utilizes IMS technology to provide a packet voice service delivered over IP via a Wi-Fi network. Where possible, VoLTE calls may be seamlessly handed over between LTE and Wi-Fi and vice versa.
If the device has weak 4G signal and there is available Wi-Fi network, then the device will camp on Wi-Fi and the VoWiFi icon will appear on the notification bar.

VoWiFi option will be enabled automatically on the supported devices, there are two ways to enable/disable:
From Quick Panel, using the VoWiFi Calling icon.
 From Settings > Connections > Wi-Fi Calling.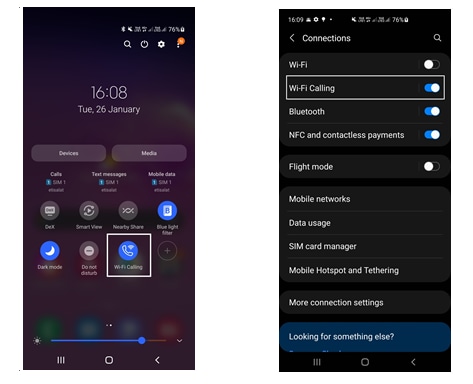 VoWi-Fi Benefits
 Calls sound better.
Calls connect more quickly.
VoWiFi alleviates indoor coverage problems (Calls without any mobile signals).
Etisalat requirements
Operator have some requirements as below:

- No Wi-Fi preferred option in Wi-Fi calling option.
- If customer in location where coverage of 4G, Wi-Fi, 3G/2G exist:

 • The device shall prefer VoLTE.
 • And in case 4G signal is weak, device shall prefer VoWiFi (preferring IMS rather than 3G/2G CS).
 • And if both 4G and Wi-Fi signals are weak, device shall camp on 3G/2G.
- There is a timer (120S) to avoid Ping-Pong between VoLTE and VoWiFi,
o Ping-Pong:
 It is a timer avoids ping-pong between LTE and Wi-Fi with signal quality.
Device establishes IMS connection to LTE if LTE is available.
If signal quality of LTE degrades or LTE is lost, device starts ping-pong timer and triggers handover of the IMS connection to Wi-Fi.
Then device does not trigger handover of the IMS connection to LTE until the timer expires.
After timer expires and if LTE is available, device triggers handover to LTE.
Note: If you could not activate the feature on your device, please contact our call center or Etisalat call center.
Please click the submit button below to share your feedback with us. Thank you for your participation.
Please answer all questions.