What is the Device care feature in Galaxy smartphones?
Last Update date :
2023-03-21
With the Device care feature, you can optimize the performance of your smartphone and check the status of several areas such as battery, storage and much more. With a single touch, you will be able to know how your smartphone is performing and if you are using it properly.
How to access Device care
1
Go to device settings and tap "Battery and device care".
2
Now, you can check several aspects of your smartphone such as: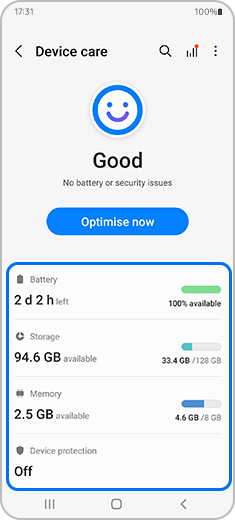 Battery: An estimated running time for your smartphone until your battery is drained. Also, you can check several features like "Power saving", "Background usage limits", "Wireless power sharing" or "Mode battery settings".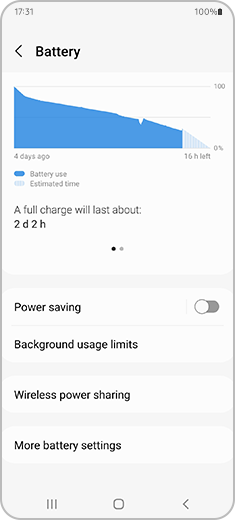 Storage: The space used and space available in your smartphone.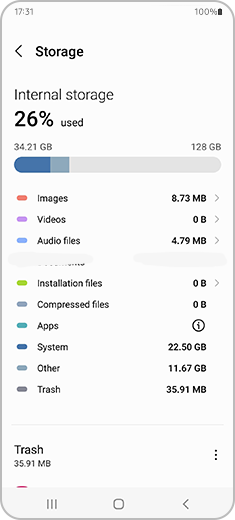 Memory: How much memory is left in your smartphone. You can use "Clean now" to stop background apps. You can also check your "Excluded apps".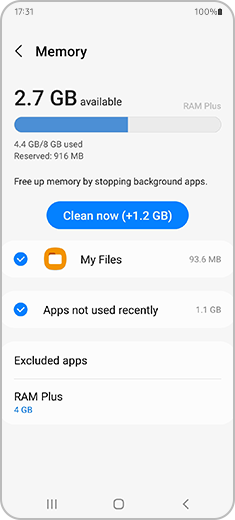 Device protection: Activate this feature to scan your smartphone and search for viruses and spyware. You can also find more options to scan your devices. 
Additional care
You can also use Device care to keep your phone up to date with the latest software for your smartphone such as security features, app updates, and more by tapping "Software update". If you tap "Diagnostics", you will be redirected to Samsung Members. Here you can use the Diagnostics feature, which allows you to test several components of your phone such as battery, touchscreen and more.
Please click the submit button below to share your feedback with us. Thank you for your participation.
Please answer all questions.