Guide on How to delete applications on Smart Hub of Samsung Smart TV
Last Update date :
2020-11-20
Step 1. About APPLICATIONS
If you have downloaded a range of apps already and attempted to download another app you may receive the following message:
"You do not have enough memory to download this application"
This message appears when the Smart Hub memory is full and will disappear when you free up some memory.
To free up some memory or if you simply want to delete an app you no longer use, click "Next".
IMPORTANT: Recommended Apps (top bar) cannot be deleted. Samsung Apps, Your Video, Family Story, Fitness and Kids cannot be deleted.
Step 2. Deleting Apps (1/4)
Launch the Smart Hub and wait for it to load.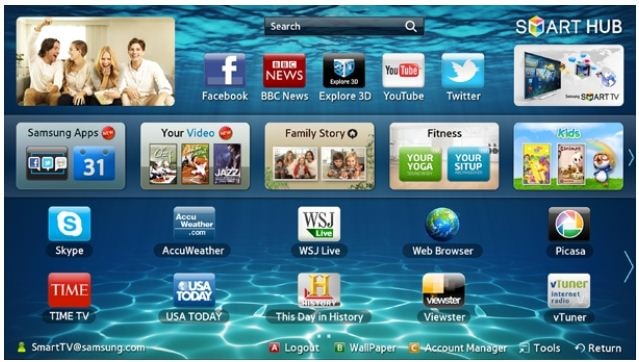 Step 3. Deleting Apps (2/4)
With the navigational arrow on the remote control, move the highlight to the Application you want to delete. Make sure it is being highlighted as shown on the screen.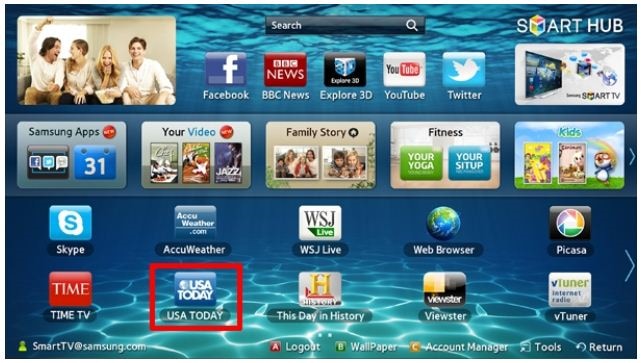 Step 4. Deleting Apps (3/4)
Press the Tools button (above the left arrow button) on your remote and then move down to Delete and press Enter.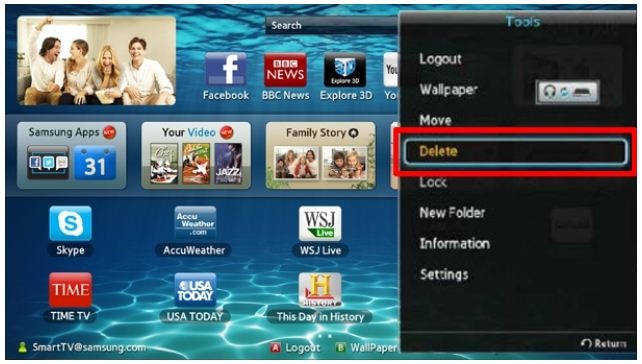 NOTE: If you do not see the Delete option in the Tools menu, the App you have highlighted cannot be deleted.
Step 5. Deleting Apps (4/4)
A confirmation prompt displays, highlight Yes and then press Enter. A second confirmation prompt displays when the deletion is completed. You can press enter on OK or wait for the message to disappear.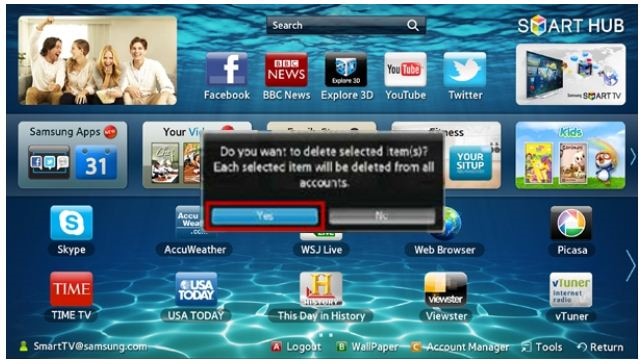 Press the Return or Exit buttons on your remote to exit the Tools menu.
Please click the submit button below to share your feedback with us. Thank you for your participation.
Please answer all questions.