How to use the Intelligent Mode of Samsung QLED TV
Last Update date :
2022-02-15
Smart TV's are getting smarter all of the time. Intelligent Mode makes your TV recognize its position in the room and monitors your usage patterns to provide the perfect viewing experience.
To Learn more, watch the following video:
The features of Intelligent Mode
Adaptive Picture: Optimizes brightness and provides the best picture quality in real time based on the light level in your room and the content.
Adaptive Voice Amplifier: Analyzes the ambient noise and provides optimal sound depending on the noise.
Adaptive Sound+: Provides optimized sound quality by analyzing the viewing space and the acoustic components of the content.
Adaptive Volume: Analyzes your volume usage history by time period to automatically adjust the volume when you use an app or switch to an external input source.
Note:
The options are only available when the sound output of the TV is set to TV Speaker, except Adaptive Picture.
The volume or screen brightness can be adjusted according to the noise and brightness of the surrounding environment. If you do not want this, you can simply turn it off.
How to set up Intelligent Mode
You can turn each feature of Intelligent Mode on and off. Follow the steps below to set up Intelligent Mode on your TV.
Step 1. Press the Home button on your remote control and then select Settings.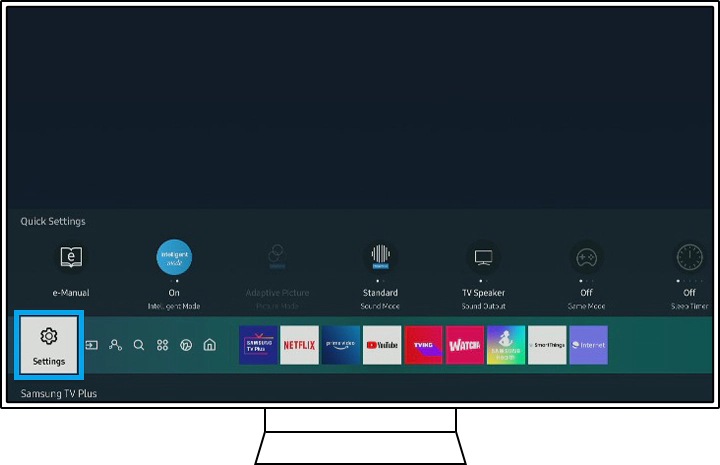 Step 2. Go down to General and select Intelligent Mode Settings.
Step 3. Select the options you want to activate.
Note:
Intelligent Mode is supported only in QLED TV (except for Q6 series), The Frame, The Serif, and The Sero.
Ensure obstacles are removed from the sensor, which is usually located on the front bottom side of the TV.
The device screenshots and menu are only a sample in English - they are also available in the language of your country.
Please answer all questions.