Which QLED is right for you?
Category

Screen Size

Resolution

Quantum Matrix Technology Quantum Matrix Technology is an proprietary technology of Samsung Neo QLED based on Quantum Mini LED. It allows a massive reduction in picture-blooming and detail-boosted deep blacks through ultra-fine light control.

Processor

HDR HDR stands for High Dynamic Range and refers to a technology that more accurately expresses visual detail in both very bright and very dark scenes.

Color Volume A television screen's color volume is a measurement of how accurately it is able to express color at any level of brightness. 2021 Samsung QLED delivers 100% color volume measured in Movie Mode to DCI-P3 standard and certified by VDE.

OTS OTS stands for 'Object Tracking Sound', Samsung's proprietary high-performance audio technology that enables users to hear sound directly from its object's relative location on the screen, even if the object is moving.

Q-symphony

Space Fit Sound

AVA AVA stands for Active Voice Amplifier. When 2021 Samsung QLED detects potentially distracting noises nearby, it amplifies voice volume so viewers will not miss any important dialogue.

Design

One Connect

Smart TV

Multi View

Gaming motion Gaming Motion is a technology that provides smooth motion and clean image quality without blur even in fast-paced game content.
Category :

Neo QLED

Screen Size :

85/75/65

Resolution :

8K (7680 * 4320)

Quantum Matrix Technology :

Pro

Processor :

Neo Quantum Processor 8K

HDR :

Quantum HDR 64X

Color Volume :

100%

OTS :

OTS Pro

Q-symphony :

Yes

Space Fit Sound :

Yes

AVA :

Yes

Design :

Infinity One Design & Infinity Screen

One Connect :

Attachable Slim One Connect

Smart TV :

Yes

Multi View :

Up to 4-screen

Gaming motion :

Motion Xcelerator Turbo+

Category :

Neo QLED

Screen Size :

85/75/65

Resolution :

8K (7680 * 4320)

Quantum Matrix Technology :

Pro

Processor :

Neo Quantum Processor 8K

HDR :

Quantum HDR 32X

Color Volume :

100%

OTS :

OTS+

Q-symphony :

Yes

Space Fit Sound :

Yes

AVA :

Yes

Design :

Infinity One Design

One Connect :

Attachable Slim One Connect

Smart TV :

Yes

Multi View :

Up to 4-screen

Gaming motion :

Motion Xcelerator Turbo+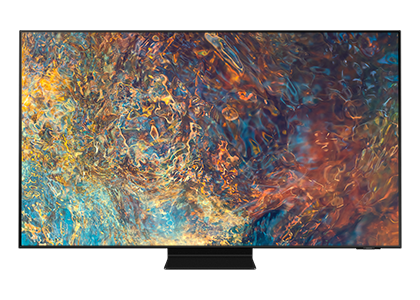 Category :

Neo QLED

Screen Size :

75/65/55

Resolution :

4K (3840 * 2160)

Quantum Matrix Technology :

Yes

Processor :

Neo Quantum Processor 4K

HDR :

Quantum HDR 32X

Color Volume :

100%

OTS :

OTS+

Q-symphony :

Yes

Space Fit Sound :

Yes

AVA :

Yes

Design :

NeoSlim Design

One Connect :

-

Smart TV :

Yes

Multi View :

Up to 2-screen

Gaming motion :

Motion Xcelerator Turbo+

Category :

Neo QLED

Screen Size :

85/75/65/55

Resolution :

4K (3840 * 2160)

Quantum Matrix Technology :

Yes

Processor :

Neo Quantum Processor 4K

HDR :

Quantum HDR 24X

Color Volume :

100%

OTS :

OTS

Q-symphony :

Yes

Space Fit Sound :

Yes

AVA :

Yes

Design :

NeoSlim Design

One Connect :

-

Smart TV :

Yes

Multi View :

Up to 2-screen

Gaming motion :

Motion Xcelerator Turbo+

Category :

QLED

Screen Size :

65/55

Resolution :

4K (3840 * 2160)

Quantum Matrix Technology :

-

Processor :

Quantum Processor 4K

HDR :

Quantum HDR 24X

Color Volume :

100%

OTS :

OTS

Q-symphony :

Yes

Space Fit Sound :

Yes

AVA :

Yes

Design :

-

One Connect :

-

Smart TV :

Yes

Multi View :

Up to 2-screen

Gaming motion :

Motion Xcelerator Turbo+
Category :

QLED

Screen Size :

85/75/65/55

Resolution :

4K (3840 * 2160)

Quantum Matrix Technology :

-

Processor :

Quantum Processor 4K

HDR :

Quantum HDR 12X

Color Volume :

100%

OTS :

OTS

Q-symphony :

Yes

Space Fit Sound :

Yes

AVA :

Yes

Design :

AirSlim

One Connect :

-

Smart TV :

Yes

Multi View :

Up to 2-screen

Gaming motion :

Motion Xcelerator Turbo+
Category :

QLED

Screen Size :

85/75/65/55/50

Resolution :

4K (3840 * 2160)

Quantum Matrix Technology :

-

Processor :

Quantum Processor Lite 4K

HDR :

Quantum HDR

Color Volume :

100%

OTS :

OTS Lite

Q-symphony :

Yes

Space Fit Sound :

-

AVA :

-

Design :

AirSlim

One Connect :

-

Smart TV :

Yes

Multi View :

Up to 2-screen

Gaming motion :

Motion Xcelerator
Buy on Samsung.com
and enjoy additional benefits