NE59N6650WG Electric Oven with Steam Assist (Black Stainless Steel)
NE59N6650WG/AC
Steam Assist
Illuminated Lighting Knob
3.6kW Express Boil
Wi-Fi Connection
Crisp & juicy food
Steam Assist
Get deliciously succulent and crispy baking results easily. Steam Assist heats water to a high temperature to fill the oven with steam. Food retains more natural moisture, so it's juicy inside, but nicely crisp and brown outside.
Intuitive control
Illuminated Lighting Knob
Worry less with the added peace of mind of the Illuminated Lighting Knob. You can easily check if burners are on or off at a glance, even from a distance. And they add a stylish, premium look.
Convenient control
Slanted control with large knob
The large, ergonomic design of the metallic knobs makes them easy to grip.The angled design and stainless steel finish of the Slanted control enhance the range's sleek, modern styling.It also ensures that the control knobs are ergonomically positioned for maximum visibility and convenience.
Powerful & flexible
3.6 kW Express Boil
Boil water or cook anything in a flash. A 3.6 kW Express Boil dual burner provides great power and flexibility. It has two concentric ring sizes, 6" or 9". So you can efficiently heat or gently simmer different sized dishes. Or turn it up all the way to boil water and cook food faster.
Simple to control
Wide Membrane
Select the functions you need much easily, without pressing too hard. A Wide Membrane display is very sensitive. It only takes a gentle touch to control every function. Its wide display screen with separately grouped buttons also makes it much easy to find the right program settings.
Sensitive & precise
Sensitive Touch Display
Enjoy simple and easy control. The Sensitive Touch Display features a new coating that offers enhanced touch sensitivity and precise finger recognition. So there is no need to press hard on buttons. Instead you can quickly and conveniently adjust the settings with a light and gentle touch.
Sleek, solid styling
Stainless Steel Edge Frame
Enjoy a stylish new design that fits harmoniously with modern kitchens and improves usability.The Stainless Steel Edge Frame large cooktop surface. It also looks elegantly sleek and stylish.And its smooth and durable edges mean it can fit safely and neatly into your existing kitchen.
Large Capacity
5.9 cu. ft. Large Capacity
Create more variety and cook larger dishes with a massive 5.9 cu. Ft capacity oven. You can cook a variety of different types of foods with two wire oven racks.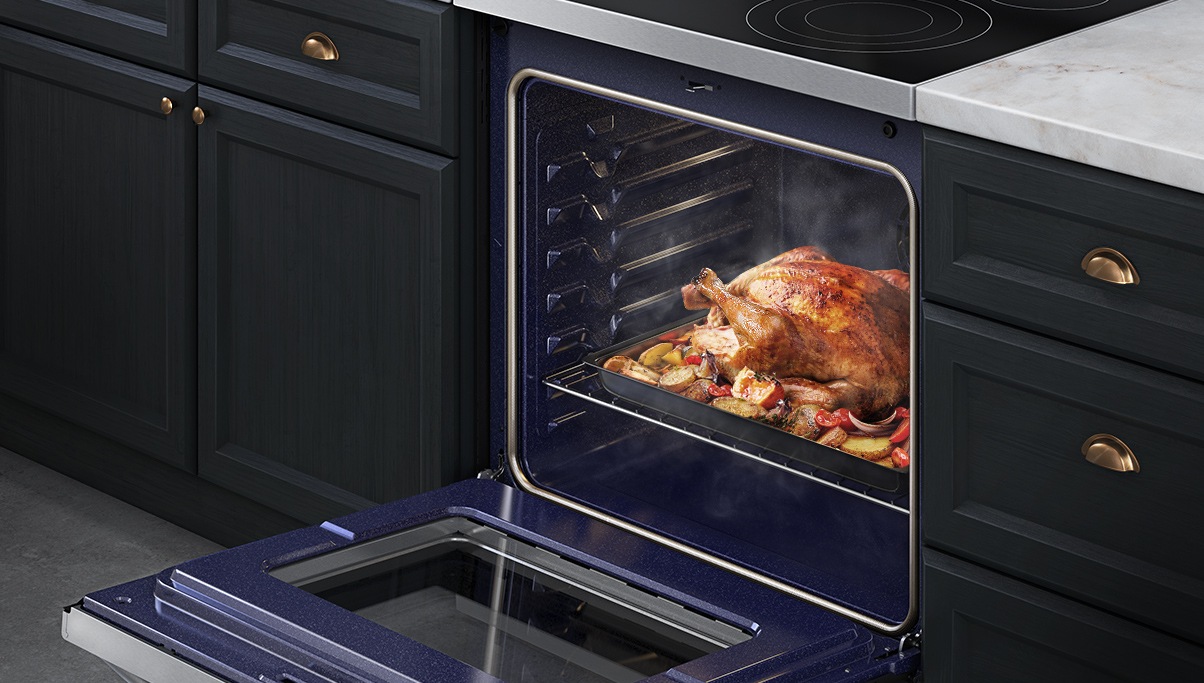 Fast & even cooking
True Convection
Save time and cook food more evenly with a True Convection system, which is great for baking and broiling. A heated fan distributes heat all around the oven and keeps the temperature constant everywhere. Dishes are cooked quickly and thoroughly and you can enjoy tastier meals every time.
Remote monitoring
Wi-Fi Connection
Enjoy greater peace of mind with Wi-Fi Connectivity.You can remotely monitor the cooktop using the App*. It lets you check if the burners are on when you're not home and saves time as you can remotely set the cooking timer and receive real time alerts.
* Available on Android and iOS devices. A Wi-Fi connection is required.
Keep neat with heat
Self Clean
Keep your oven brilliantly clean without any time-consuming scrubbing. A Self Clean system heats the oven cavity to a high temperature to burn off any grease and residue left from cooking. So it is completely clean inside with just some finely powdered ash left that you can easily wipe away.
5 EA

Number of Burner

Freestanding

Type
How It Stacks Up
Steam Assist

Illuminated Lighting Knob

3.6kW Express Boil

Wi-Fi Connection
Large Capacity

5 Burners

Self Cleaning

Wide View Door
* Key feature may different from Key Spec