RF220NCTAWW French Door Refrigerator with Digital Inverter Technology, 21.6 cu.ft
RF220NCTAWW/AA
RF220NCTAWW French Door Refrigerator with Digital Inverter Technology, 21.6 cu.ft
is rated out of
5
by
46
.
The most spacious 3-door fridge in its class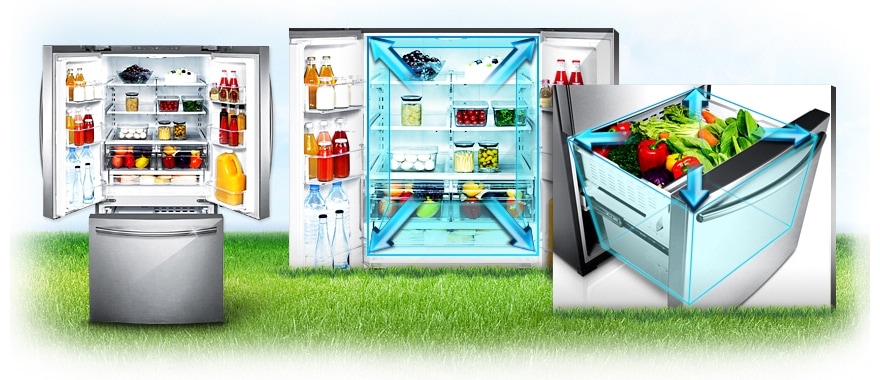 If you like to buy in bulk, the RF220 refrigerator easily accommodates your shopping list. Features such as LED lighting help increase storage space in both refrigerator and freezer compartments, giving you enough room to store an extra 15 gallons of milk. The additional space also helps you better organize your food items, so you can quickly find that jar of mayonnaise without keeping the door open for too long.
Greater flexibility meets greater capacity
Maximize your storage space, one shelf at a time. The RF220 features four split cantilever shelves that offer greater flexibility than the full-length shelves typically found in conventional refrigerators. Supported in the back for greater stability, each shelf is detachable — adjust higher or lower as necessary. Now you can easily make room for that big pot of homemade spaghetti sauce or the seven-layer cake you made for tomorrow night's dinner party.
Brighter, gentler and more energy-efficient
LED lighting embedded in the ceiling illuminates the interior brightly yet gently. You'll not only see your groceries better, you'll also see more space, since there's no protruding light bulb. You'll also notice a difference in your electric bill. That's because LED lighting is more energy-efficient than conventional bulbs and emits less heat, helping your fridge stay consistently cool.
Just the right height for your kitchen
Get the stainless steel look you want and the ample storage space you need with a refrigerator that meets your kitchen-cabinet height requirements. Just 66.81" tall, including the hinge (and 65.39" cabinet), the RF220 leaves room for overhead cabinets, even in smaller kitchens where space is at a premium.
Quietly save energy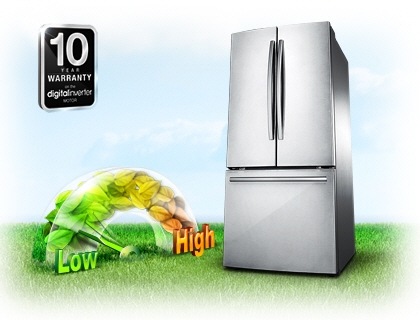 The Digital Inverter Compressor enables the new Samsung French door refrigerator to maintain a more consistent temperature and use electricity more efficiently. The compressor also helps preserve your home environment, running more quietly than conventional compressors.
A smarter way to store foods
A smartly designed bin system makes it easier to put away and take out fruits, vegetables, cheeses and more. The wide-open pantry, which features a flip-open top, pulls all the way out, so you can quickly grab that round of Edam cheese. There are also two drawers that capably hold all your produce, from apples and blueberries to yams and zucchinis.
Store gallons of milk in your door
The RF220 French door refrigerator features deep and wide door guards that can hold more items than conventional door guards. They can even handle bulky items such as a one-gallon container of orange juice or milk. This helps free up valuable shelf space while making your groceries more easily accessible.
Rated

1

out of

5
by
Rogo
from
poor quality
3 months old and replaced compuer board and fan still not working
Date published: 2013-02-08
Rated

5

out of

5
by
Minimouse
from
Love it!
Great fridge, lots of space and flexibility for moving shelves around to meet your needs. Love the small bottom drawer for storing deli & cheese or small items. The french door looks great and having the freezer at the bottom is more convenient
Date published: 2013-05-20
Rated

4

out of

5
by
Kim1
from
Lots of room but problem with the drawers
This fridge is nice in that it has lots of room and storage options. It is pretty quiet despite other reviews that it is loud. My only problem with the fridge is the produce drawers do not pull out all the way, very poor design. They pull out 3/4 of the way, leaving about 8cm underneath the shelf above, this makes it hard to get say a large bag of apples in or to get what is at the back of the drawer. Overall, I am happy with my purchase.
Date published: 2014-02-18
Rated

5

out of

5
by
Joeyfishing
from
I Love This Fridge
This fridge was one of only a few that would fit in the area I had available in my kitchen. I was worried about the reviews saying it was noisy. Well I'm glad I bought it because I love it. It has so much room in it, the drawers are well made and are a thick, sturdy plastic. I don't find it noisy at all. The built in ice maker was a surprise, and I love that too. Makes great ice fast. The crisper drawers need to be maneuvered if you want to pull them out, but it is easy to do, unlike what someone said in another review. You would only need to pull out to clean anyhow. The fridge closes to a lock tight position, so everything stays fresh and cold. The freezer is also very spacious and has 3 separate areas for food, plus the catch basin for ice. I would recommend this fridge, and it was a great price for the quality. The LED lights are so neat. Gives the inside a nice bluish glow. LOVE IT!
Date published: 2014-04-24
Rated

5

out of

5
by
Stormes
from
Exception
We have had this fridge for 4 months and at the 2 month the fridge door has a bad Squeak and getting worse . The compressor is also making noises . Dealing with Samsung was good , There is not a service company that services our country area therefore they have issued a return authorization. We liked the look,style and the fridge seemed to operate well . We will update the change out procedure and comment on the replacement fridge. We do like the product and if the new one has no door squeaks or compressor noises we will be totally satisfied with the Fridge and the way Samsung dealt with the issues .
Date published: 2017-12-28
Rated

1

out of

5
by
jimhun
from
Quit Working after 8 months
Bought this fridge and really liked that it was large size for 30" unit, it stopped working after 8 months and was not repairable.
Date published: 2013-11-02
Rated

4

out of

5
by
BobnDi
from
This has just what we wanted
Really like the fridge. Has just what we wanted. a couple of things that need a redesign. First , you have to open both doors to open the right hand crisper drawer. Second, the freezer drawer could have a deeper bottom section. Overall though a great fridge.
Date published: 2013-02-15
Rated

5

out of

5
by
Mike
from
Very energy efficient.
Great looking, nice cool blue LEDs, but most importantly very energy efficient. I lose power often during the winter and this fridge kept our food from spoiling for 26 hours without power. We never opened the door until the power came back on and our meat was still frozen. Great for small spaces, the French doors don't need much room to operate. Had it for over a year now, moved it 4000kms across the country, no issues. Still whisper quiet too.
Date published: 2015-12-16
Features and specifications are subject to change without prior notification.