Cameras on the 2020 Galaxy A series
Last Update date :
Oct 02. 2020
Your new A series phone is equipped with adaptable camera options for every need, whether you're taking selfies or action shots on the go. You can apply beauty enhancements with the front camera, or use bokeh effects with the Depth lens when taking detail shots. Each model's camera is ideal for capturing high resolution daytime or nighttime shots so you'll get perfect photos any time.
Information provided applies to devices sold in Canada. Available screens and settings may vary for smartphones sold in other countries.
Cameras and lenses by model
Each A series model has an amazing camera for vibrant photos and videos, but each one comes with something a little different. Here's a quick breakdown of the models:

Rear camera: 48MP wide lens, 12MP Ultra wide lens, 5MP Macro lens, and 5MP Depth sensor.

Front camera: 32MP wide lens.
Rear camera: 64 MP wide lens, 12MP Ultra wide lens, 5MP Macro lens, and 5MP Depth sensor.
Front camera: 32MP wide lens.
Amazing lenses for great photos
The Depth lens, Macro lens, and Ultra wide lens on your A series phone will provide you with seamless photo taking for portrait and landscape shots.

The Macro lens allows you to get incredible detail when zooming up close. If you enjoy taking food or nature shots, then this lens is for you. You can also add soft blur effects to the backgrounds to help things really stand out. From the Camera app, tap MORE, and then tap MACRO to access this lens.

The Ultra wide lens is great for landscape photos or wide angle shots. The Camera app will automatically detect if a wide angle is suitable and will switch the lens view for you. You can also tap PHOTO, and then tap the Ultra wide icon - it looks like three trees.

When using the Depth lens, you can apply a bokeh effect to blur your photo's background. If there's a large street sign or car in the background, you can still keep the focus on your subject with different blur options.
Just open the Camera app, and then tap LIVE FOCUS. Wait until the camera says it's ready, and then take a photo. To apply the different bokeh effects, navigate to the picture in the Gallery app. Tap Change background effect, and then choose your desired effect. Original, Blur, Spin bokeh, Zoom bokeh, and Colour point can be selected to put the finishing touches on your portrait.
Take the best selfies
You'll amaze your friends with your improved selfies when using Selfie focus, Beauty filters, and Flaw detection on your A series phone. These features can be applied when taking selfies by yourself or with a few friends. You can use beauty features on the front lens. Just tap PHOTO while in Selfie mode, and then tap the Filters icon (it looks like a wand). Tap Beauty, select your desired effects, and, when you're ready for a selfie, snap a photo.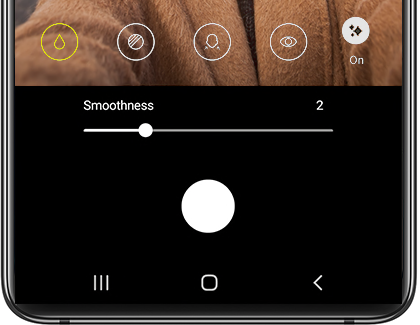 Another nifty feature is Selfie focus - this is when you use Live Focus with the front camera. This feature will alter your surroundings so your face is in focus. Just tap LIVE FOCUS while in Selfie mode, and choose your desired effect. Tap the Individual icon or Group icon depending on your preferences, and then take a picture.

Take things further with Flaw detection. This feature will alert you when someone has their eyes closed. It can also alert you when there is something wrong with the photo's sharpness or backlight exposure.

Get smoother videos
The A Series camera offers enhanced stabilization with the Super steady feature, even when there's extra movement. During a video, the camera will crop the frame's margins to properly focus on the action. The camera will switch to a wide angle view as well so you're sure to capture everything smoothly.

To activate Super steady, tap VIDEO, and then tap the Super steady icon - it looks a hand. The icon will glow yellow when Super steady is activated.