Record and capture the screen of your Galaxy phone with One UI 2
Last Update date :
Jun 29. 2021
With the new Screen recorder and screenshot feature on One UI 2 Galaxy phones, sharing your experiences is easy. Capture a funny meme, record your gameplay, make a reaction video, or show a loved one how to do something on their phone.
Note: Information provided applies to devices sold in Canada. Available screens and settings may vary for smartphones sold in other countries. Not all screens allow recordings or screenshots.
Record your screen
Note: Screen recorder will not record phone, VOIP calls, or video calls. Additionally, some apps may block the screen recorder feature due to copyright restrictions.

Instead of using a third-party app, record your screen on Galaxy phones with Screen recorder. You can even use the front camera to record yourself during the video. To open the Quick settings panel, swipe down from the top of the screen with two fingers. Swipe left, and then tap Screen recorder. Choose your desired option, and then tap Start recording. Once the countdown finishes, your phone will start recording whatever's on the screen.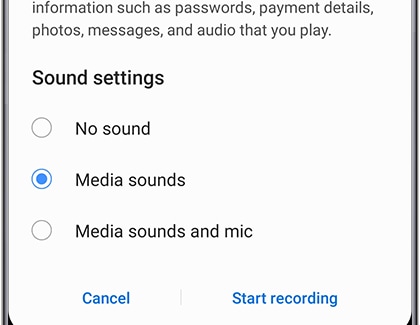 To add yourself to the video using the front-facing camera, just tap the Front camera icon – it looks like a person icon. A small window will appear in the upper left corner and will record everything you do.

When you're done recording, tap the Stop icon - it looks like a plain square. The video will be automatically saved in Gallery.
For extra fun, you can also write on the screen while it's recording. Tap the Pencil icon, select your desired color, and then use your finger or S Pen to write on the screen. However, you cannot interact with games, videos, or navigational options while you're writing on the screen. Once you turn off the Pencil feature, the screen will go back to normal.
Access Screen recorder settings
Do you want the video quality to be a higher resolution? No worries, you can easily adjust this and other settings for your video. Open the Quick settings panel by swiping down from the top of the screen with two fingers. Swipe left, and then touch and hold Screen recorder.

Here you will see the available options:

Sound: Select what sounds the video will record. You can choose between No sound, Media sounds, or Media sounds and mic.

Video quality: Choose your desired quality for videos. The available options are 1080p, 720p, and 480p.
Take a screenshot
If you don't need a full video and just want a single image of what's on your screen, you can take an old-fashioned screenshot. Press the Volume down key and the Power key at the same time. The screen will flash, and a menu will appear on the bottom of the screen.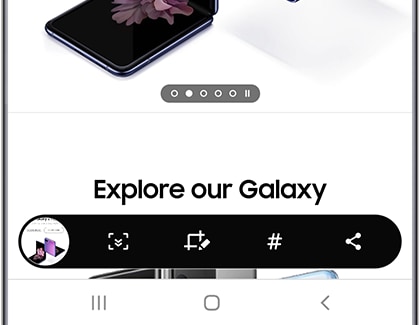 You'll see the available options (from left to right):

Scroll capture: Take a long screenshot to capture the whole thing. This setting is only available when scrolling is possible.

Draw: Edit the screenshot before sharing or saving it.
Add tag: Add and save tags to your screenshot.
Share: Share the screenshot with another app or a contact.