WE CARE, we are here for you
Last Update date :
Aug 05. 2021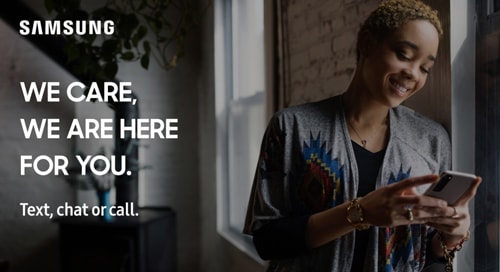 Whether you are a customer who likes to call, chat or text for support, we are here for you. To support our customers better during this time, Samsung Customer Service is back to 24/7 support on Live chat and Text support and we have extended our call centre hours.
Text WE CARE (932 273) and get quick support from a technical expert who will be able to assist you via text. Another preferred way to access 24/7 support is via LIVE CHAT. If you prefer interact with our technical expert over the phone, just call 1-800-SAMSUNG and get support at your convenience between 9:00 am EST and 9:00 pm EST. Those are only some of the ways we support you during this time.
Information provided applies to devices sold in Canada. 
Schedule a door-to-door service
Schedule a repair for your Samsung Products and we will arrange for convenient door-to-door pick up service. We are offering complimentary sanitization using UV-C light for mobile devices, and that gives you with peace of mind, knowing that your repaired product has been cleaned following service.

Samsung cannot guarantee the efficacy of the sanitization as results may vary and the procedure may not kill all bacteria, germs and viruses. UV-C sanitizers are third-party devices and effectiveness of these sanitizers may vary depending on market and model. The UV-C sanitizers can accommodate Galaxy smartphones, Galaxy Buds and Galaxy Watch.

For bigger TVs and appliances, we are also able to repair your products in your garage.

During this service the assigned service centre will call 30 minutes in advance of arriving at your home. You will be asked to confirm that neither you nor your family members have any symptoms of COVID-19 or have traveled outside of the country in the last 14 days.
The visiting technician will exercise social distancing of 6 feet, and will wear gloves and a mask when entering the garage.
The technician will sanitize the product before and after the repair with sanitizing wipes.
Remote service
Using Samsung remote service, our technical expert can connect to your Galaxy device or Samsung TV remotely to diagnose the product and then schedule a repair if necessary.

Remote service is available for Samsung Galaxy devices, Samsung TVs and Samsung Family Hub refrigerators.

Online service booking
For walk-in mobile repairs, Samsung Repair Centres are open at select locations. To arrange for a service drop off time at one of our available locations, please visit our support page to reserve a drop time.

Extended warranty
If you were unable to receive repair services for your Samsung product due to service centre closures related to the coronavirus (COVID-19) outbreak after March 21, 2020, and the manufacturer's warranty for your Samsung products ad expired during this time, Samsung will extend your manufacturer's warranty for a period of one (1) month from the date from the date repair services are available in your area (as determined by Samsung).

This extension of the manufacturer's warranty does not apply to products purchased for commercial use or purchased outside of Canada. Please note that the above-mentioned conditions are subject to change at Samsung's discretion.

FAQs and how-to videos
Please click the submit button below to share your feedback with us. Thank you for your participation.
Please answer all questions.
The coding for Contact US > Call > View more function. And this text is only displayed on the editor page, please do not delet this component from Support Home. Thank you