Meet the Iron Man Edition Smart Cover
Suit up your new Note10+ with Galaxy Friends Marvel's Iron Man Edition Smart Cover. This distinctively designed smart cover applies a matching theme on your phone in an instant.
*Actual product and content may differ from image shown.

Bring your lock screen to life
With the dynamic lock screen feature, a special Iron Man animation plays every time you unlock, making your phone come alive.
*Actual lock animation may differ from image shown.
Infuse your phone with a special theme
Once the cover's on, you have instant access to the Iron Man theme. From your AOD wallpaper to your icons and even your messages, you can enjoy Iron Man's signature look whenever you use your phone.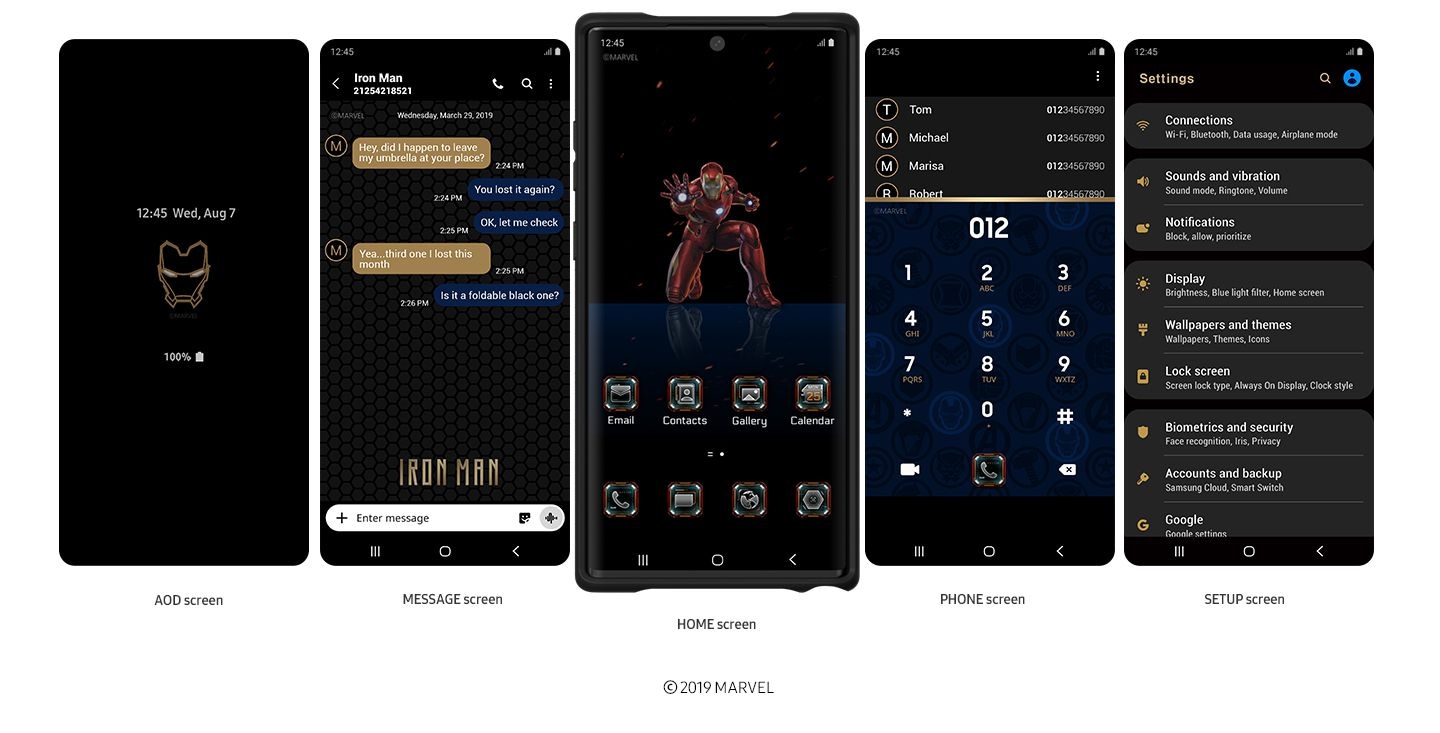 *Actual content may differ from image shown.
*Smart Cover is connected to the Samsung Galaxy Friends service. When it is installed on a Samsung Galaxy smartphone, content and services using Marvel's IP will be automatically downloaded.
Get easy access to exciting Marvel content
When the theme is fully installed on your phone, you can tap the Quick Access icon to explore exclusive content and a game featuring Marvel action heroes.
*Content is provided via cloud-based services, and may be added, removed, or changed without prior notice.
ⓒ2019 MARVEL

Quick Access
Tap on the Quick Access icon on the lock screen to easily launch the Special app for Marvel content and the Marvel Future Fight game.
Exciting Marvel content
Tap on Special to discover incredible Marvel trailers, short movies, and images. And also Marvel Future Fight, the blockbuster action RPG game starring Marvel's greatest heroes and villains!
Sleek and flexible design
As light as it is slim, this cover is comfortable to use with one hand. The flexible TPU material is harder than silicone to protect your smartphone while still letting you charge wirelessly. Plus a stereoscopic pattern inside the cover prevents overheating via air circulation.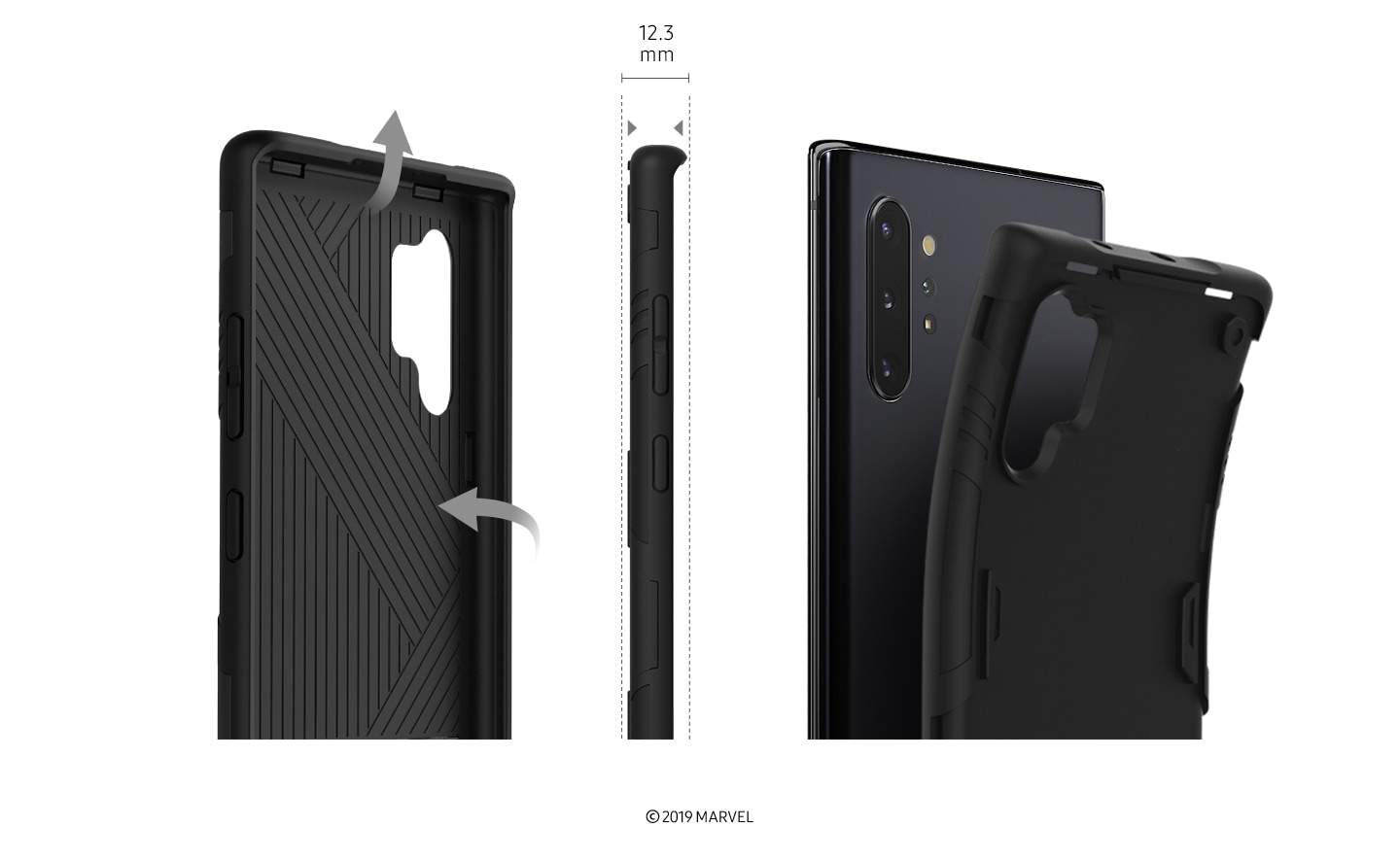 *This product contains an electronic circuit, so it does not operate when the product comes into contact with water.
*Do not remove the inner protection sticker of this unit as it may damage the electronic circuit.
Shocks are no match for this case
Protect your phone from drops and falls. The case's dual-layer body doubles the protective power to absorb shocks without a bulky profile. And raised bezels help safeguard your screen and camera lens from damage.
Enjoy the superhero action of MARVEL Future Fight
MARVEL Future Fight is a blockbuster Action RPG game featuring the Marvel Comic Universe's greatest heroes and villains. Assemble your ultimate team from more than 180 Marvel characters and fight for the future.
*The MARVEL Future Fight game is only for ages 12 and up.
Get 1,000 free crystals in MARVEL Future Fight
The Galaxy Friends Smart Cover comes with in-game benefits too! Put the cover on your phone, open MARVEL Future Fight,and log in. On the Main Screen, go to the Settings button on the top right, tap Game Info, and then tap the Galaxy Friends buttonto get your 1,000 free crystals.

*Crystals can be obtained once per account on your phone.
*Costumes inspired by Marvel's Captain America: Civil War, Marvel's Avengers: Age of Ultron & Guardians of the Galaxy VOL.2
*This offer is valid until further notice.
Copyright ⓒ Netmarble Corp. All Rights Reserved.
ⓒ2019 MARVEL
Support
Temukan jawaban dari pertanyaan Anda tentang produk