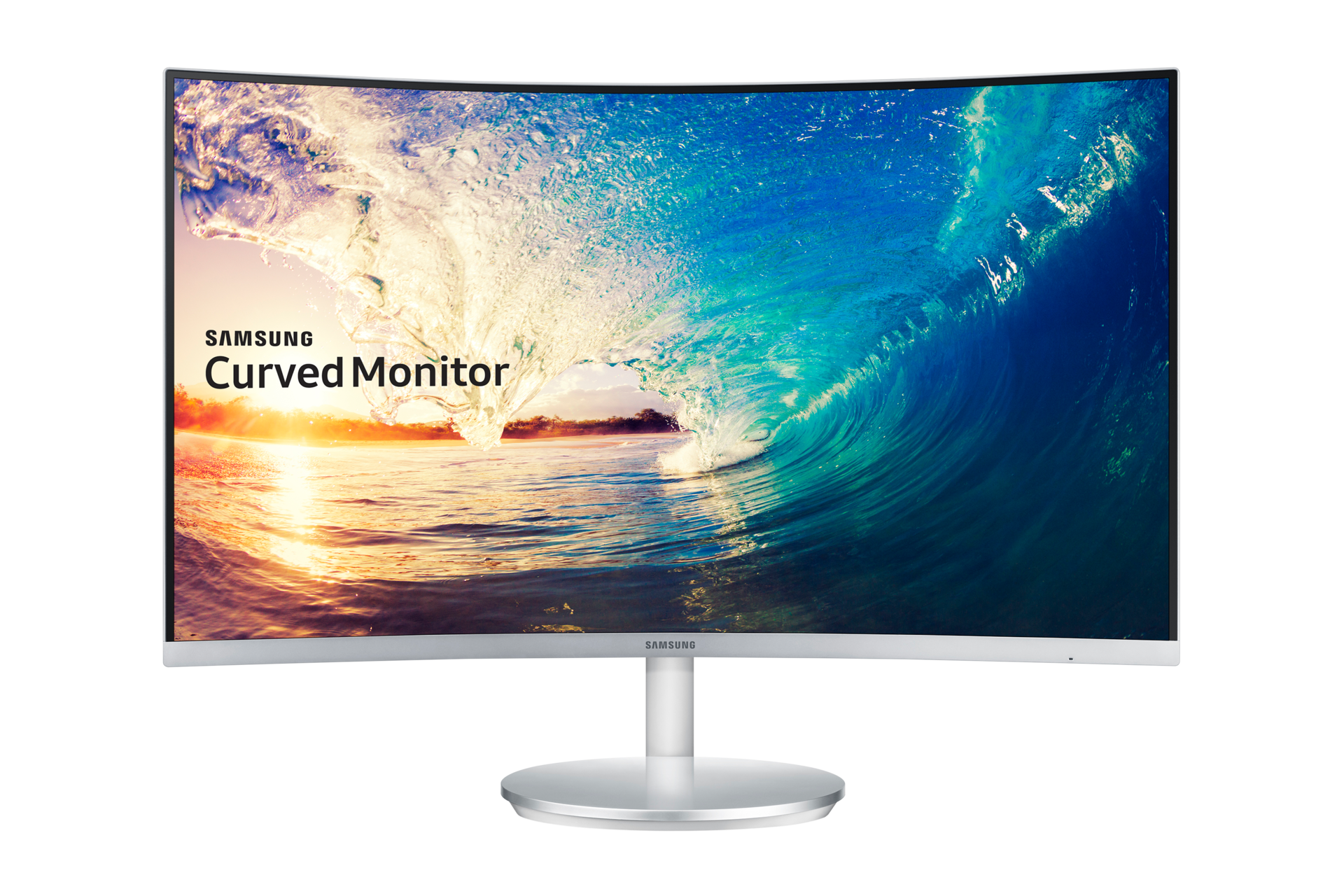 Curved Monitor 27" C27F591FDE
LC27F591FDEXXD
The most immersive and comfort viewing experience with deeper curved screen
Rich and vibrant colors with active crystal color
Smooth game play with AMD Freesync
Layar melengkung untuk pengalaman menonton terbaik
Layar melengkung untuk pengalaman menonton terbaik
Temukan pengalaman menonton dengan monitor melengkung Samsung benar-benar mendalam lebih dalam dari yang lain. Memutari sekitar bidang visi Anda seperti layar bioskop imax lokal Anda, layar 1800R — dengan jari-jari 1800mm radius busur untuk kelengkungan yang lebih besar — menciptakan sudut pandang yang lebih luas, meningkatkan persepsi kedalaman, dan meminimalkan gangguan sisi untuk menarik Anda lebih dalam kedalam konten. Apakah itu sebuah film online, acara TV favorit, atau game balap - yang menegangkan, Samsung akan sepenuhnya membenamkan Anda dalam semua konten multi-media Anda
Mode Eye Saver untuk kenyamanan menonton yang lebih baik
• Kelengkungan layar lebih dalam untuk kenyamanan menonton yang lebih baik: Disesuaikan dengan kelengkungan dari mata manusia , the deeper 1800R kelengkungan layar memungkinkan mata Anda untuk melacak dengan lancar diseluruh tampilan layar tanpa harus merubah fokus. Dalam uji klinis yang dilakukan oleh Seoul National University Hospital Department of Ophthalmology, ini terbukti mengurangi ketegangan mata pada pengguna dibandingkan dengan melihat monitor datar.

• Eye Saver Mode: Dengan mengurangi emisi cahaya biru — yang merangsang retina mata melebihi warna lain — Eye Saver Mode mengurangi kelelahan mata dan memberikan pengalaman menonton yang lebih nyaman.

• Flicker Free: Teknologi Flicker Free Samsung meminimalkan gangguan layar flicker untuk membiarkan Anda bekerja dan bermain lebih lama dan lebih nyaman.
Kualitas gambar yang membawa konten anda menjadi hidup
• Lebih kaya, warna yang lebih hidup: Teknologi Active Crystal Color Samsung mendukung bragam warna melebihi monitor biasa untuk lebih kaya, warna yang lebih hidup dan kualitas gambar memukau.

• Contrast ratio 3000:1 Terbaik di kelasnya: Teknologi panel VA Samsung dan contrast ratio 3000:1 menghasilkan hitam yang lebih pekat dan putih yang cemerlang yang memungkinkan Anda melihat di adegan paling gelap dan paling cerah.
Permainan lebih halus sempurna dengan AMD FreeSync
• AMD FreeSync: Sinkronisasi refresh rate secara dinamis dengan frame rate gambar, AMD FreeSync meminimalkan kegagapan dan memastikan permainan secara mulus sempurna.

• Game Mode: Game mode mengoptimalkan warna dan kontras layar dalam permainan secara langsung untuk memastikan Anda menikmati setiap adegan yang terbaik.

• 4ms Response Time: Kecepatan 4ms video response time merender bahkan pergerakan tercepat apapun di layar dengan sedikit blur, judder, dan ghosting, membiarkan Anda terjaga dalam aksi.
Kelengkungan depan dan belakang dibuat stylish, desain masa kini
• Terbentuknya Kelengkungan panel depan dan belakang: Terbentuknya kelengkungaan panel depan dan belakang menggabungkan perak logam dan lapisan putih mengkilap dalam gaya, desain masa kini.

• Desain Tanpa Batas: 3-sisi desain layar tanpa batas meningkatkan daya tarik dan menarik mata Anda jauh kedalam kelengkungannya.

• Stand Melingkar: Stand melingkar yang ringkas memadukan bentuk dan fungsi yang menghasilkan dudukan yang stabil dengan keanggunan bersahaja.
Dual stereo dan beragam port untuk semua kebutuhan hiburan Anda
• Dibenamkan pengeras suara dual stereo: Dual 5-watt pengeras suara tertanam ke dalam layar untuk Anda menikmati film, game, dan konten online tanpa mengganggu desktop Anda dengan tambahan pengeras suara ataupun kabel.

• Tiga koneksi antarmuka: Port HDMI, DP, dan D-sub menyediakan koneksi antarmuka ber-kinerja tinggi yang memungkinkan Anda menghubungkan PCs, game consoles, monitor tambahan, dan perangkat lain dengan mudah.
1920x1080

Resolution

16:9

Aspect Ratio

1800R
250 cd/m²

Brightness (Typical)

3000:1
4(GtG)

Response Time

178°/178°

Viewing Angle (H/V)
Panduan Pengguna & Unduhan
Live Chat
* Fitur utama mungkin berbeda dari Spek Utama
Buat Wishlist Anda
Jangan lewatkan produk yang Anda sukai.
Masuk / Daftar sekarang untuk mengakses Wishlist Anda di semua perangkat Anda dan dapatkan pembaruan mengenai promosi terbaik kami.
TAMBAH KE WISHLIST
Apakah Anda ingin menambahkan produk ini ke dalam Wishlist?
WishList
Item ini sudah ada di wishlist Anda
Dapatkan Pemberitahuan Stok
Dapatkan notifikasi ketika item ini tersedia untuk dibeli, dengan menambahkan email Anda.
Dengan memberikan email Anda, Anda setuju untuk mendapatkan promosi & notifikasi stok item dari Samsung.
Kami akan mengirim email kepada Anda ketika stok tersedia.
Terima kasih.
EMIs (Pay in Easy Monthly installments)
Hapus pilihan
Anda yakin ingin menghapus pilihan ini?
Pilihan akan diatur kembali jika Anda memilih Samsung care+.
Apakah Anda yakin untuk melanjutkan?
Protect your smartphone with insurance
An insurance that protects your smartphone anywhere and at any time to bring you greater peace of mind.
Coverage against breakage

Physical damage such as cracks or breakage of the screen or the rear window, which is detrimental to the functioning of the mobile phone.*

Cover against other damage

Damage caused by liquid or any physical damage, other than damage to the screen, affecting the use of the software or the charging of the mobile.*

Repair by official teams

Your smartphone will only be repaired by Samsung authorized service providers and Samsung genuine parts.
Option will be reset if you select Extended Warranty.
Apakah Anda yakin untuk melanjutkan?
If you select both exchange and bundle option, an additional exchange discount of the exchange option will not be applied. Apakah Anda yakin untuk melanjutkan?
If you select both exchange and bundle option, an additional exchange discount of the exchange option will not be applied. Apakah Anda yakin untuk melanjutkan?
Installment Calculate
Installments are provided by Santander Consumer Bank S.A.
How does it work?
Pay for your new Galaxy phone in monthly instalments and be invited to upgrade to the new Galaxy as soon as it launches.
01 Choose your device

Choose from the new Galaxy series.

02 Spread the cost

Pay a 10% deposit and then monthly instalments over 24 months. (0% finance available)

03 Yearly upgrades

Be invited to upgrade to the latest Galaxy phone after 12 months.
Upgrade Program
Upgrade your handset every 12 months.
How trade–in works
01

Choose your new Samsung device and tell us about your old one. If eligible, you will see an estimated trade-in value.

02

Get an upfront discount on the price of your new Samsung device.

03

Send your old device back in the supplied recycling pack to complete the trade-in.
Customize your watch
All from one hand
Now you get innovative smartphone with right tariff plan.
Check the Terms and Conditions
Hidupkan ponsel dan tahan catu daya

Layar berfungsi & tidak ada layar yang retak

Memiliki ID FCC & tidak di blacklist

Factory reset & non-aktifkan penguncian aplikasi
La liberté ne s'achète pas, elle se loue
Liberté

Possibilité de changer votre smartphone tous les 4 mois.

Sérénité

La garantie incluse et des assurances optionnelles.

Exclusivité

Le meilleur de la technologie à prix très attractifs.