The Premiere LSP9T
Click or tap to zoom in/out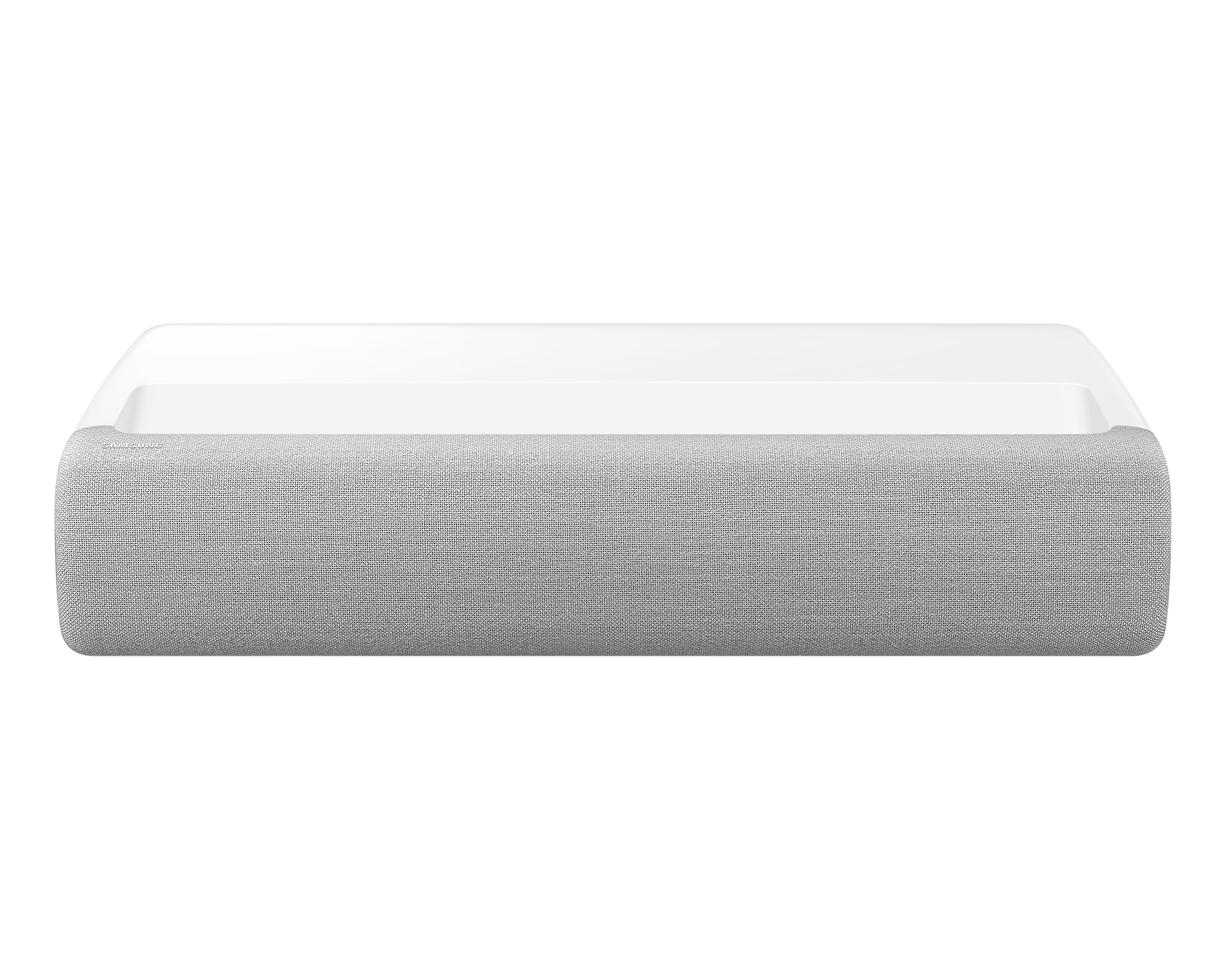 Click or tap to zoom in/out
Click or tap to zoom in/out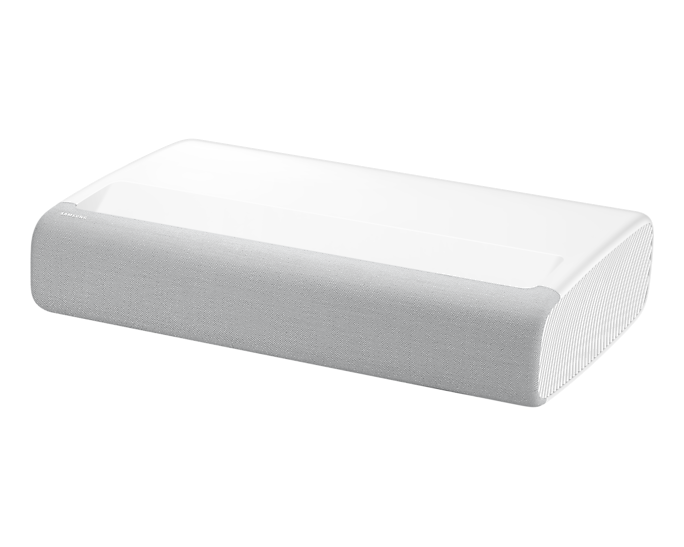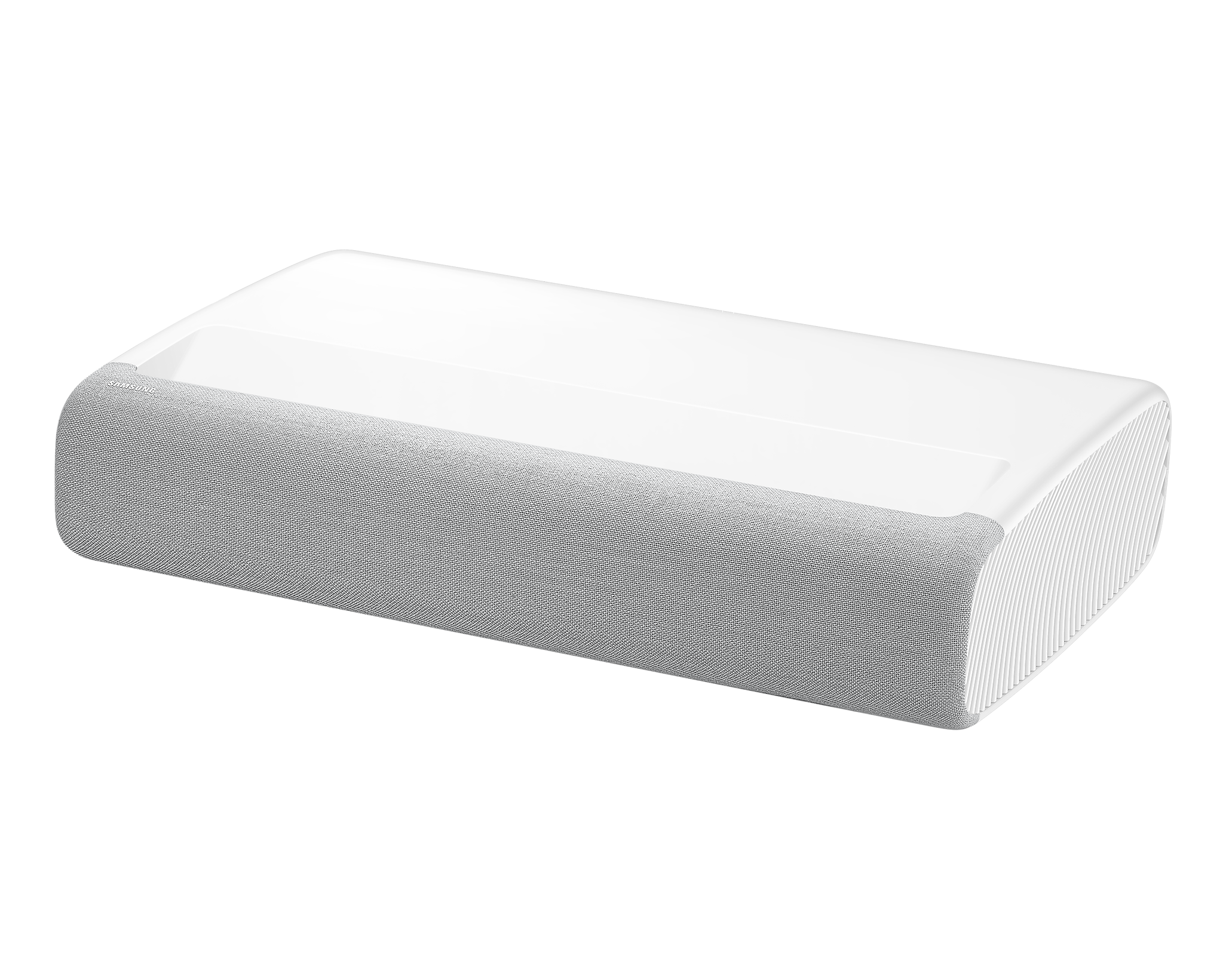 Click or tap to zoom in/out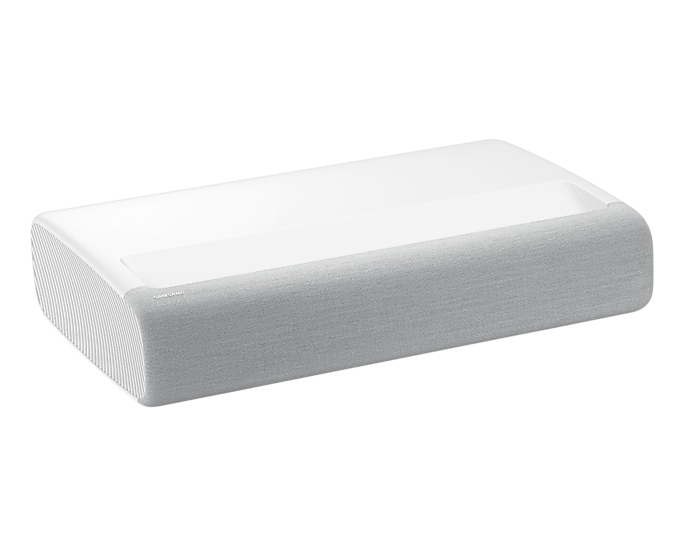 Click or tap to zoom in/out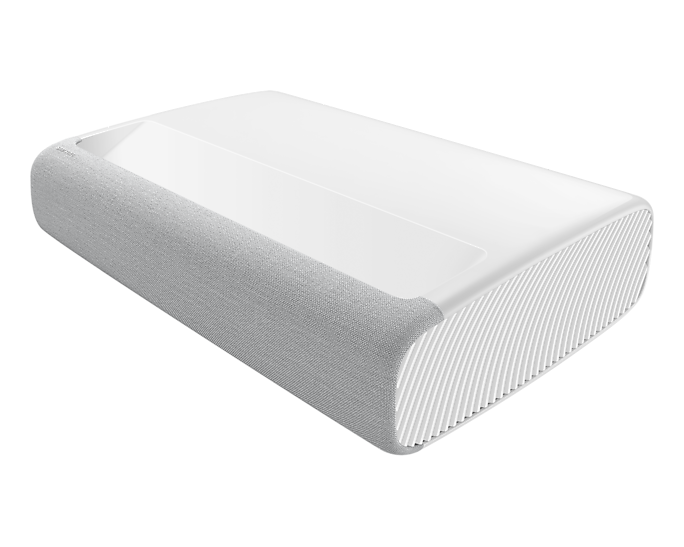 Click or tap to zoom in/out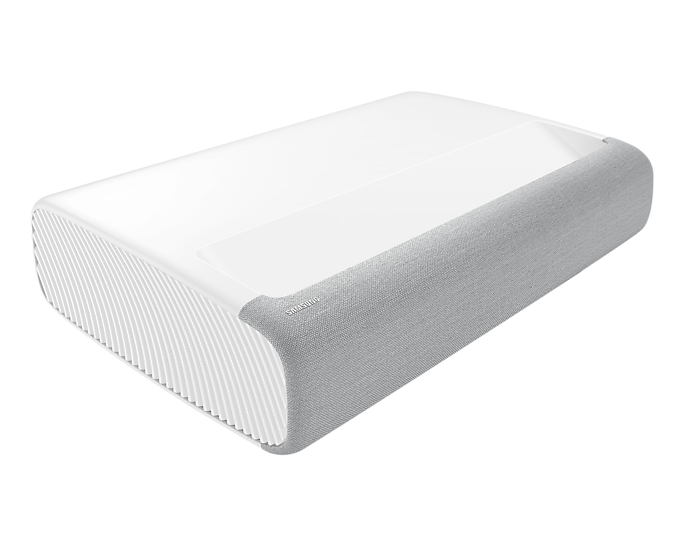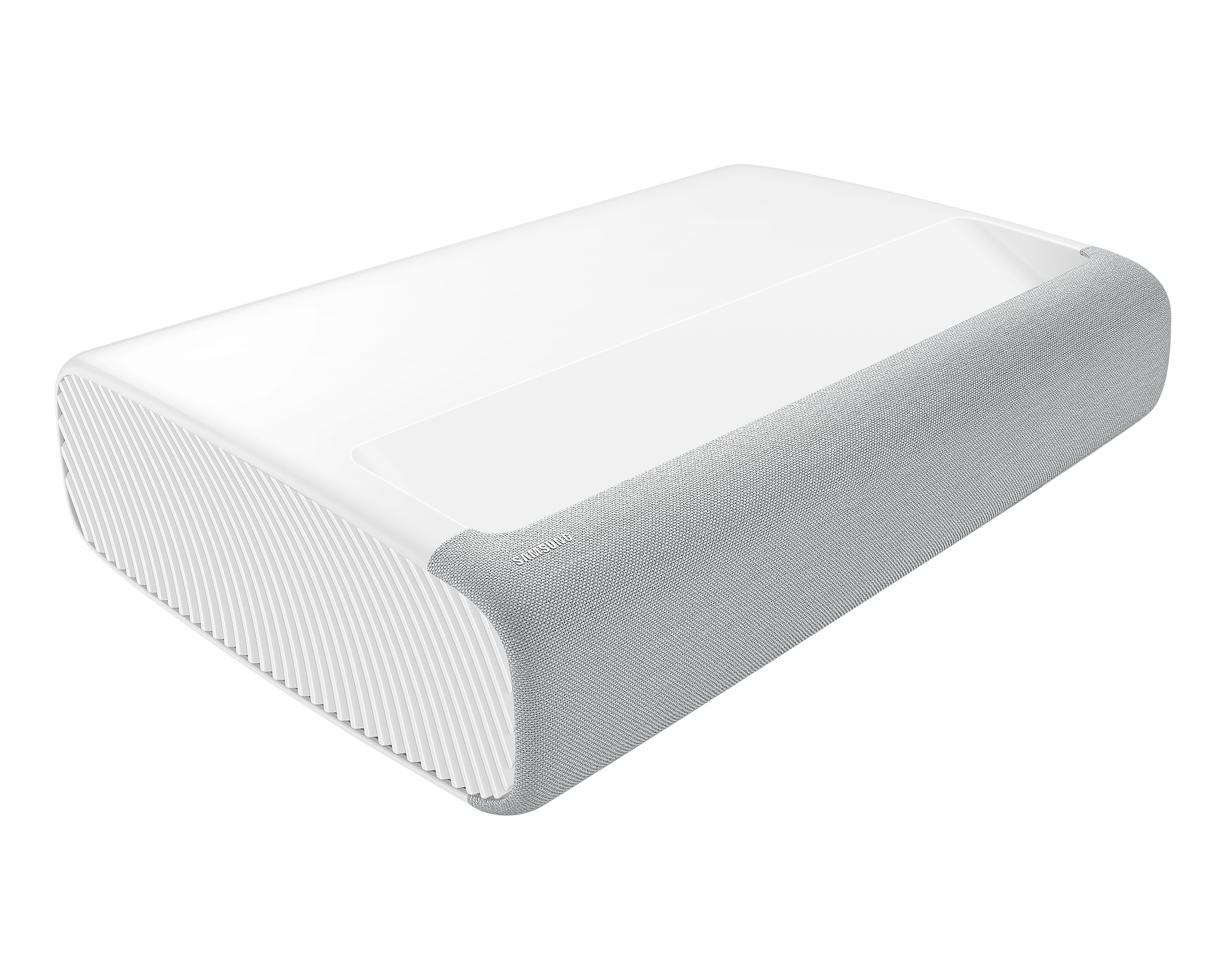 Click or tap to zoom in/out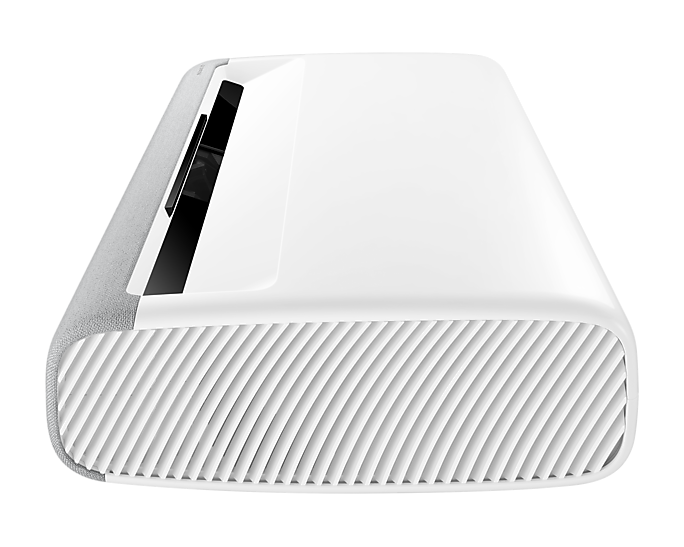 Click or tap to zoom in/out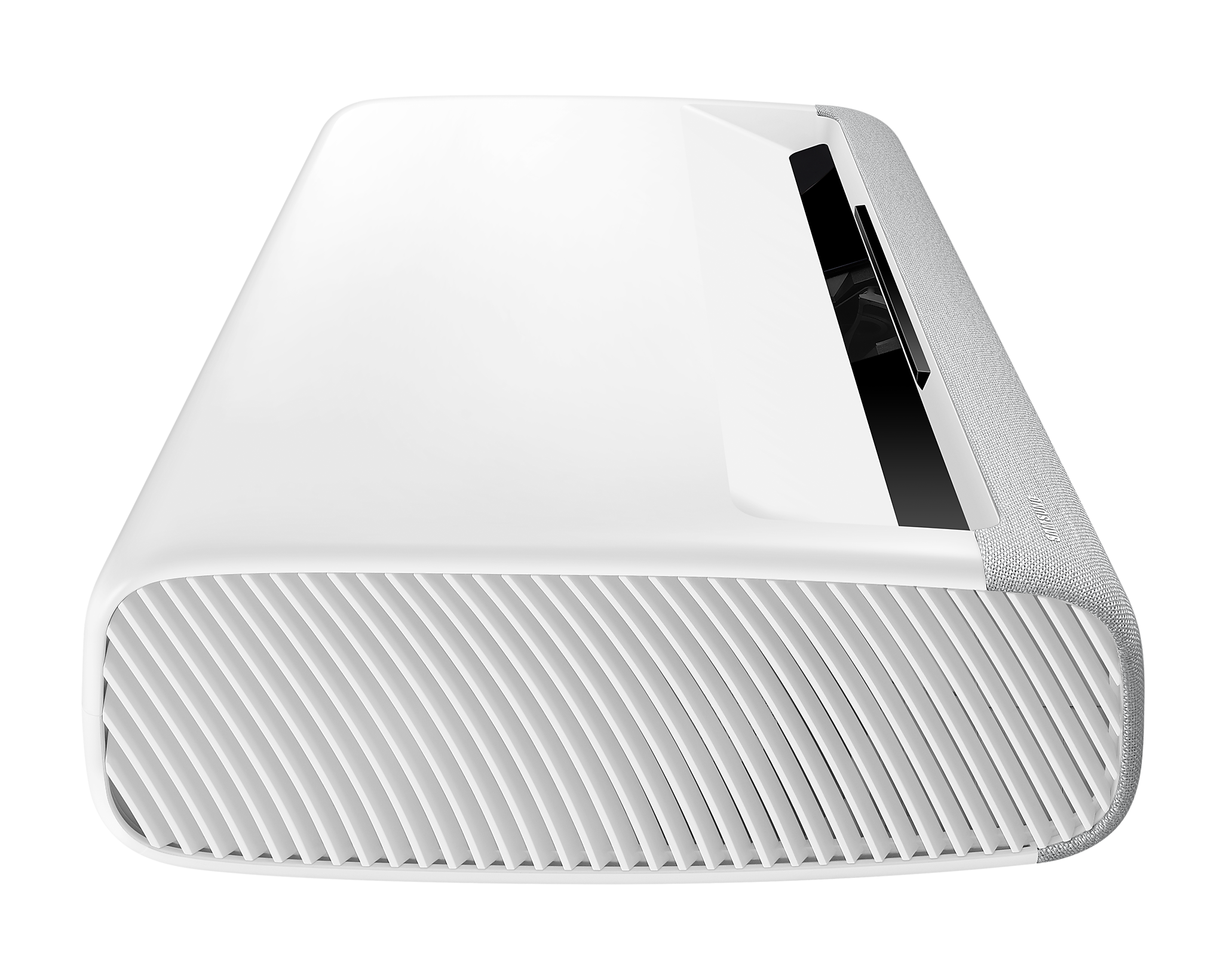 Click or tap to zoom in/out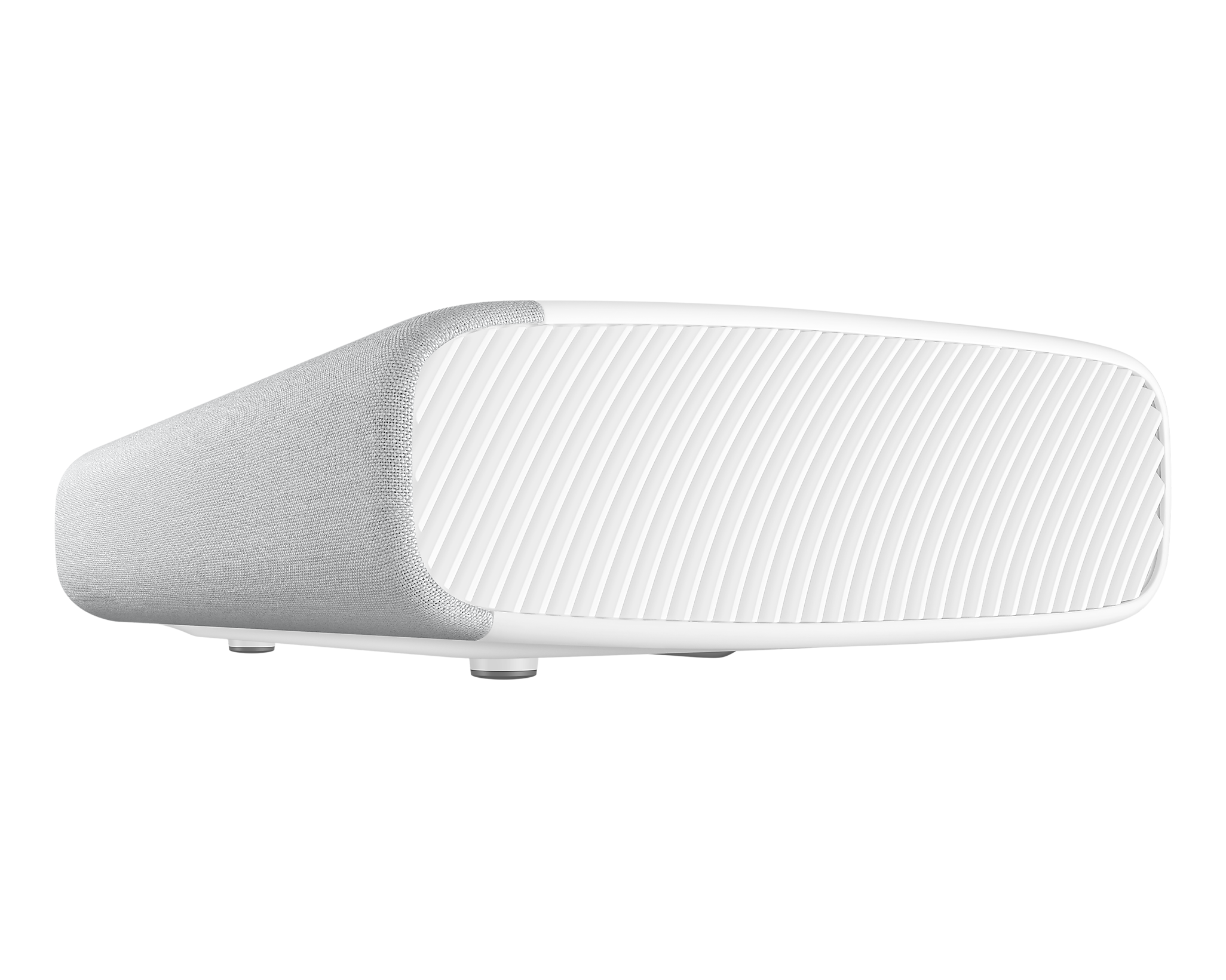 Click or tap to zoom in/out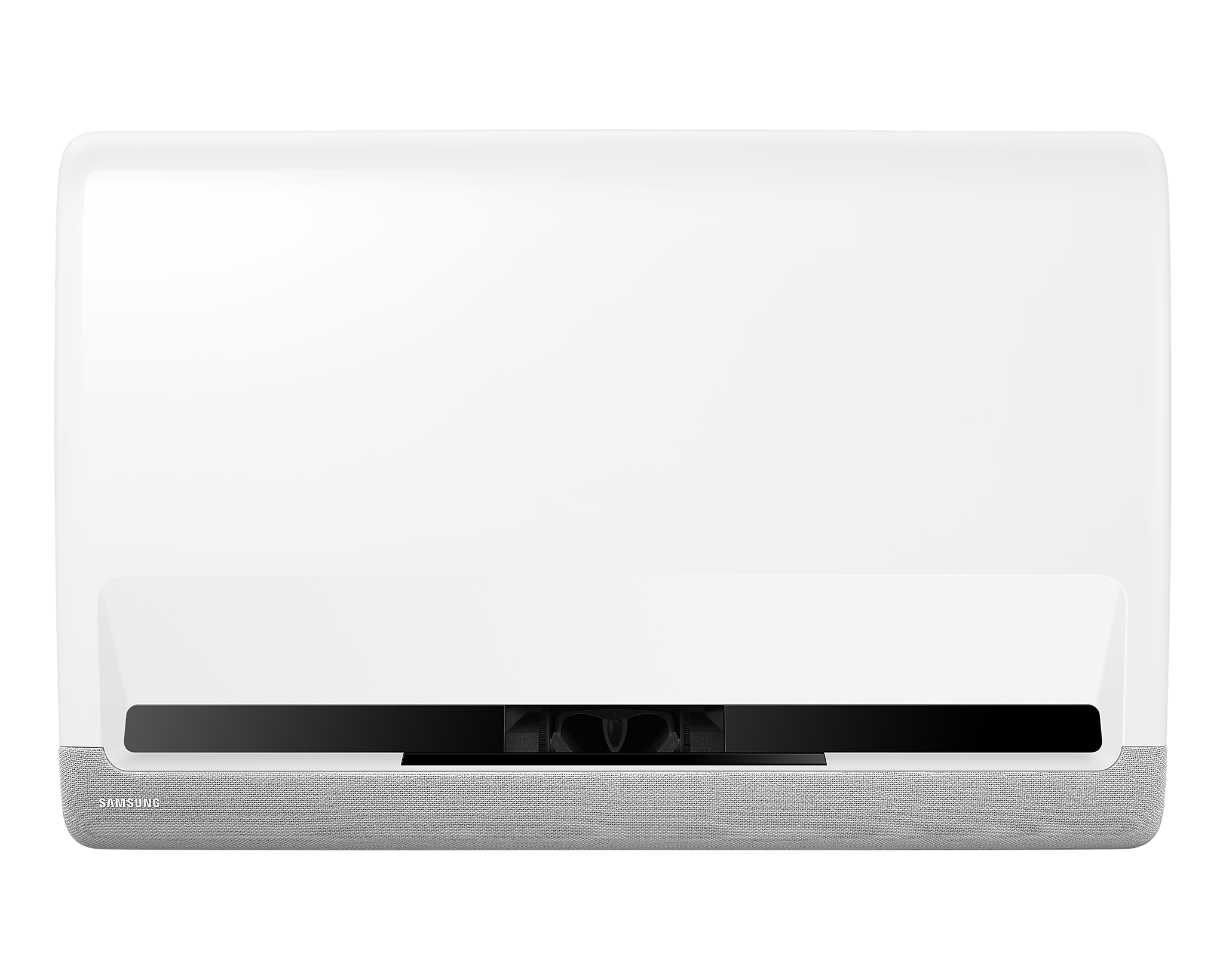 Click or tap to zoom in/out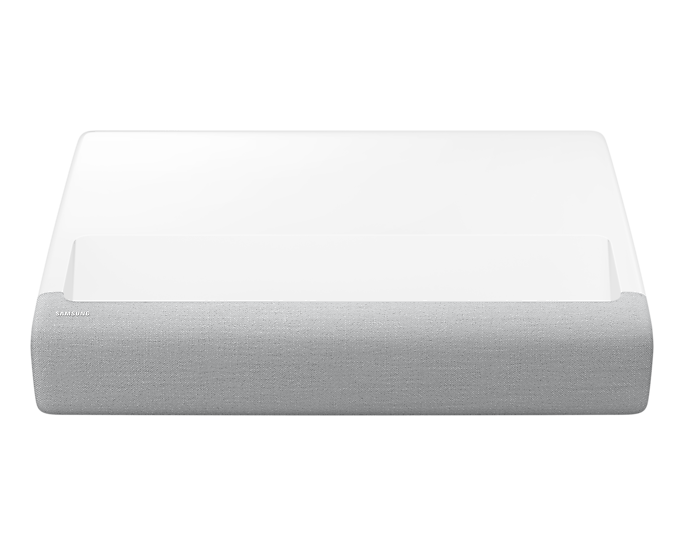 Click or tap to zoom in/out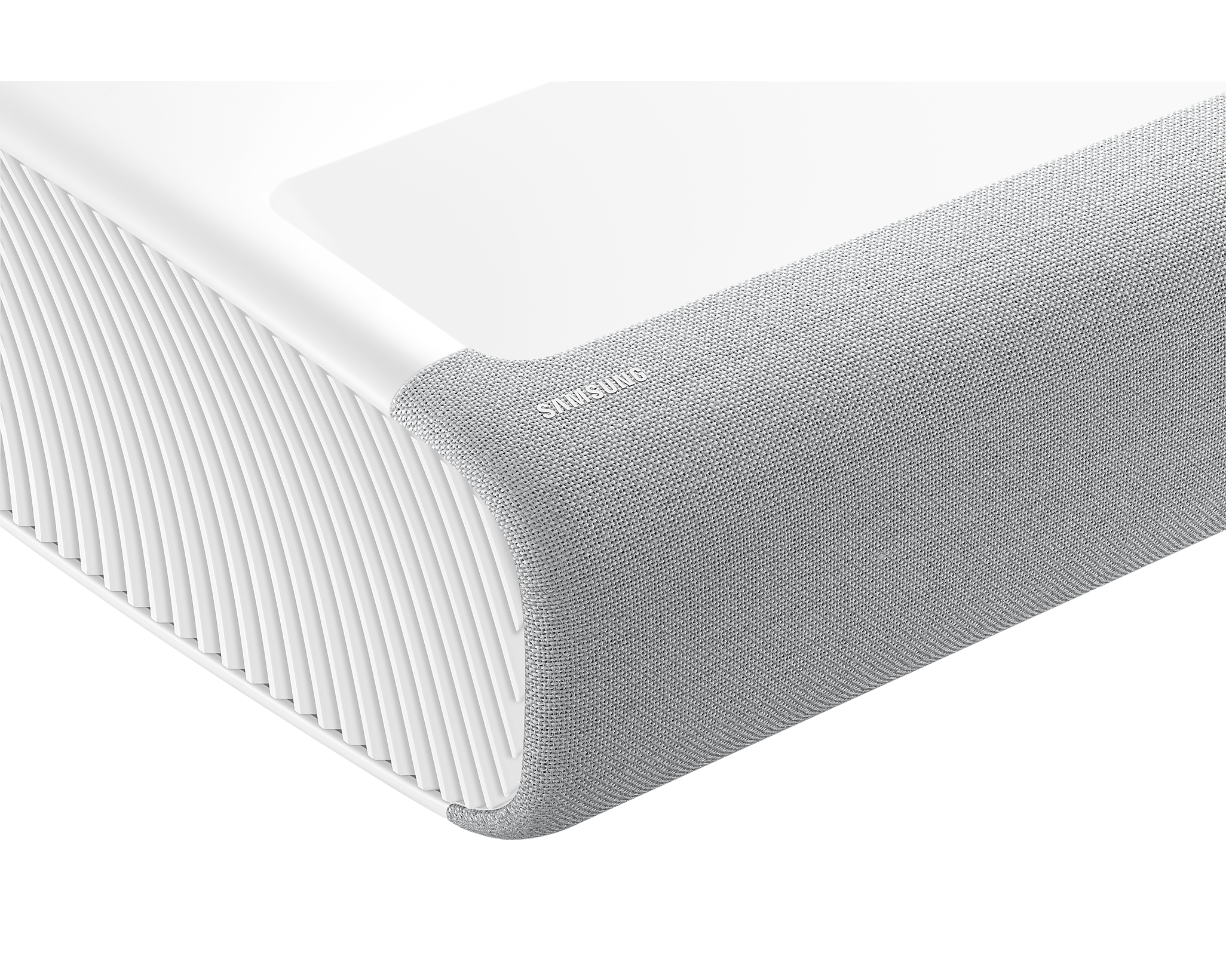 tutup popup
Lihat dengan Augmented Reality
Harap pindai Kode QR dengan perangkat mobile Anda, dan letakkan gambar produk di tempat yang diinginkan.
key features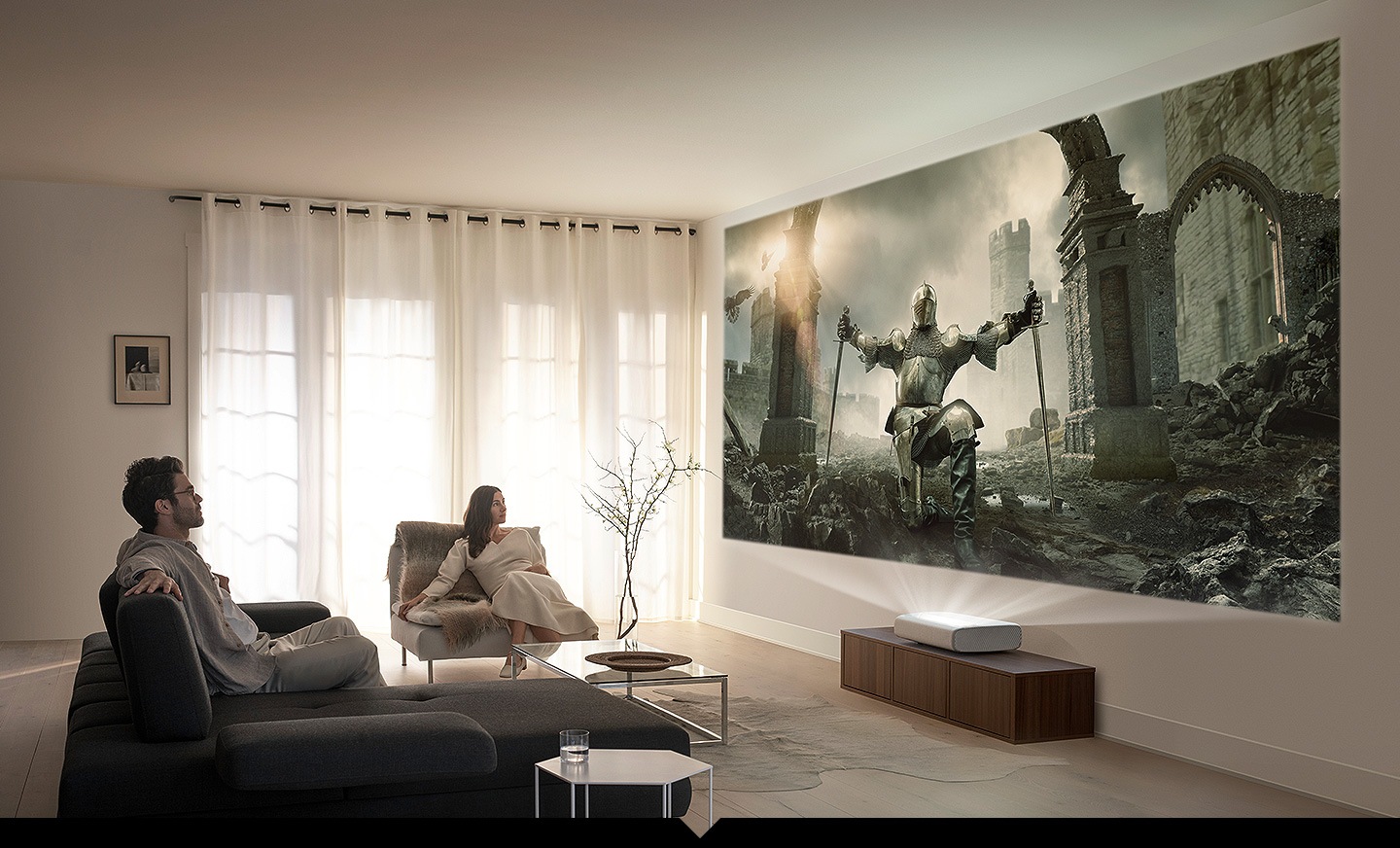 * Images are simulated and for illustration purposes only. The Graphic User Interface (GUI) specifications, which do not affect product performance, are subject to change without notice.* Actual Product may differ from image shown. Please see our product gallery.* The laser projector can be projected on a flat white or bright monotone wall without setting up an additional screen. For a more optimized experience, using a screen dedicated to ultra short throw projector is recommended.
Ultra bright high resolution with cutting-edge triple laser technology

Triple Laser Technology
The Premiere uses a triple laser light source for a dramatic home cinema viewing that's just like being in a theater. You get precise color accuracy and incredible contrast on a max 130-inch screen space. The Premiere is the world's first HDR10+ certified projector for realistic, vibrant viewing.
* The data is based on SAMSUNG internal research.* Created by the International Telecommunication Union, BT.2020 standards cover various aspects of video broadcasting for Ultra HD projectors, TVs, and broadcast gear.
Details even in bright light
2800 ANSI Lumen
With 2800 lumens of brightness, you get all the light you need to enjoy whatever you're watching. See the details even in the middle of the day, even without blackout curtains.
True cinematic quality
FILMMAKER MODE™
FILMMAKER MODE™ is the world's first of its kind on a projector, giving you the chance to see the movie the way the director intended you to watch it.
* FILMMAKER MODE™ logo is a trademark of UHD Alliance, Inc.

Dive completely into room-filling sound
Powerful Sound
With 40 watts of 4.2ch audio built in, you get the amazing cinema quality sound you need to go with The Premiere's incredibly immersive visual experience.

Acoustic Beam
Up the quality of your sound. The Premier's Acoustic Beam technology uses 22 holes to distribute a deep and rich room-filling sound, maximizing left and right to create an unparalleled immersive experience.
Blends seamlessly into your space
With The Premiere's compact size, you can make the most of the space in your room. Simple and round, it's marked by a high level of craftsmanship that activates the lifestyle you desire.
Freedom to arrange your space
Ultra short throw
Placing your projector is now worry free. The Premiere can sit super close to the wall and still create a massive screen. And with special sensors built in, it knows when children come near, automatically reducing brightness to protect their eyes. Ultra-short throw, Ultra-amazing viewing.
* The letter 'A' shown in the picture to the right refers to the viewing size when picture is projected from The Premiere, measured diagonally from corner to corner.
Elegantly minimized
Compact and round design
All the powerful features you need in a compact, smoothly rounded shape that looks beautiful from every angle. With a premium fabric finish, it blends superbly into your interior with an elegant touch of minimalism.
Enjoy content without a screen
A dedicated projector screen can give you more vivid picture quality, but you don't really need one anymore. Just set up and enjoy on a simple white wall. Perfect for people who want to keep their space simple.
More ways to enjoy The Premiere
Smart TV Experience
You can also have the great Smart service experience that Samsung TVs are renowned for, with their great user interface and experience. And, unlike conventual lamp-type projectors, this one features instant-on.
* Smart services and GUI (Graphic User Interface) may vary by model, region, language, mobile devices, or product.* A Samsung Account is required to set up The Premiere.* Actual user experience may vary.* Some features and functions provided by connected devices may not be supported or limited to use.
Seamless voice control
Bixby Voice Assistants
You can even talk to The Premiere. The Bixby voice assistant can go beyond just controlling The Premiere. Just ask and get more.


* Available technology, functions, GUI(Graphic User Interface) and smart features may vary by region, service provider, network environment, mobile devices or TV product, and are subject to change without notice.* Actual user experience may vary.* This feature is only available in certain languages.* Bixby voice commands recognize English (US/UK), French, Spanish, German, Italian, Chinese and Korean. Not all accents, dialects and expressions recognized.
From watching to experiencing
Mobile Mirroring
Go from watching your favorite show on your mobile device to watching on The Premiere.
* Supports Android OS and iOS based smartphone.
AirPlay 2
With AirPlay 2 built-in you can effortlessly play movies, shows, music and photos on The Premiere right from your iPhone, iPad or Mac.
* AirPlay 2 functionality is available on all 2020 and later Samsung Smart service experiences.* AirPlay 2 requires iOS 12.3 or later, or macOS 10.14.5 or later.* Watch Little Voice with an Apple TV+ subscription.

Just tap to mirror
Tap View
A simple tap is all you need to get content from your smartphone onto the screen. Just tap The Premiere with your phone and it automatically mirrors what you're watching or listening to.
* Compatible devices only. Please see the product specifications or support page.* This service only works when The Premiere and mobile are on.* Be sure to tap away from the TV screen and bezel corners. It may be scratched or broken to the TV or mobile device screen.* Recommend using your mobile device with the cover in place and lightly tap it on any external edge of the TV.
Win more games, have more control
Game Enhancer
Get in the game without delay. Game Enhancer gets the setting right and gives you the optimization you need to win.
* Feature availability may vary by game console. * The availability of the feature may vary by product size.
Enjoy more than 20,000 hours of movie nights
20,000-hours plus lifespan
With longer lasting laser light source technology, The Premiere offers more than 20,000 hours of brilliant luminescence to vividly power your viewing experience. It's built to last for up to 10 times longer than a regular UHP lamp, meaning you can enjoy The Premiere for watching over 10,000 movie.
* The data is based on SAMSUNG internal research.* Calculated based on movie screening duration of 2 hours.* UHP lamp : Ultra high performance lamp.
Spesifikasi
Contrast Ratio

2,000,000:1 (Dynamic)

Light Source Type

Triple Laser

Picture Engine

UHD Processor
Support
Temukan jawaban dari pertanyaan Anda tentang produk
Panduan Pengguna & Unduhan
e-Manual

Versi 1.0
2.82 MB
2022-08-03

e-Manual

Versi 1.0
2.76 MB
2022-08-03

Quick Guide

Versi 1.0
0.97 MB
2021-05-20

ENGLISH, ARABIC, CHINESE, FRENCH, INDONESIAN, PORTUGUESE, SPANISH, THAI, TURKISH, VIETNAMESE

User Manual

Versi 1.0
1.04 MB
2021-05-20
Lihat Konten Lainnya