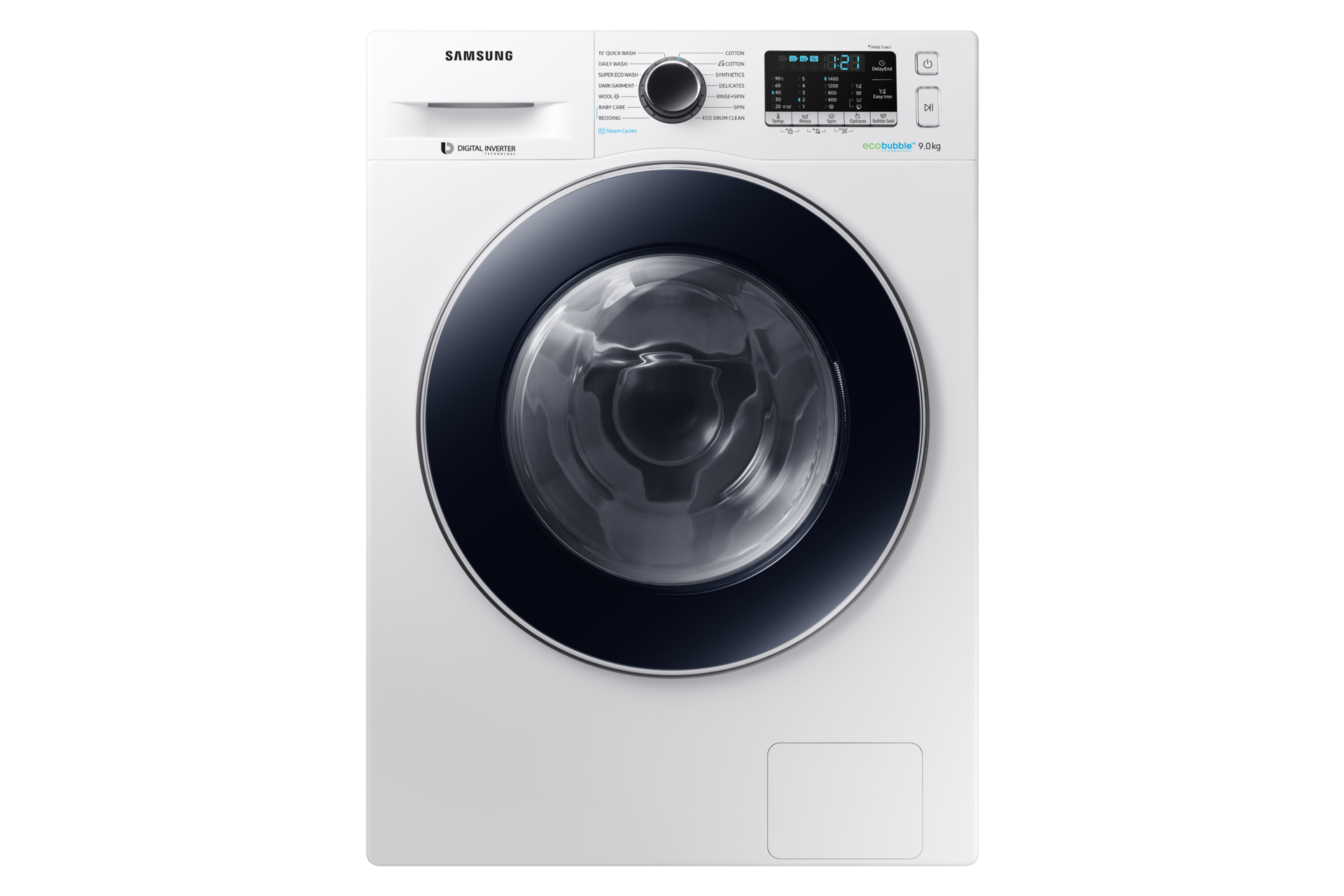 WW90J Front Load, Steam 9 Kg
WW90J54E0BW/SE
Diamond Drum
Quick Wash
Digital Inverter
Digital Inverter Technology
Smart Check
Eco Bubble™
Diamond Drum
Powerful bubbles, outstanding cleaning
Save money and protect the color and texture of your clothes.Eco Bubble™ delivers a powerful, but gentle cleaning performance.Detergent is turned into bubbles, so it quickly penetrates fabric and removes dirt easily.It means it washes just as effectively in cool water(15°C) and uses less energy.
* Tested in accordance with IEC 60456-2010 / 4kg Wash Load / Super Eco Wash cold (WF80F5E5U4W) vs. Cotton 40°C without Eco Bubble (WF0702WKU). Individual results may vary.** Based on the Performance Lab Test report by Springboard Engineering on EMPA strips, comparing a normal detergent solution and bubble technology without mechanical action.
Intensive Stain Removal
Keep your clothes looking spotless, however dirty they get. With the touch of a button the Bubble Soak function helps remove a wide variety of stubborn stains, like blood. Clothes are thoroughly soaked in active bubbles, so any dirt and stains are loosened and can be removed much more effectively*.
* Tested in accordance with IEC 60456 5th edition / 8kg Wash Load / Bubble Soak Wash (WF80F5E5U4) vs. Cotton 40/60°C, Synthetic 60°C, and Denim 40°C without Bubble Soak (WF0702WKU).
Works smart. Stays young
Digital Inverter Technology utilizes strong magnets for a quieter and more powerful performance, but consumes less energy than a Universal Motor. By eliminating the use of brushes, it provides outstanding durability* – backed-up by a 11 year warranty**.
* Awarded a 20 year durability certification by the Association for Electrical, Electronic & Information Technologies in Germany (Verband Deutscher Elektrotechniker – VDE).
Extraordinarily beautiful design
Give your home a stylish look and feel. The Crystal Gloss Door, in transparent White or Ocean Blue, offers the ultimate aesthetic pleasure.Unlike any other finish, it reflects the light and infuses your home with an ocean-like calm.The door handle is also 45 degrees higher, so it's easier to open.
Easy troubleshooting
Avoid the inconvenience and cost of a broken machine. Smart Check is an automatic error-monitoring system. Using a smartphone App* it detects and diagnoses problems at an early stage. It then provides quick and easy solutions. So it saves you time and potentially expensive repair bills**.
* Available on Android and iOS devices. A Wi-Fi connection is required.** Service callouts will occasionally be required and may incur extra repair costs.
* Available on Android and iOS devices. A Wi-Fi connection is required.** Service callouts will occasionally be required and may incur extra repair costs.
Keep your washer fresh
Keep your machine hygienically clean, while being eco-friendly and saving money. Eco Drum Clean removes dirt and 99% of odor-causing bacteria from the drum and door gasket. It uses soaking, pulsating and high speed spinning, without harsh or costly detergent. It notifies you when it needs cleaning.
Gentle Fabric Care
Protect your clothes from being damaged.The Diamond Drum's unique "soft curl"design washes clothes very effectively,while treating them with care.Its smooth,diamond-shaped ridges are gentle on even delicate items.The small water exit holes also prevent fabric from becoming trapped and damaged.
Clean with steam
Give your clothes a really deep clean with steam. A powerful Steam Cycle releases steam from the bottom of the drum, so every item in the load is thoroughly saturated. This removes engrained dirt and more than 99.9% of bacteria and inactivate allergens.
Easier ironing
Save time and effort by making sure clothes can be ironed more easily. Simply press the Easy Iron button and it shortens the spin-drying time and properly adjust the speed of the last cycle. This stops clothes from becoming badly creased or wrinkled, so you can iron them much more easily.
Cleans away detergent residue
The StayClean Drawer ensures that more of the detergent is washed away with a specially designed water flushing system. So, there's less unsightly soap residue and the tray stays cleaner and more hygienic.
9kg

Washing Capacity

Diamond

Drum Type

Digital Inverter

Motor

61kg

Net Weight
Panduan Pengguna & Unduhan
Live Chat
Perbandingan Produk
Program CICILAN 0% dari berbagai macam Bank

GRATIS Ongkos Kirim ke Seluruh Indonesia *Periode terbatas
* Fitur utama mungkin berbeda dari Spek Utama
Buat Wishlist Anda
Jangan lewatkan produk yang Anda sukai.
Masuk / Daftar sekarang untuk mengakses Wishlist Anda di semua perangkat Anda dan dapatkan pembaruan mengenai promosi terbaik kami.
TAMBAH KE WISHLIST
Apakah Anda ingin menambahkan produk ini ke dalam Wishlist?
WishList
Item ini sudah ada di wishlist Anda
Dapatkan Pemberitahuan Stok
Dapatkan notifikasi ketika item ini tersedia untuk dibeli, dengan menambahkan email Anda.
Dengan memberikan email Anda, Anda setuju untuk mendapatkan promosi & notifikasi stok item dari Samsung.
Kami akan mengirim email kepada Anda ketika stok tersedia.
Terima kasih.
EMIs (Pay in Easy Monthly installments)
Hapus pilihan
Anda yakin ingin menghapus pilihan ini?
Pilihan akan diatur kembali jika Anda memilih Samsung care+.
Apakah Anda yakin untuk melanjutkan?
Protect your smartphone with insurance
An insurance that protects your smartphone anywhere and at any time to bring you greater peace of mind.
Coverage against breakage

Physical damage such as cracks or breakage of the screen or the rear window, which is detrimental to the functioning of the mobile phone.*

Cover against other damage

Damage caused by liquid or any physical damage, other than damage to the screen, affecting the use of the software or the charging of the mobile.*

Repair by official teams

Your smartphone will only be repaired by Samsung authorized service providers and Samsung genuine parts.
Option will be reset if you select Extended Warranty.
Apakah Anda yakin untuk melanjutkan?
If you select both exchange and bundle option, an additional exchange discount of the exchange option will not be applied. Apakah Anda yakin untuk melanjutkan?
If you select both exchange and bundle option, an additional exchange discount of the exchange option will not be applied. Apakah Anda yakin untuk melanjutkan?
Installment Calculate
Installments are provided by Santander Consumer Bank S.A.
How does it work?
Pay for your new Galaxy phone in monthly instalments and be invited to upgrade to the new Galaxy as soon as it launches.
01 Choose your device

Choose from the new Galaxy series.

02 Spread the cost

Pay a 10% deposit and then monthly instalments over 24 months. (0% finance available)

03 Yearly upgrades

Be invited to upgrade to the latest Galaxy phone after 12 months.
Upgrade Program
Upgrade your handset every 12 months.
How trade–in works
01

Choose your new Samsung device and tell us about your old one. If eligible, you will see an estimated trade-in value.

02

Get an upfront discount on the price of your new Samsung device.

03

Send your old device back in the supplied recycling pack to complete the trade-in.
Customize your watch
All from one hand
Now you get innovative smartphone with right tariff plan.
Check the Terms and Conditions
Hidupkan ponsel dan tahan catu daya

Layar berfungsi & tidak ada layar yang retak

Memiliki ID FCC & tidak di blacklist

Factory reset & non-aktifkan penguncian aplikasi
La liberté ne s'achète pas, elle se loue
Liberté

Possibilité de changer votre smartphone tous les 4 mois.

Sérénité

La garantie incluse et des assurances optionnelles.

Exclusivité

Le meilleur de la technologie à prix très attractifs.