The Serif rethinks TV, how we use them and how they fit in our lives. We want to introduce all that The Serif has to offer in your life. All the ways you can make it uniquely yours. All by itself, The Serif will make its own statement. Choose how you want to use it, and shape your lifestyle around it.

Design your life
with The Serif
Design
A timeless TV that combines iconic design with a brilliant viewing experience.
Discover
smarter ways to
enjoy your TV
Connectivity
Intelligence that seamlessly syncs up to make life easier so you can enjoy your TV more. The Serif has the smarts to deliver outstanding performance at every moment.

Experience
QLED technology
on The Serif
QLED Technology
Whatever you're watching with stunning QLED 4K quality, every second looks true-to-life. The Serif brings you a visual feast of over a billion cinematic colours that will look incredible for years to come.
How The Serif
reshapes your lifestyle

360⁰ All-Round Design
The Serif has an all-round design that looks good from every angle. Place it anywhere and see The Serif blend perfectly into the surroundings.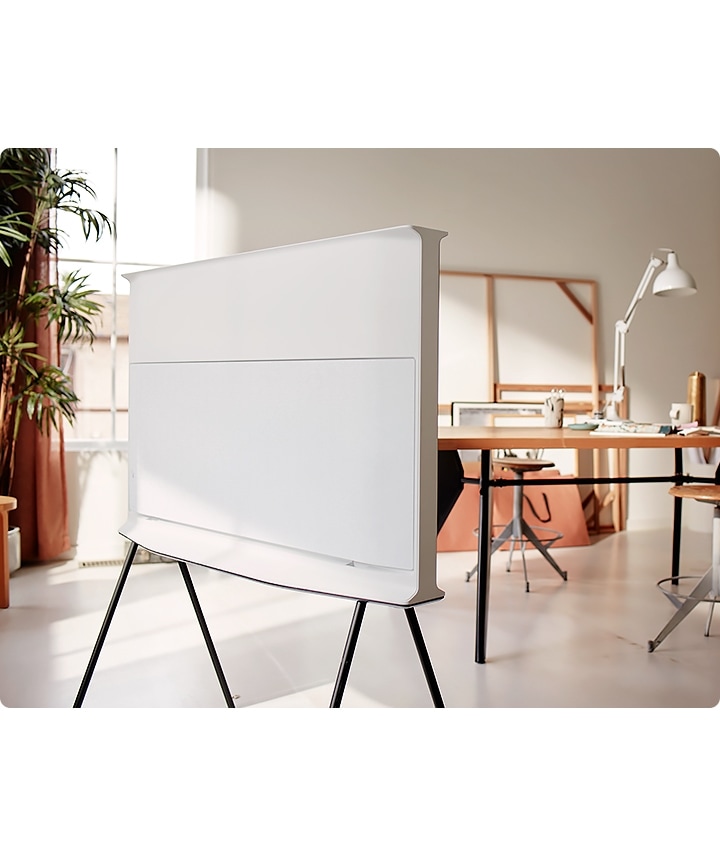 Detachable Floor Stand
The Serif comes with an elegant stand that matches perfectly with its stylish frame. Remove the floor stand and place The Serif anywhere in the room to change the look of your space. Now, that's versatility.
NFC on TV
When you need some music, simply place your mobile device on top of The Serif and start enjoying.

100% Real Colour with Quantum Dot Technology
With 100% Real Colour, Quantum Dot Technology delivers over a billion shades of colour that stay true-to-life at any level of brightness.
* When using NFC on TV, Bluetooth® on your mobile device will automatically activate.
* QLED has received verification from world-class testing and certification association, Verband Deutscher Elektrotechniker (VDE), for its ability to produce 100 percent colour volume. 100 percent colour volume measured to DCI-P3 Standard.
See how The Serif fits into your space
* Images are simulated for illustrative purposes only. Appearance, design, and GUI (Graphic User Interface) specifications not affecting product performance are subject to change without notice.
* Actual product may differ from image shown. Please see our product gallery.
* The product colour may vary by region.