How to use your Galaxy phone in emergency situations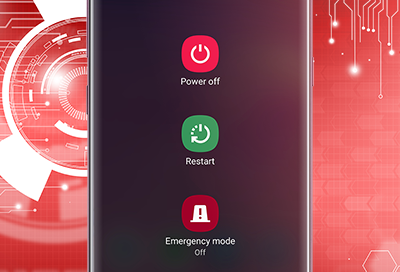 In a critical situation, your Galaxy phone can make all the difference. You can use it to make emergency calls or contact loved ones in a time of need. And if you have to act quickly, you can dial right from the Lock screen. On top of this, you can turn on Emergency mode. This will help conserve battery life by altering some of the phone's functions, such as decreasing the screen's brightness and limiting apps. With Emergency mode, your phone's battery can last for a couple days.
Note: The Home screen will be changed to a black theme to reduce battery consumption. Available screens and settings may vary by wireless service provider, software version, and phone model.

Emergency calling
Make an emergency call from the Lock screen
When something urgent is happening, you probably won't have time to unlock your phone and call 9-1-1. If you have a security measure in place, like a PIN or a biometric security, you can make an emergency call right from the Lock screen. Just swipe up your phone's screen to be taken to the Lock screen, and then tap Emergency call. A dial pad will appear where you can enter your desired number. Your registered emergency contacts will also appear at the top of the screen. Finally, a Medical info icon will appear at the bottom of the screen. Tap this to show any medical information you've added to your personal contact.
Make an emergency call with no service or SIM card
In a dire situation, you can still make emergency calls even if you don't have service or a working SIM card. As long as there is a network signal nearby, your phone will let you contact 9-1-1. The network doesn't even have to be your own carrier - it just needs a signal that is strong enough to put the call through. When you need to make an emergency call, dial 9-1-1 the way you normally would on your phone.
Make a call while in Emergency mode
The Home screen in Emergency mode will only display the apps and functions you absolutely need. This includes the Phone app and the Emergency call option.

Tap the Phone app to access all of your contacts, so you can still make a call to family members and friends. The Keypad is also available if you need to dial a new number.
Tap Emergency call at the bottom of the Home screen to dial 9-1-1. Tap Yes to activate the call.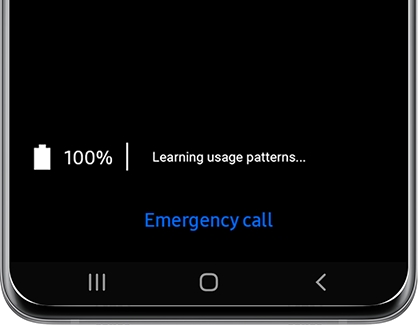 Activate Emergency mode
Note: You will be able to use the Phone app to make a call to a specified contact and also to make emergency calls. You can also turn on the flashlight and sound alarms and send your location information to others in a message.
To turn on Emergency mode, hold down the Power key until the Power menu appears. Tap Emergency mode. If needed, enter your lock screen credentials. Tap the checkbox to confirm you have read the Emergency mode terms and conditions, and then tap Agree. Tap Turn on - Emergency Mode will activate.
On phones without a dedicated Power key, swipe down from the top of the screen to open Quick settings. Tap the Power icon, and then tap Emergency mode.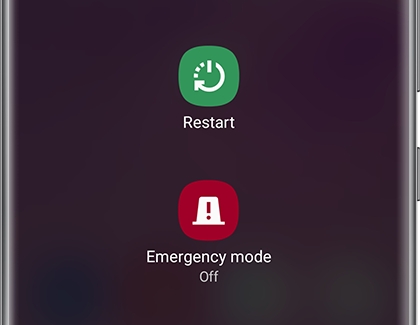 Navigate the Emergency mode Home screen
The Emergency mode interface is very different from the regular interface you are used to. Here's what it looks like:
Flashlight: Turn the flashlight on or off.

Share my location: Share your location with a recipient of your choice.

Internet: Launch Samsung Internet.

Emergency alarm: Your phone will turn on a loud alarm.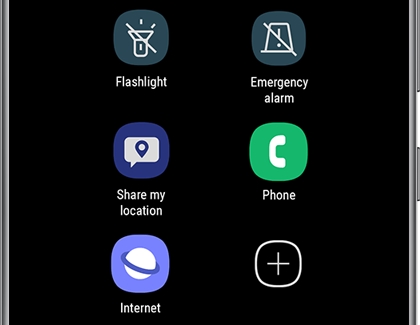 Phone: Launch the Phone app to make calls.

Add App: Add additional apps. You can only add Facebook, Calculator, Clock, Maps, Email, or Samsung Notes.
Remove an app from the Emergency mode Home screen
Sometimes, even in Emergency mode, you don't need certain apps. You can remove the apps you don't want to use.
While in Emergency mode, tap More options (the three vertical dots), and then tap Remove apps. Tap the Remove icon next to the app you wish to remove, and then tap Done. If needed, you can add the app again later by tapping Add app.
Note: Some apps cannot be removed from the Home screen.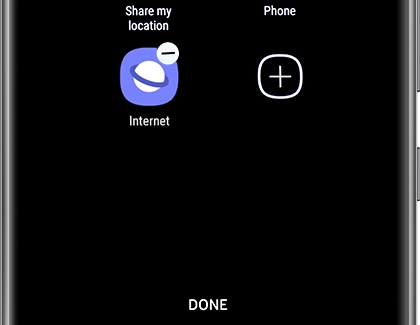 Adjust settings in Emergency mode
Just because the Emergency mode is bare, it doesn't mean your phone loses all of its features.
Tap More options (the three vertical dots), and then tap Settings. Tap a feature to change its settings.
Note: Only apps and features that can be used in Emergency mode will be available.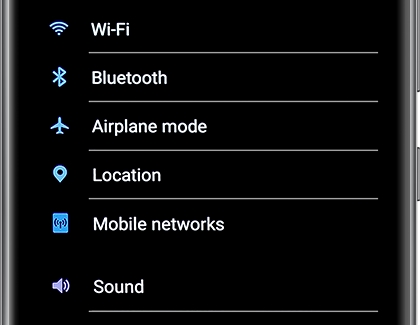 Turn off Emergency mode
When you no longer need to worry about battery life, it's time to turn Emergency Mode off.
Tap More options (the three vertical dots), and then tap Turn off Emergency mode.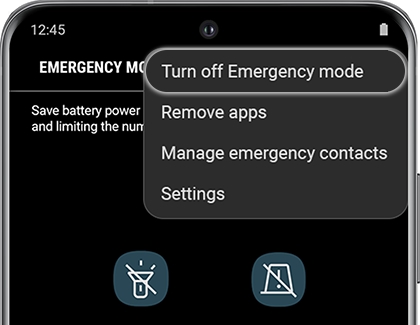 Use SOS messages on your phone
If you ever experience a true emergency, such as a flood or earthquake, you may not have the time to make a phone call or send out a text. Because of this, you should set up the SOS messages feature on your phone. It will send out an SOS alert to emergency contacts, so they will know something is wrong. All you have to do is press the Side key or Power key a couple times to send out the alert. 
To set up SOS messages, first navigate to and open Settings. Tap Advanced features, and then tap SOS messages.

Tap the switch at the top of the screen; read the information and then tap Continue.

Review the required permissions, and then tap Start. From here, select either Create contact or Select from contacts.

Make or choose your emergency contact - they will be the one who receives the SOS alerts. If desired, you can add multiple contacts.

Tap Back, and then adjust the different settings. For example, you can adjust how many times you need to press the Side key or Power key before an alert is sent. Or, you can decide if you'd like to attach images or an audio recording to the SOS message.

If you are ever in an emergency and want to send an SOS message, press the Side key or Power key three or four times rapidly. This will send an SOS message to your designated contact(s).

Note: The phone must have an active SIM card in order to send an SOS alert. When using the SOS feature, your location, photo, and voice recording will be sent the first time a call is made. It will only send updated locations (every 30 minutes for a span of 24 hours) if you have changed your location. This also applies to Galaxy Watch devices.
Other answers that might help
How would you like to contact us?
1-800-SAMSUNG Mon – Sun: 8AM – 12AM (EST)

Call Us
Want help right away?
Email as a contact option was discontinued as of April 3rd, 2019. Please contact us via Live Chat for a faster response.
Give us a call 1-800-SAMSUNG (1-800-726-7864)

Mobile Support 8 AM - 12 AM EST 7 days a week

Home Electronics & Appliance Support 8 AM - 12 AM EST M-F 9 AM - 6 PM EST Sat, Closed Sunday

IT/Computing Support 8 AM - 9 PM EST, Mon - Fri Closed Sat-Sun
mobile|phones