Use Facial Recognition Security on Your Phone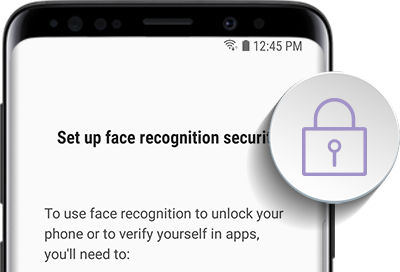 Never worry about your phone getting into the wrong hands again. Use Facial Recognition Security to unlock your phone with your face or verify your identity in apps such as Samsung Pay. Take that, hackers!

• Available screens and settings may vary by wireless service provider and software version.

• Your phone can be unlocked by someone that looks similar to you (such as a twin).

• Face Recognition is less secure than Pattern, PIN, Iris, or Fingerprint.
Tips for Facial Recognition
Show your face and your phone opens: it doesn't get much easier than that. But read along for some facial recognition tips.

Glasses, hats, masks, makeup, and beards can affect the recognition process.


Make sure you are in a well-lit area and the camera lens is clean.


For best results, make sure your image is not blurry.

Enable Facial Recognition
Are you ready for your face to become the key to your phone? Read on to learn how to set up facial recognition.

Navigate to Apps and then touch Settings.


Touch Search and then search for and select Face Recognition.

Touch CONTINUE and then set up a lock screen.


Note: Select either Pattern, PIN, or Password.

Review the information on face recognition and then touch OK.


Touch CONTINUE and hold the phone 8-20 inches away from your face and position your face inside the circle. Hold the position until the progress bar reaches 100 percent.


To turn on FASTER RECOGNITION, touch the slider and then touch OK.


To enable facial recognition, touch TURN ON.
How would you like to contact us?
1-800-SAMSUNG Mon – Sun: 8AM – 12AM (EST)
im-cell-phones