Maintaining Normal Operating Temperature for Your Samsung Phone
Under normal conditions, your phone may feel warm while you're using it. It can even feel hot while charging, but this will not affect the lifespan or performance of your phone. If it does actually get too hot, the phone will stop charging, and may even shut down automatically. The CTIA offers useful tips for consumers on the safe use of mobile devices, and they can be found here at http://www.ctia.org/your-wireless-life/consumer-tips/tips/wireless-battery-safety.

External Factors and Solutions that Impact the Temperature of Your Phone
Although your device may get warm, it has built in safeguards to alert you and protect itself should its internal components go above normal operating temperatures.

Reasons your phone warms up:
Using your device outside of normal operating conditions, 0-35C (32-95F) ambient temperature

Placing your device near a heat source

Using multiple apps for an extended period of time

Continued use in direct sunlight

Leaving your device in a parked car on a hot day

Initial set up and data transfer from a prior device

Processor intensive applications such as gaming or GPS tracking

System updates

Charging
When you use features or apps that require more power or keep your phone on the charger for extended times, it may temporarily heat up. Here are some tips on what to do if it does heat up, and what you can do to avoid overheating.
Solutions for when your phone warms up:
Disconnect the phone charger and close any running apps until the phone cools down.

Try using a different USB cable. A defective cable can cause overheating.

Remove metal or magnetic material between the phone and the wireless charger.

Keep the phone's software updated.

Deactivate Wi-Fi, GPS, and Bluetooth when you're not using them.

Delete unused or unnecessary files and apps.

Turn down the screen's brightness.

Do not use the phone for a while. If the phone is still overheated or hot, you should contact Samsung.
When Your Phone Attempts to Cool Itself Down
Your device is designed to change its behavior to regulate operating temperature. In this instance, we suggest you remove your device from any of the environmental conditions listed above and allow it to cool down. In this situation, the phone may power off, close applications, temporarily cease charging, and/or dim the display. When attempting to cool down, your phone will display these or similar notifications.

If the phone powers down due to overheating, let it cool off completely before you begin using it again.
These notifications let you know that your phone needs to cool down and is taking steps to do so (wording may vary by model).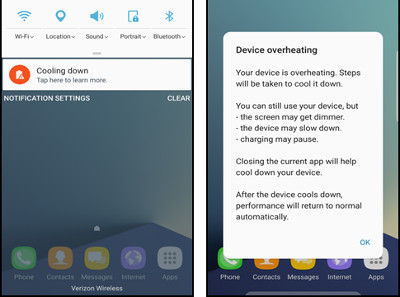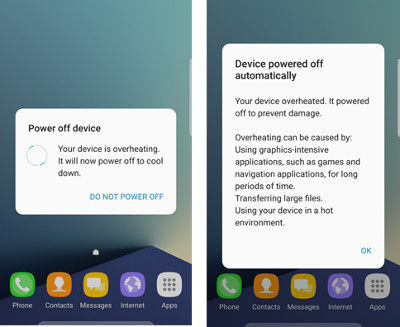 How would you like to contact us?
Give us a call 1-800-SAMSUNG (1-800-726-7864)
Mon - Fri : 8AM -12 AM (EST) Sat - Sun : 9AM -11 PM (EST)
Printer support visit: hp.com/support/samsung