The Galaxy S10's new camera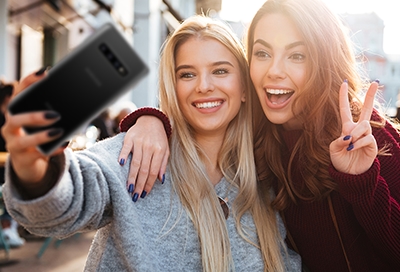 Get your cameras ready because with your Galaxy S10, you'll be able to take even more stunning and creative photos than ever before. The cameras on the four types of Galaxy S10 are a little different, but no matter which model you choose, you'll still have the tools you need to get that perfect picture.
Note: Some features may vary depending on the model.
How the cameras are different
All four Galaxy S10s have at least one front camera and Wide or Ultra-Wide capabilities in their rear camera. All of them also have the same basic camera modes: Photo, Video, Pro, Artistic Live Focus, Food, Super Slow Mo, Slow Motion, and Hyperlapse.
Here are the major differences: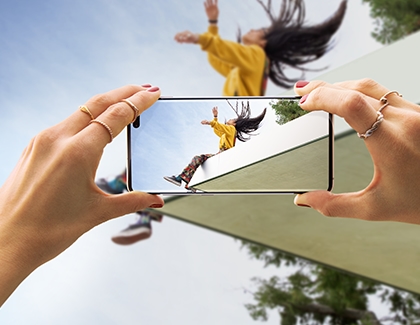 Galaxy S10e: 1 front camera and 1 dual camera on the back.


Galaxy S10: 1 front camera and 3 cameras on the back. It also has Optical Zoom, which allows you to zoom in more without losing picture quality.


Galaxy S10+: A dual camera on the front and 3 cameras on the back. On top of this, it has Optical Zoom, which allows you to zoom in more, and a Portrait camera, which lets you add new background effects.


Galaxy S10 5G: 10MP Selfie Camera and the all new 3D Depth Camera on the front. On the back, a 12MP Telephoto Camera, 12MP Wide-angle Camera, 16MP Ultra Wide Camera, and the all new 3D Depth Camera. The 3D Depth Camera pairs up with AR intelligence to give you Quick Measure. Simply point your camera at an object to get its measurements. 
Use Wide and Ultra Wide in your pictures
Have you ever taken a photo only to realize later that part of someone's face was cut off? That won't be a problem with the Galaxy S10 series because all four types have the Wide and Ultra Wide features in their rear camera. Just like their names suggest, these features let you get more width in your pictures.
To change between Wide and Ultra Wide, open the Camera app and then navigate to the rear camera. Tap either Photo or Video and then choose your desired width for the picture.
Tap Wide (the icon with two trees) for the standard amount of width.
Tap Ultra Wide (the icon with three trees) for a wider picture that will capture even more.
Note: Wide and Ultra Wide are not available in other camera modes.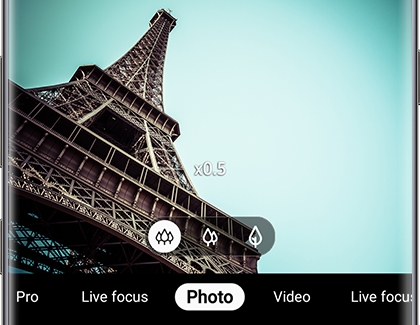 Single Take
Use Single Take to create photo clips of scenes, objects, and people. The camera's AI will decide which images to capture to make up to a 10-second video. 
To begin, navigate to and open the Camera app, and then tap SINGLE TAKE. Tap Capture. When Single Take is activated, the camera will utilize multiple functions at once, including Best Shot, Ultra-wide Shots, Live Focus, Filter, and Smart Crop. The videos will use motion photo, bounce and reverse, and Hyperlapse.
After you've taken your shots you can select a thumbnail, and then tap Favorite (the heart icon) to set it as your favorite of the bunch.
To access additional editing options with Single Take, touch and hold the thumbnail you'd like to edit. Tap Best shot (the crown icon) to set a clip as the best-looking photo. Tap Save to add the thumbnail to your Gallery and delete the rest. Tap Share to send your video or clips to friends or a social media app.
You can also create a movie by tapping Story Video Editor, and then choose from Highlight reel to show off the best moments from your clips, or Self-edited if you'd like to trim the video yourself. In Story Video Editor, you can customize your video by adding text or music.
When using Single Take, the camera will capture up to five photos and four videos, depending on how long you choose to record.
My filters
Use the My Filters feature to create your own filters for your photos or videos. Take an existing photo that you like, and apply the colors and styles to another photo as you capture it.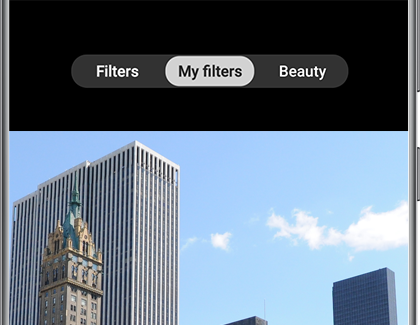 Use Optical Zoom
If you have a Galaxy S10, S10+, or S10 5G, your phone also has the brand-new Optical Zoom feature in its rear camera. It lets you zoom in on a scene or subject, but you won't lose any picture quality.
To use Optical Zoom, open the Camera app and then navigate to the rear camera. Tap either Photo or Video, and then tap Zoom (the icon with one tree). The rear camera will then zoom in on the subject and you will have a much closer view.
Note: Zoom is not available in other camera modes.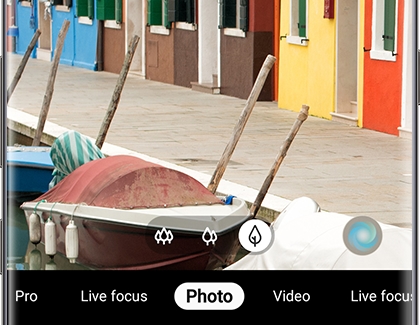 Use Artistic Live Focus
Live Focus was originally introduced on the Note series. But now it's available on Galaxy S10e, S10, S10+, and S10 5G, and it's called Artistic Live Focus. 
Live Focus lets you add a blur effect to the picture to make the subject really stand out. On the Galaxy S10, the new Artistic Live Focus lets you choose from several different types of blur to make images stand out even more.

To use Artistic Live Focus, open the Camera app, and then navigate to your desired camera (Artistic Live Focus works on both the rear and front cameras). Tap Live focus and select a blur effect you like. You can also use the slider to adjust the level of blur. When you're ready, tap Capture to take the picture. To see the photo, navigate to Gallery, and then select the picture. If you want to use a different effect, tap Change background effect and then apply your desired changes.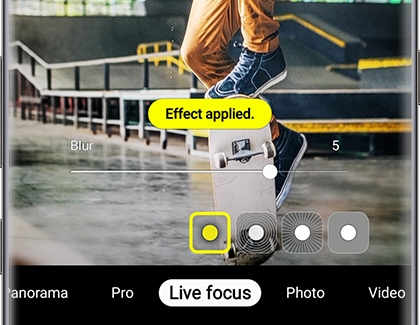 Use Scene Optimizer
Scene Optimizer is back and it's better than ever. This feature comes on all the Galaxy S10 series models, and it helps the picture's lighting based on the subject. For example, if you are taking a picture of your dog, it will automatically choose the best lighting for pets.

To use Scene Optimizer, open the Camera app and then navigate to the rear camera. Tap Photo; a small swirl will appear on the right side of the camera. If the swirl is blue, it means Scene Optimizer is on. If it's gray, Scene Optimizer is off. Tap the Scene Optimizer icon to turn it on or off based on your preferences.
If Scene Optimizer is turned on, the swirl icon will change depending on the subject. For example, if you are taking a picture of people, the icon will show an image of a person.
Note: Scene Optimizer is on by default.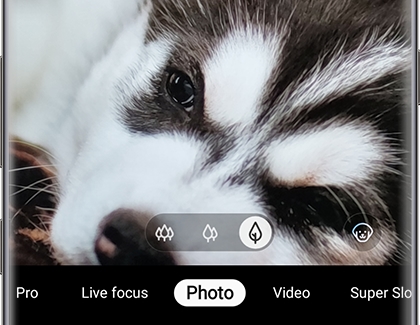 Use Instagram Mode
Not only can you take spellbinding pictures on the S10's camera, you can also post pictures directly to your Instagram story!

First, make sure Instagram is installed on your phone, and that you are logged into your Instagram account. Open the Camera app, and then swipe to and tap Instagram.

Next, take a picture the way you normally would - just tap the Capture button. The Instagram app will instantly open. If needed, allow the different permissons. Edit the picture however you like, and then tap Send to.
From there, select your desired sharing method, such as Your Story, and then tap Done. The picture will be uploaded!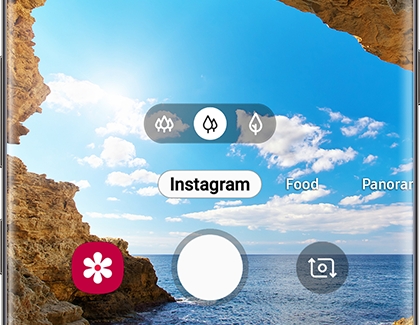 Note: You can't post photos to your regular Instagram feed using this camera mode. It only works with Stories and Close Friends. The Instagram camera mode automatically compresses high resolution photos higher than (2020x1080) when uploading to the app.

Other answers that might help
Contact us
We're here for you.
1-800-SAMSUNG

8 AM - 12 AM EST 7 days a week

IT/ Computing - 8 AM to 9 PM EST Mon to Fri
Want help right away?
Email as a contact option was discontinued as of April 3rd, 2019. Please contact us via Live Chat for a faster response.
Call or Text Us
Give us a call
How can we help you?
Mobile

8 AM - 12 AM EST

7 days a week

Home Electronics & Appliance

8 AM - 12 AM EST

7 days a week

IT/Computing

8 AM - 9 PM EST

7 days a week

Text Support

24 hours a day

7 Days a Week
We're here for you
Contact Samsung Support
Contact us online through chat and get support from an expert on your computer, mobile device or tablet. Support is also available on your mobile device through the Samsung Members App.