Galaxy S6 edge plus: How do I set up and use SideSync on my Samsung Galaxy S6 edge plus?
Last Update date :
Oct 06. 2020
SideSync lets you easily mirror your device's screen to a PC or another Samsung Galaxy device. You can also share content between your device and a PC or another device.
For information on compatibility requirements, visit the Samsung SideSync webpage.
Note: Screens and settings available may vary by wireless service provider and software version.
Install SideSync on Your Computer
You can mirror your device to a PC or Mac® when:

• Both devices are on the same wireless network. You can also connect them using a USB cable.
 
• Both devices have the SideSync application installed.

Follow the steps below to download and install the SideSync application on your computer.

2
Double-click on the SideSync installation file (may be found in your Downloads folder).
3
Follow the on-screen instructions for installing SideSync.
4
The SideSync window will open in a corner of your screen and is ready to connect to a mobile device.
Note: If SideSync does not open automatically after installing, double-click SideSync  to open the application.

Note: To connect wirelessly, devices must be connected to the same Wi-Fi network. When using SideSync with a computer, you can connect with a USB cable.

1
Open SideSync on your computer. If necessary, connect your mobile device to your computer via USB cable.
2
From the Home screen, touch Apps.
4
Touch START.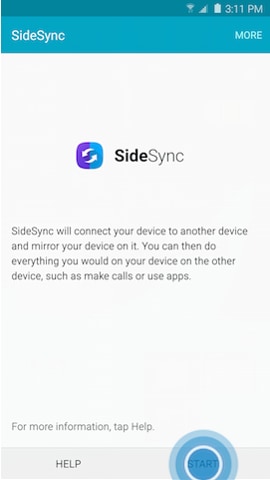 5
Review the information on changing your connection settings and touch OK.
6
The SideSync Notifications screen will open on your computer, and your mobile device will return to the Home screen.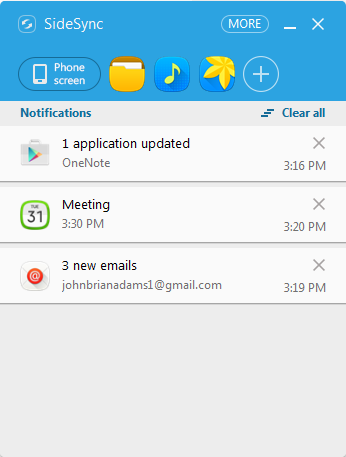 Mobile Screen Sharing

When mirroring your device to a computer, you can interact with it just as if your device were in front of you.
1
When your device is connected to a computer, click Phone screen.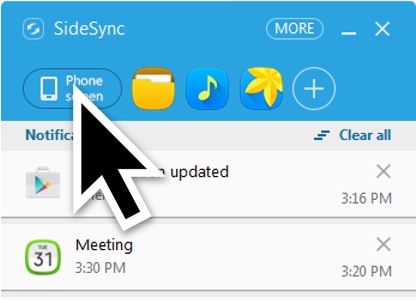 2
Use your mouse and keyboard to interact with your device. Clicking the screen works like touching your device's screen. To swipe, click and drag your mouse. The Recent, Home, and Back keys are also available at the bottom of the screen.
Screen Features

Touch to view additional options:
 
• Always on top: Keep your device's screen in front of any other open screens.
 
• Rotate: Switch between landscape and portrait modes.
 
• Capture: Capture a screenshot of the connected device.
 
• Enable Side-by-Side Screen Control: Control the screen from both the connected device and the SideSync window.

The following options are available at the top-right corner of the connected device:
 
• Minimize: Minimize the SideSync application.
 
• Maximize: View the connected device in full-screen mode.
 
• Close: Close the Mobile Screen Sharing window.

Edit Favorite Applications

You can customize the favorite applications bar at the top of the SideSync Notifications window to display up to nine applications.
1
Click to select the applications you want to display.
2
Click the application you want to add and click Add. Hold CTRL (or Command ⌘ on a Mac) and click to select multiple applications.
3
To quickly delete a favorite, right-click and select Delete from Favorites.
SideSync lets you drag and drop supported files between your mobile device and your computer. In the example below, we are copying pictures from the Gallery to the computer. You can also move supported files from your computer to your mobile device.
1
From your computer, click Phone screen.
2
From the Home screen, click Apps.
3
Click Gallery and navigate to the pictures you want to copy.
4
Click MORE > Edit.
5
Mark the checkboxes on the pictures you want to copy.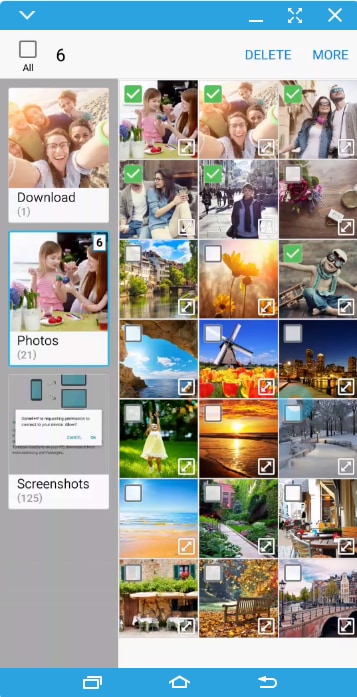 6
Open the location you want to copy the files to on your computer.
7
Click on one of the pictures being copied, and drag and drop the group of files to the new location on the computer.
Click MORE to access the following SideSync settings:

• Enable Keyboard and mouse sharing: Use your keyboard and mouse to interact on your mobile device by moving your mouse off the edge of your computer screen.
• Enable Mobile hotspot: Use your mobile device as a wireless hotspot to provide internet access for the connected device.
• Browse my mobile: Access files on your mobile device using Windows® Explorer (PC) or Finder (Mac). Settings:
• Connections: Choose the log-on and connection behaviors for SideSync.

• Notifications: Set up notification settings and sounds.
• General: Choose where to save captured screenshots, set up keyboard and mouse shortcuts, and boost the volume of calls forwarded to your computer.
• Information: View the SideSync version number and license information.
• Help: View additional help setting up and using SideSync.
• Scan for other devices: Run a scan to find other devices available for connection via SideSync.
Please click the submit button below to share your feedback with us. Thank you for your participation.
Please answer all questions.