Note8(SM-N950F), screen color my device appears slightly in reddish.
Last Update date :
Nov 23. 2020
While using Galaxy Note8, screen color of Galaxy Note8 appears slightly in reddish. How do I do for this?
A : Note8 has applied Super AMOLED. Color is expressive and rich and can be more sensitive to subtle color changes, and color accuracy is higher. And, adaptive display mode of Note8 automatically optimize the color range, saturation, and sharpness of your display. As each user may have different preferred colors for super AMOLED, if you do not satisfy default screen color, we recommend to adjust full screen color balance of your display to change the appearance of white tones. On Apps screen, tap SETTINGS > Display > Screen mode > Full screen Color balance. Then, adjust full screen colors of display to Cool or Warm tone depending on your preference.

Through Advanced options, you can also adjust each value of Red, Green, Blue color for full screen color balance and this feature had been improved to optimize more broad and detailed the color range, saturation and sharpness of display in comparison of previous software version. If further adjustment is needed near the edges after adjusting the full screen color balance, you can adjust the colors at the edges of the screen to change the appearance of white tones. Tap Screen edge color balance menu.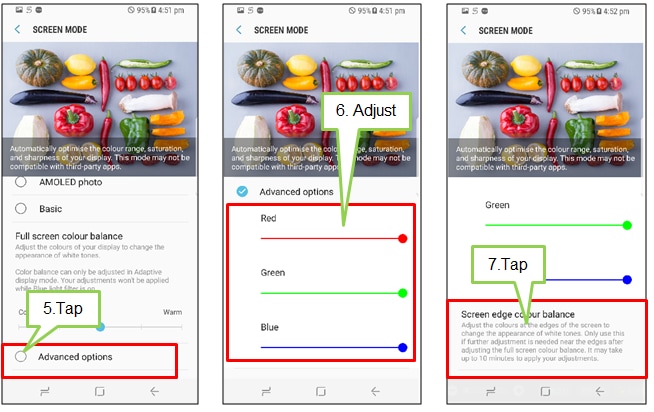 Adjust the colors at the edges of the screen. Optimizing screen edge colors may take up 10 minutes and your device may restart up to 2 times to apply your adjustments. Do not turn off or leave the screen during the optimization. Samsung is committed to providing the best possible mobile experience to customers and all Samsung smartphones undergo rigorous internal inspection test, and are always being controlled under Samsung's high level of quality standards internally
Please click the submit button below to share your feedback with us. Thank you for your participation.
Please answer all questions.