Have you ever needed a bigger fridge space for a big gathering? Have you smelled something weird like fishy in your ice from the freezer?  Don't you want to save energy when you leave your home for a while? for instance, vacation? We are all on the same page, follow us to discover how the Twin Cooling Plus adapts to your changing lifestyle.
Switching off the freezer when you don't use it
Energy Saving Mode on the new Twin Cooling Plus is just the function for you. You can turn the freezer off when you don't use it – while keeping the fridge operational. Thus, you can save energy and money as well. Moreover, you can utilize the space for other use.
Keeping the freezer on while the fridge is switched off
The Twin Cooling Plus is designed especially for the times when you are going away on a vacation and you have to store some food in the freezer. You can turn off the fridge with Vacation Mode to save energy.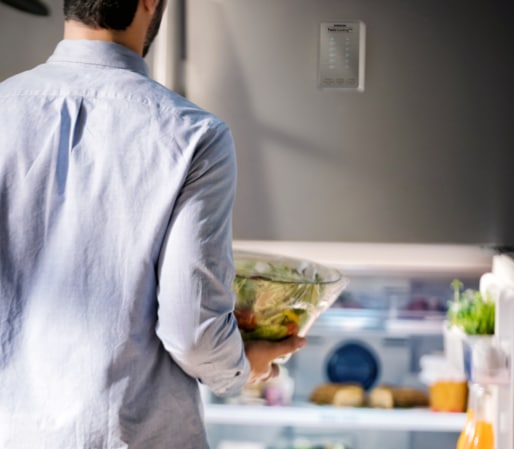 Making extra storage by converting the freezer into a fridge
When you bring home more grocery than you can store, the extra fridge space will be very handy. Simply convert the Twin Cooling Plus freezer to fridge with Fridge Max mode. Now you can have extra fridge in one refrigerator.
Using the freezer as a mini fridge
The Mini Fridge Mode is very handy when you don't have to store a lot in the fridge. By using the freezer as a fridge, you don't just save energy but also money. 
Maintaining your food naturally fresh in your Twin Cooling Plus fridge
Twin Cooling Plus cools the fridge and freezer independently. Thus, it maintains high humidity all over the fridge. As a result, it keeps food 2 times longer in a naturally fresh condition.
Keeping the natural, flavour of your food
Do you smell something weird in your ice from Freezer? This Twin Cooling Plus can preserve your ice and frozen food at its purest. The weirdest odour is being made by mixing of both rooms, Freezer and Fridge. The Twin Cooling Plus is absolutely separated and independent with each other room
Cooling in the fridge and the freezer
With Twin Cooling Plus, you'll not just have fridge space that keeps food fresh for long but also a freezer that makes ice faster than ever before.